SXSW 2013: Red Carpet Revue (Part One)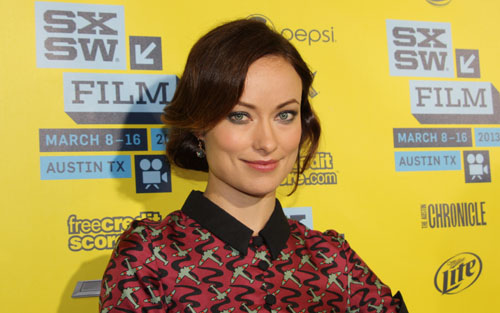 Slackerwood's coverage of SXSW 2013 has focused on Austin and Texas independent films and filmmakers, which were plentiful at the film fest this year. In addition, we watched and reviewed other interesting indie features and documentaries, as well as some short films.
But today, I'm wrapping up our coverage with frivolous red carpet and post-screening Q&A photos of the Beautiful People -- the stars, and I don't necessarily mean Austin celebrities either. That's Olivia Wilde pictured above, on the Drinking Buddies red carpet, and I am consumed with envy for the dress she's wearing. (Yes, those are little airplanes.) Let's take a little break and look at some pretty pictures of stars at SXSW taken by our intrepid photographers.
Having said that, I'll kick things off with an independent filmmaker: Joe Swanberg, who brought his first feature (Kissing on the Mouth) to SXSW in 2005, the first year I started going to and writing about SXSW. This year he was at the fest with the movie Drinking Buddies (Rod's review), which stars Wilde, Anna Kendrick and Ron Livingston, among others.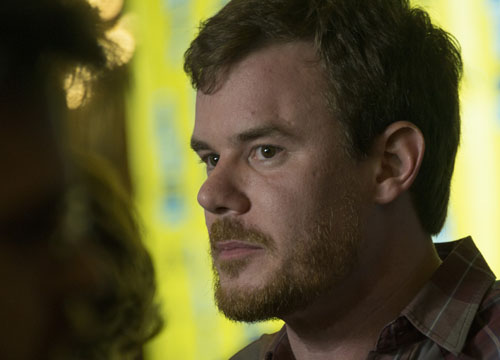 Speaking of Anna Kendrick, here she is on the carpet:
I can't resist bringing in some Austin-related photos. Sometimes-Austinite Matthew McConaughey is pictured here with producer Sarah Green and Austin filmmaker Jeff Nichols, on the red carpet for Mud (Debbie's review).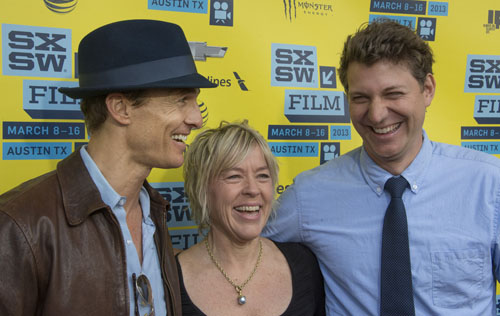 Joseph Gordon-Levitt was at SXSW with Don Jon (Mike's review), his feature directorial debut. And my, he looks natty.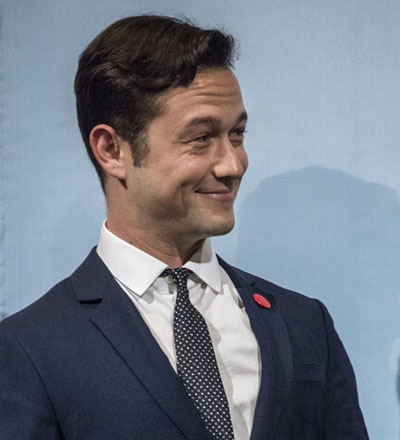 Gordon-Levitt was joined at the Don Jon Q&A by producer Ram Bergman, actress Brie Larson and actor Tony Danza.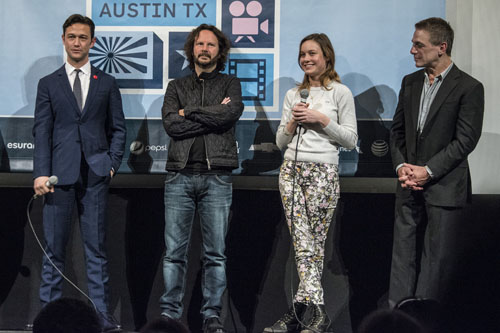 This one is from the Q&A for Milo (Mike's review), directed by former Austinite Jacob Vaughan. (I loved Milo. I'm so glad Magnet picked it up for distribution.) That's Gillian Jacobs, whom you might know best from the TV show Community.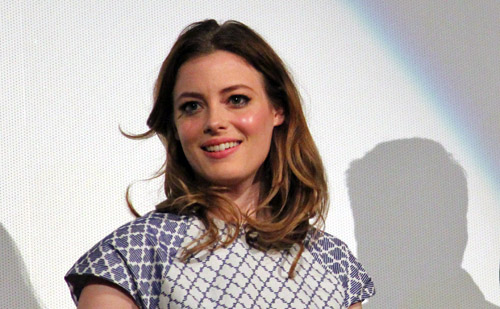 Here's Jacobs again with her co-stars Ken Marino and Stephen Root. Marino made a lot of suggestive and hilarious hand gestures during the Q&A, suitable for discussing a movie about an ass demon. I can't remember what he was trying to convey here.
Hang on, I've got a whole other set of SXSW 2013 red-carpet photos for you later today, including When Angels Sing and Spring Breakers.
[Photo credits: Joe Swanberg, Mud red carpet, Don Jon Q&A by Dinkins / De Jong. Olivia Wilde, Anna Kendrick by Mike Saulters. Milo Q&A by J. Kernion. All rights reserved.]