SXSW Review: Milo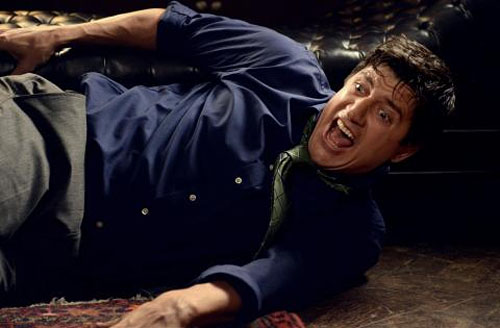 "Is this the line for that party?"
"No, this is for Milo. It's about an ass-demon."
"The demon's an asshole?"
"No, the demon literally comes out of and goes into a guy's ass!"
-- Actual conversation overheard waiting in line for the premiere of Milo
I didn't have high expectations for a film with this premise by director Jacob Vaughan (The Cassidy Kids), starring Ken Marino, perhaps the only guy in Hollywood who would take a role as the host of a parasitic ass-demon. Nevertheless, after a bit of a rough and shaky start (a little too much setup for my tastes, and a lot too much of Marino on the toilet grunting and moaning in pain), the movie Milo proved to be a funny crowd-pleaser that brings to mind mid-80s video-store schlock like Ghoulies.
Milo features a number of my favorite names in comedy. Patrick Warburton as a slimy boss from the Bill Lundbergh school is the chief antagonist in the film. Stephen Root and Mary Kay Place are at the top of their careers, which really have no low points, as Marino's parents. Finally, Peter Stormare as the new-age guru and counselor is the comic foil Marino's straight-man performance.
Milo is not a good film by any critic's definition, but it is a lot of fun, with a few surprises and many cringe-inducing shots. It's great midnight horror fare for the aught-teens inspired by great midnight horror of the 1980s.
Austin connections: Vaughan and actor Steve Zissis are former Austinites, as well as executive producers Jay and Mark Duplass.
Milo screens again at SXSW on Thursday, March 14 (tonight!) at 9:45 at the Paramount, and Friday, March 15 at 9:15 pm at Topfer Theatre at ZACH.