SXSW Review: Drinking Buddies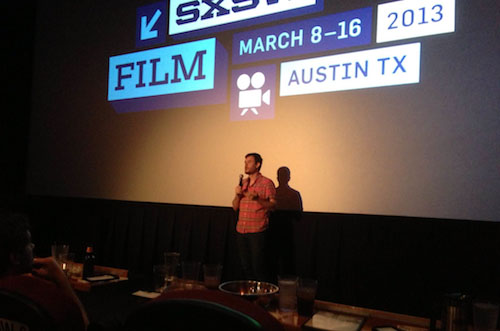 When it comes to SXSW you would be challenged to find a director/actor more prolific than Joe Swanberg, who's been bringing features to the fest since 2005. Swanberg returns to SXSW 2013 with his new film Drinking Buddies, and this time he means business. Drinking Buddies is a charming movie that tells a story of love and conflict, set against the backdrop of craft brewing.
This film tells the story of two different couples. Kate (Olivia Wilde) is a marketing manager for a craft brewer and Chris (Ron Livingston) is a successful music producer. Jill (Anna Kendrick) is an artsy type and Luke (Jake Johnson) is a brewmaster at the same craft brewery where Kate works. After hitting it off at a company party, the two couples decide to spend a weekend together at Chris's beach house. This is where the conflict begins.
Each couple's relationship possesses a certain amount of insecurity, and these insecurities come to the forefront during this fateful weekend. The remainder of Drinking Buddies is spent dealing with the aftermath of conflicting feelings and emotions.
The performances from this stellar cast are nothing but authentic, and this can be directly attributed to the methods used by Swanberg to implement his vision. Swanberg is well known for using the mumblecore style of filmmaking. Mumblecore is marked by its low production value (and associated costs), improvisational acting methods and general use of amateur actors. This film represents what can be accomplished when you use mumblecore methods with a real budget and a troupe of skilled actors.
During the Drinking Buddies Q&A, writer/director Swanberg informed us that the movie was created using entirely improvisational methods. The script consisted of a seven-page outline that the cast and crew worked from to create their characters. This type of filmmaking leans heavily on the actors as it is their performances that are responsible for the success or failure of this type of film. In this film's case it is 100 percent successful. You feel the sorrow when some of the relationships' failures come to light, you feel the excitement of new relationships and you feel joy when simple friendship is exposed. This film is full of emotional highs and lows and you feel them all.
Drinking Buddies is Joe Swanberg's first entry into the mainstream filmmaking market and I hope he builds upon this success.
Austin connections: Former Austinite Anish Savjani, who's produced many Austin movies (The Taiwan Oyster, Harmony and Me), is an executive producer. Joe Swanberg is a regular on SXSW screens, from acting to directing to the creation of SXSW bumpers. Ron Livingston is well known for his part in one of Austin's legendary films, Office Space.
Drinking Buddies screens at SXSW again on Saturday, March 16 at 11 am at the Rollins Theatre at Long Center.