SXSW 2013 Dispatch: 'Downloaded' Biases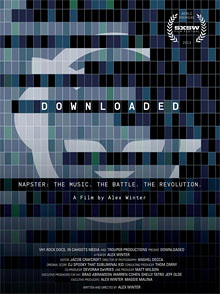 My third day of the fest was my busiest for film watching, with three titles. I'm finding this year that transportation considerations are taking more time than ever. Parking downtown is a complaint on everyone's lips as the Convention Center garages fill up in the early morning, and many surface lots that would normally serve overflow have been covered in tents for different events. Since this is my first year taking SXSW Film red carpet photos, I've learned it's a big drain on time as check-in can be 90 minutes to two hours before showtime.
So, my Sunday included a red carpet for the Turk Pipkin Christmas movie When Angels Sing (my review) and ended with the ass-demon horror comedy Milo (my review). Sandwiched in between, I caught Alex Winters' Napster documentary Downloaded.
I have little more to say about Downloaded than I tweeted right after seeing the film. I found the film repetitive, plodding and 90 percent biased toward Sean Parker and Shawn Fanning. When I was a college student working in IT, I followed closely the rise and fall of Napster and read firsthand many of the articles and news pieces Winters included in his doc. A very lively community of readers on Slashdot at the time kept itself educated on all the Napster-related events including the trials, the RIAA posturing, etc.
There was no question at any point that Fanning and Parker knew they were facilitating music piracy. No tears were shed for Napster as newer, in many cases, better services rose up to take its place. It does not matter whose side you took, if you even took a side in the debate. On one hand was a company that by today's accepted standards was making it possible for people to steal from the record industry. On the other side was an industry group that was ruining lives, circumventing the legal system, extorting innocent people.
Downloaded paints a picture of the two Napster founders as revolutionary war heroes that changed society with only the best of intentions. It smoothly glosses over Parker's post-Napster shenanigans at Facebook (go watch The Social Network for an idea about what he was up to) and presents both figures as continuing the fight to bring music sharing legally to the masses.
I've never seen a documentary that so idolizes two subjects, presenting such an unbalanced viewpoint. If you are unfamiliar with the "Napster saga," please take some time to research its history independently. You can find plenty of unbiased information out there. It makes me very unhappy to say that I would never have programmed this for a documentary competition, because I respect Alex Winter and will always love his work on Freaked.
If you want to see what I'm talking about, Downloaded screens at SXSW once more on Saturday at 4:30 pm at the Vimeo ACC theater. On the other hand, The Bounceback (Don's review), Good Ol' Freda, All the Labor and An Unreal Dream: Michael Morton are screening at the same time ...