SXSW Review: When Angels Sing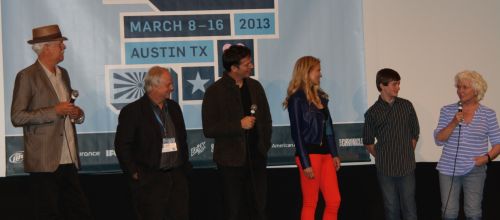 There are a few classic holiday films we like to pull out each year in addition to the Rankin/Bass Rudolph the Red-Nosed Reindeer and Frosty the Snowman, such as A Christmas Carol, It's a Wonderful Life and the more modern A Christmas Story. A common thread between these films that has helped make them annual favorites is that they don't focus on the religious or ritual aspects of the holiday, but instead on it as a time for homecomings and shared memories with family and loved ones, friends and neighbors. Soon to join those ranks is When Angels Sing, the adaptation of a Turk Pipkin story by director Tim McCanlies and writer Lou Berney.
Easily the best Christmas movie since 1983's A Christmas Story, When Angels Sing was shot in Austin and features a Who's Who of talent with Texas ties. Stars Harry Connick Jr. and Connie Britton (Friday Night Lights) are joined by Houston-born Chandler Canterbury, Fionnula Flanagan, Dana Wheeler-Nicholson, Lyle Lovett, Kris Kristofferson, Sara Hickman, Eloise DeJoria, Turk Pipkin and Willie Nelson.
Connick stars as Michael Walker, a college professor and father who refuses to celebrate Christmas due to a tragic accident. When faced with his son giving up on Christmas himself because of another tragedy, Michael is forced to reexamine his own guilty feelings that have made him such a Scrooge.
The musical cast doesn't go to waste, as nearly everyone sings in the film at one point or another, accompanied by guitars, of course. And there are a few cameos from other artists at familiar local spots like The Salt Lick. The film alludes to another local tradition, the 38th Street lights, which unfortunately has died as people have moved from the neighborhood. In fact, if I didn't know it was written 15 years ago, I would think Pipkin was commenting on the situation with his story. Instead, the subplot about the family moving into the famous "Christmas light house" but putting up no lights feels strangely prophetic.
When Angels Sing is not just a showcase of Austin talent and traditions. Beautifully made and timeless, it is a warm and gentle, heartfelt Hallmark card of a family movie that can be appreciated by families in the rest of the country. Neither preachy nor dogmatic, it celebrates the spirit of Christmas as a time of celebration and joy.
Austin and Texas connections: When Angels Sing was shot locally with many Austinites in the cast and crew. Besides the cast mentioned above, keep an eye out for local musicians Kat Edmonson, Ray Benson, Guy Forsyth, Carolyn Wonderland, Dale Watson, Miss Lavelle, Bob Schneider, Charlie Sexton and Marcia Ball. Fans of Texas indies might also recognize Heather Kafka as a doctor, Houston actress Lidia Porto (Extract) as a real-estate agent and Ernest James (Friday Night Lights) as a barista.
The final SXSW screening of When Angels Sing is this morning -- Friday, March 15 at 11:45 am at the Paramount. Bring the kids.