AFS Announces SXSW 2013 ShortCase Winners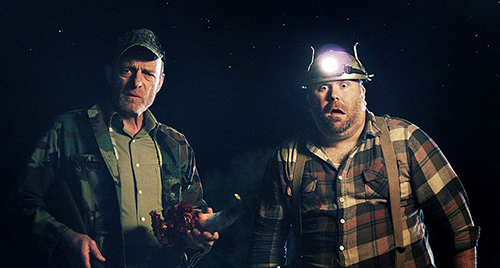 This year's SXSW Community Screening: Austin Film Society ShortCase will be held Sunday, March 10 at 4 pm in Boyd Vance Theater at the Carver Museum, and will feature short films by Central Texas filmmakers ranging from science fiction to history, comedy to documentary. The screening is open to the general public (and free), but seating is limited so I suggest arriving early.
This year over 65 entries were submitted by AFS filmmakers. AFS Program and Operations Manager Ryan Long, AFS Marketing and Events Coordinator Austin Culp and I worked together to select the seven best films to fill the 90-minute screening time. We saw a lot of creative content representing the talent of AFS filmmakers, and we hope the SXSW audience will enjoy these films as much as we do.
For filmmakers who didn't make the cut, we hope that you'll submit films for future ShortCase events and take advantage of the programs available to the AFS filmmaker members.
Without further ado, here are this year's SXSW ShortCase films:
Asternauts (dir. Marta Masferrer) -- Life on the farm can be quite boring for Earl and Joel McKnutt (pictured at top), but Joel is convinced there's life beyond the stars despite Earl's disbelief ... until an object lands in their pasture. The brothers must then deal with the mysterious projectile that killed their best milking cow and stud bull, as sinister government agents invade their farm.
I'm particularly excited that we're screening Asternauts, as it was one of the successfully crowdfunded film projects I featured in my very first Ready, Set, Fund feature. To see the visually stunning concept art illustrations come alive on the screen was an incredible experience for me.
Kenny Sailors: Jump Shot (dir. Jacob Hamilton) -- At a height of only 5 feet eight inches, Kenny Sailors was no match for his older brother who was six feet five inches tall -- until Sailors developed his jump shot to get up and over to shoot a basket over 60 years ago. The long retired 91-year-old Sailors is now beginning to be recognized and receiving recognition as the inventor of the modern-day jump shot. This short film follows the history of the jump shot from the early years of basketball to Kenny's induction into the Hall of Fame, as told by sports historians, former basketball players and Kenny himself.
Hamilton received a grant from the Texas Filmmakers' Production Fund (TFPF) for this documentary project. Watch the teaser for Kenny Sailors: Jump Shot below:
Sahasi Chori (Brave Girl) (dir. Erin Galey) -- Thirteen-year-old Nepalese Bhumika leaves her Himalayan village for the first time to travel to her first job in the city so she can work to supplement her brother's education. She's convinced to travel with family friend Krishna to help his pregnant sister at home. Only when Krishna asks her to cross the border with him to India, does she begin to wonder what fate really awaits her. This story is inspired by the director's first-hand experience traveling the roads of Nepal and India where she met and spoke with survivors of sex trafficking.
Galey told me (via email), "It's funny that Sahasi Chori's first festival screening is in Austin because it's in Austin that I decided I wanted to become a filmmaker. In fact, it was during production of A&E's Rollergirls that my future as a filmmaker was pretty much sealed in stone for me. The show's producers approached me several times to be a member of the cast, but I was like yeah cool, so what are those directors doing? I've always been a writer, but once I saw that production on its feet I was much more interested in how I could be involved in what was going on behind the scenes and become a cinematic storyteller.
"After that, I couldn't let it go and subsequently got most of my experience in production in Austin before going on to NYU's master's program in Singapore. The whole thing has kind of come full circle for me, and even though I don't live there any more, premiering in Austin is very much like coming home."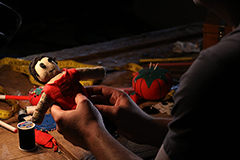 Happy Voodoo (dir. Jenny Goddard) -- Damien (Mark Reeb) doesn't like to go out much, staying home instead to create and manipulate voodoo dolls of his friends (pictured at right). So how does he convince his friends to meet him for happy hour? Featuring an entirely local cast and crew including Richard C. Jones (Pit Stop), Chris Trew (Ultimate Guide to Flight) and Jolyn Janis (Far Marfa), Happy Voodoo is a whimsical hilarious twist to voodoo magic.
The AFS Shortcase will be the 23rd festival screening for Happy Voodoo, with a nonstop festival run that started with the film's world premiere at Aspen Shortsfest -- also where producer Enrique Garcia proposed to Goddard. The film had its Texas premiere at the 2012 Lone Star Film Festival in Fort Worth. Goddard is currently busy producing the feature The Sideways Light, which stars A Teacher star Lindsey Burgh and Mark Reeb.
Fotograf (dir. Elizabeth Walker) -- Morozov survives for centuries by using his camera to capture the souls of the unsuspecting citizens of a small Russian city, targeting his victims through personalized advertisements made with knowledge gained from his meticulous stalking. After literally colliding with a fiery ballerina named Dusha, he is determined to make her a victim until he experiences a very unexpected emotional connection.
You Can't Always Get What You Want (dir. Scott Calonico) -- Recently declassified White House tapes show President Johnson "struggling with daily issues in the Oval Office, including troublesome overseas operators, a lack of attractive Negroes in governmental positions and limited dessert options." Calonico is a former Austinite who's been living in the UK for the past few years but is currently relocated to North Carolina. This is the film's Austin and Texas premiere. Calonico stated in an email, "Considering that LBJ even talks about Austin in the film, we're psyched." Producer Jeff Radice is a former Texas Filmmakers' Production Fund grant recipient. The LBJ Library provided the filmmakers with transcripts of the tapes.
First Date (dir. Steve DeGennaro) -- A date becomes a nightmare for Daniel (Jimmy Gonzales) when he's hit with an attack of irritable bowel syndrome. Tension builds as Daniel must deal with the consequences in this dark comedy, which actually lists a "poop wrangler" in the credits. First Date is DeGennaro's directorial debut -- he's best known for his extensive sound department experience. DeGennaro and director of photography Drew Daniels also worked together on Saturday Morning Massacre (with Jonny Mars, who has a brief audio role in this film).

SXSW Community Screening: Austin Film Society ShortCase will be held Sunday, March 9, 4 pm in the Boyd Vance Theater at the Carver Museum.