Sundance (and Slamdance) 2013: The Wrap-Up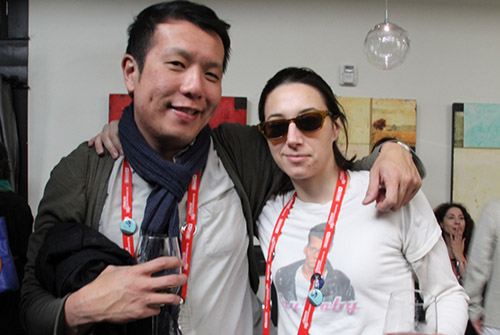 What a blur of activity and film that filled my first Sundance Film Festival, with my sixth day mostly at press screenings for Texas-related films Pit Stop, Prince Avalanche and Upstream Color. Read my review of Yen Tan's Pit Stop here, which you can watch at SXSW along with the low-key comedy Prince Avalanche and Shane Carruth's Upstream Color, his journey delving into psychological sci-fi.
I also watched Ass Backwards, a feminine version of the buddy road trip full of crass and self-absorbed humor. As much as I tried to enjoy this raunchy comedy, I found the storyline and editing quite messy, especially a subplot involving a reality TV personality who's a meth head and sex addict. Kudos to writers and stars June Diane Raphael and Casey Wilson for putting their butts literally on the line, but save yourself time and instead watch the classic Romy and Michele's High School Reunion.
Day Seven was meant to be a writing and leisurely paced day with an interview with Shane Carruth, but I wound up at the well-attended Sundance Filmmakers Reception. The event provided a relaxed atmosphere for members of the press to mingle with filmmakers, including Pit Stop director Yen Tan and New York based writer/director Lauren Wolkstein (pictured at top).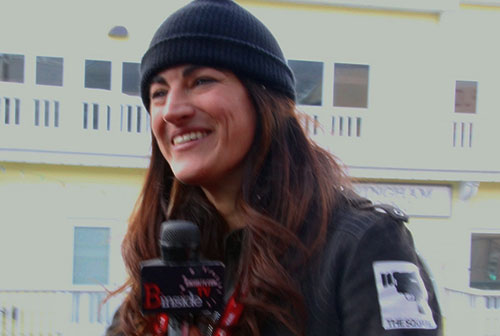 Tan created the poster design for Wolkstein's provocative and enigmatic short film Social Butterfly, which screened at Sundance in the shorts program. In 2011, Wolkstein's awardwinning dread-filled short The Strange Ones screened at Sundance and SXSW, and there's been discussion of a highly anticipated feature-length version.
Another woman filmmaker in attendance at the party was Jehane Noujaim (pictured above), director of The Square (El Midan), which won the Audience Award for World Cinema Documentary at Sundance. This powerful documentary features a group of young Egyptian activists who came together in Cairo's Tahrir Square during the fall of Hosni Mubarek and subsequent struggle to create a democracy in their country. Tahrir Square remains the heart of this revolutionary change where the spirit and determination of the Egyptian people both young and old continues -- and the cameras are still rolling for The Square collaborators even now.
I also caught up with more of the Arts+Labor crew from Austin, including Robin Schwartz and Taylor Michelle Thompson. Schwartz has various talents behind local film projects including sound recording and editing for Outside Industry: The Story of SXSW as well as editing America's Parking Lot, but she was in attendance at Sundance 2013 to support her first onscreen role in Computer Chess. Recent UT Austin film graduate Thompson was there in support of Kat Candler's Black Metal as assistant editor, and also produced Hearts of Napalm, which screened across the street at the concurrent Slamdance Film Festival.
Natalia Ciolo also wrote about her experience at the filmmaker gathering.
After the party ended I was convinced by Natalia Lusinski, a contributing columnist for The Script Lab and author of the upcoming memoir 52 Weeks, 52 Couches: How I Slept My Way Through Hollywood (Without Sleeping with Anybody) to check out the Slamdance Film Festival, which was also taking place on Main Street. Since this year was my first time in Park City, I'd not pursued press coverage for Slamdance as well as Sundance. But Melanie Marquez and Annie Jeeves of Cinematic Red were extremely accommodating as they set Lusinski and me up with tickets to screenings and escorted us to a filmmaker happy hour reception. The camaraderie and energy in the room were infectious as we met filmmakers from all over the world.
After the Slamdance happy hour, we settled in to watch Hank and Asha, which presents a novel approach at romance in our technological age. Husband and wife team James Duff and Julia Morrison co-wrote and co-produced this voyeuristic romantic drama revolving around lonely New York filmmaker Hank (Andrew Pastides) and Asha (Mahira Kakkar), an Indian film student in Prague. Love blossoms not through interpersonal contact but rather through online video messages. As their romance evolves and deals with the challenges of distance and culture, viewers are left longing for the next message.
During the Q&A it was revealed that the two leads were never filmed together. Credit should be given to the Duffs' directing and Morrison's editing as well as Bianca Butti's cinematography for this poetic love story, which won the Slamdance Audience Award for Feature Narrative.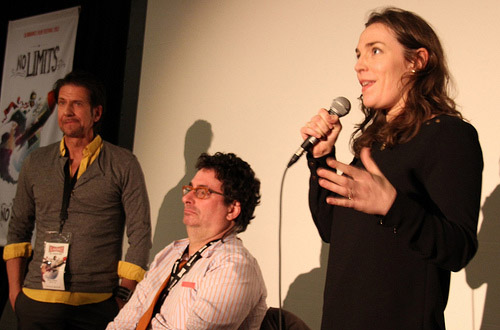 The next day Natalia Lusinski and I returned for the Slamdance awards ceremony and truly inspirational final screenings of Anna Moot-Levin's short film Track by Track and Irish filmmaker Pamela Drynan's feature documentary Where I Am. Track by Track is an endearing spotlight on Kendall Collins, a highly functional autistic teenager in Porterville, California, who is determined to go to college and become an adult. Through the combination of his passion for trains and skills as a sketch artist, with the support of his family and the local community college he firmly "lays tracks for the journey ahead."
Where I Am tells a more tragic story of a man attempting to live life "normally." Ten years after surviving a senseless violent attack in Sligo, Ireland, gay American writer Robert Drake (pictured above with his personal assistant and filmmaker Drynan) continues to deal with the recovery and acceptance of the incident and people who changed his life forever. Rehabilitation has been difficult and Drake remains physically paralyzed, but his determination to move on leads him to return to the crime scene and confront the memories of that fateful night. The raw emotions that played out on the screen had me in tears, especially with Drake in attendance.
At the Slamdance awards ceremony later that night, the Audience Award for Feature Documentary was presented to to a film with a Texas connection, My Name is Faith. Filmed in Conroe, Texas, this is the story of a 12-year-old girl suffering from reactive attachment disorder who struggles to overcome childhood trauma with the support of her adoptive parents. Born to a drug-addicted mother, Faith took care of her baby brother in deplorable living conditions surrounded by meth production. The family resorts to a camp specializing in treatment of the disorder. Despite flawed cinematography, My Name is Faith is a poignant and insightful film that demonstrates the critical need to help children like Faith heal from their troubled pasts. Co-director Tiffany Sudela Junker is also Faith's adoptive mother and a key subject in this documentary.
My last night in Park City was spent at the Sundance Awards Reception, and you can read Natalia Ciolko's post on the awards event here. While there, I met and spoke with the gracious Lake Bell as well as writer/director and "Very Modest Guy" Ed Burns. Want to know more about Burns' nickname? Watch the video below to find out, and also see the real stars I met while in Park City: the tireless, dedicated volunteers of Sundance.
To summarize my take-home message at what I felt was the most well-organized film festival I've attended thanks to the volunteers as well as the press and programming staff, I'd narrow the list to these tips:
Invest in waterproof winter boots with good tread -- the number-one necessity on Park City sidewalks -- and break them in before arriving.
Stay hydrated to prevent altitude sickness and carry hand sanitizer to minimize transmittable infections.
Spend less than $15 a day by stocking up on breakfast items and snacks at the grocery store, and take advantage of complimentary food and drink at parties.
Being on time is only satisfactory. Being early is an advantage.
Don't cringe at public transportation -- you never know who you might meet from the cast and crew of Sundance films.
Book your lodging early, and with like-minded people who you know won't awaken you at all hours of the night and early morning.
[Photo credits: "Yen Tan and Laura Wolkstein at the Sundance Filmmakers Reception," "Jehane Noujaim Interview," "Robin Schwartz and Taylor Michelle Thompson," "Butch, Robert Drake and Pamela Drynan of 'Where I Am' at Slamdance." All photos by Debbie Cerda for Slackerwood, for use with attribution by permission only.]