Emotional Fireworks and Texas Nods at the Sundance Awards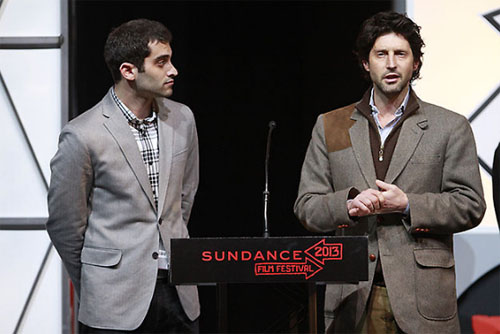 On the last night of the Sundance Film Festival, a special awards ceremony to honor the winners of special prizes and audience awards is held in Park City, just as filmmakers and judges alike are ready to crawl back under the rocks from whence they came for another year. It's the last opportunity to put on the Ritz, do some hardball networking and consummate that fling you've been gunning for all week.
These awards, unlike the ceremonies we watch on TV, are less about competition than camaraderie. As emcee Joseph Gordon-Levitt put it, "This is art. Not basketball." Even so, it never hurts to brand your emerging feature with more than just the Sundance official selection logo when negotiating with would-be buyers.
In the night's very first announcement, the Alfred P. Sloan Feature Film Prize went to the Austin-shot movie Computer Chess, from local filmmaker Andrew Bujalski. Producer Houston King, pictured above at right, accepted the award. The prize, which honors the union of science and film, means that $20,000 in funds will be made available to the team for their next endeavor. The jury selected the film based on its "off-beat and formalistically adventurous exploration of questions of artificial intelligence and human connections."
The U.S. Dramatic Cinematography Award went to Bradford Young for Mother of George and Ain't Them Bodies Saints. The latter film was directed by DFW-area filmmaker David Lowery and turned out to be one of the fest's most popular films. Lowery also edited Shane Carruth's breakaway hit Upstream Color, which took a special jury prize for sound design.
Festival Director John Cooper urged everyone up front to be brief ("no need to thank people who aren't here right now,") and the show rolled without any Jodie Foster-style confessionals. The big breakout surprise of the night was Fruitvale winning both the Audience Award and the U.S. Dramatic Grand Jury Prize, prompting a standing ovation. Director Ryan Coogler's speech included praise of his Sundance Lab fellow Lowery, concluding with, "This goes back to my home, the Bay area ... I can't wait to see you all when this is said and done and I'm more articulate and not so emotional."
The event was livestreamed and archived in its breathless entirety, so if you're interested in reliving all of those moments of glory, click here to watch.
[Photo credit: Computer Chess producer Houston King, right, accepts the Alfred P. Sloan award at the Sundance ceremony. Photo by Natalia Ciolko, all rights reserved.]