Sundance 2013: An Industry-Free Filmmaker Gathering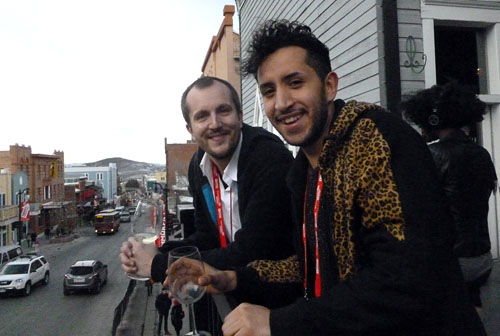 [Editor's note: Please welcome Natalia Ciolko, who's writing about Sundance Film Festival coverage for Slackerwood while she's in Park City. If you've been looking for Chale's coverage, unfortunately he's been sick and never made it to Park City.]
What inspires people to spend their vacation days and a mess of money to trek out to Utah in the middle of January? It's not really about the films -- many of those will be out in a matter of months -- but the opportunity to meet the artists behind them.
In honor of that mission, the Sundance Film Festival hosted a reception Wednesday afternoon just for members of the press and filmmakers. No agents, no industry. Sundance Institute director Keri Putnam (@kputnam) and Director of Programming Trevor Groth (@trevorgroth) were also en scene, mingling with the talent and international journalists.
As welcome as the exclusive access was the fabulous buffet, a sight for sore eyes after a week of subsistence living on Clif Bars and white wine. Being an official Sundance event, there was plenty of the latter, too -- I certainly wouldn't wish this festival on a recovering alcoholic.
Spotted at the party:
[Photo credit: Quark Films producer Gavin Humphries with Fyzal Boulifa, director of The Curse, by Natalia Ciolko.]