Experience Sundance 2013 Without Leaving Your Couch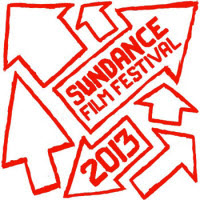 I didn't go to Park City for the Sundance Film Festival this year. I know I'm missing lots of good movies, but on the other hand, it was 70 degrees in Austin yesterday, while Sundance festgoers are dealing with single-digit and even negative-number temperatures. I'm too delicate a flower for that kind of weather.
Fortunately, there are a number of ways in which we in Austin (or anywhere) can have a taste of the Sundance experience from the comfort of our homes. Before you enjoy the videos below, if you want an authentic Sundance experience you could crank up the air conditioning, put on some thermal underwear, and consume only power bars and coffee. If you want to simulate the press-and-industry experience, you might get a jerky friend to sit next to you and play with their smartphone the whole time, but I think that's going too far.
The Screening Room -- Sundance has posted a dozen of the shorts from the 2013 festival on YouTube, at no cost to you. Debbie has already mentioned that Austin short film Black Metal is one of them, which I watched the other day and can't recommend enough. But there are also 11 other short films, and that's an enjoyable evening right there.
Focus Forward Films -- Focus Forward is a series of three-minute shorts that are screening at a number of film festivals, including Sundance 2013. You can also watch them online from the project's website. Filmmakers include Morgan Spurlock, Albert Mayles, Annie Sundberg and Ricki Stern, Steve James, and Alex Gibney. There are 30 total, which is another 90-minute slot of entertaining shorts.
Live (and recorded) video streams -- You can watch the awards ceremony as it happens Saturday, keeping your fingers crossed for the Lone Star contingency. Or you can browse the archives for video from other Sundance events. How about Robert Rodriguez talking about El Mariachi? I've embedded that video below. Other interesting videos include an Andrew Bird performance, Joseph Gordon-Levitt talking about his movie Don Jon's Addiction, and Dave Grohl with now-Austin filmmaker David Gordon Green.
Webisodes from Arts+Labor -- Last year, I really enjoyed the set of videos Kat Candler's crew shot on the spot for the Hellion premiere. This year, Austin production studio Arts+Labor is in Park City shooting webisodes related to Candler's short Black Metal and Yen Tan's feature Pit Stop. So far they've released two -- I hear two more will be coming soon. Here they are embedded below.
Special thanks to Natalia Ciolko, who provided many of the helpful links in this article.