AFF 2012 Dispatch: Superheroes, Disaster and New Orleans Politics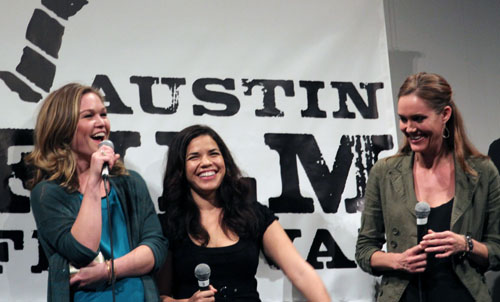 I had an excellent Saturday at Austin Film Festival, with three good movies and a bit of a party. I even found downtown parking on a UT home football game day for $7, at St. David's.
I got downtown later than I wanted to see Pictures of Superheroes at Alamo Drafthouse Ritz. I like to get to Ritz super-early during AFF because it's such a popular venue. In fact I'd thought about seeing Hyde Park on Hudson earlier in the day and realized it would draw such a crowd at Ritz that I'd have to get there 90 minutes early, and I was simply too lazy at that hour of the morning.
At any rate, I found my miraculously affordable parking (since I'd be down there until midnight, it was cheaper than a meter) and made it to Ritz in plenty of time to get a good seat for the movie. I ended up next to AFS staffer Ryan Long, but the theater was full of local filmmakers and film community people and I'd have been amazed if I hadn't sat near anyone I knew.
It can be a little worrisome, seeing a movie with the cast and crew in the audience. How sad would it be if no one laughed at the comedy? Don Simpson from Smells Like Screen Spirit was also sitting near us and had seen the film already for a preview article, so the fact that he was back for a second viewing was encouraging.
Fortunately, I enjoyed Pictures of Superheroes very much. It's an odd comedy, with an ending that made me frown and blink, and then realize it was the best ending possible for that movie. I think John Merriman's man-child character is the anti-Adam Sandler. Which would make this movie the anti-That's My Boy. Hmm. Don Clinchy, now you know why I told you to see this movie.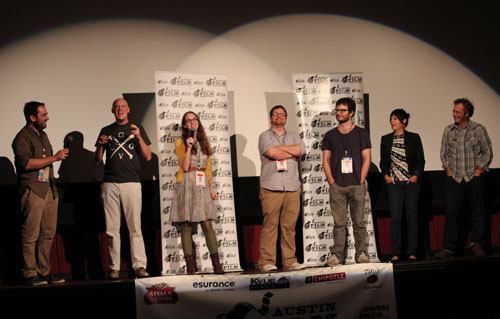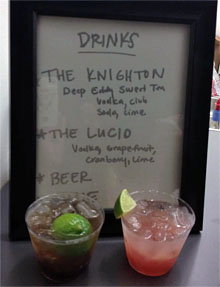 The Q&A was fun -- well, you put a bunch of comedians on a stage, it's not going to be dull. I noticed actor Shannon McCormick was wearing a t-shirt promoting the short The Quiet Girl's Guide to Violence, which played Fantastic Fest this year ... and which had Superheroes actor Byron Brown in the cast. That's Austin for you. (Don't even get me started about how many of the cast/crew also worked on Cinema Six, a movie I hope you'll get a chance to see in Austin soon.)
For more info about Pictures of Superheroes, read Debbie's review and my email interview with filmmaker Don Swaynos.
After the Q&A, I drifted over to AMOA for the Satellite of Love pre-party, along with Ryan Long and a bunch of the Superheroes cast and crew. The party was on the roof of the museum building, where they have a really nice patio. The bar was offering cocktails named after the lead actors in the film. If you've always wanted to consume Zachary Knighton -- oh, hell, that sentence isn't going to end well, let's just leave it at that. (Elizabeth, didn't you say you spotted him in Royal Blue Grocery this year?)
I couldn't stay at the party long because I had another movie to watch at Austin Convention Center, but I was able to say hi to Satellite director Will Moore and some other people who worked on the film, and wish I could stay longer for the live music. I heard later that the party really started rocking after I left, a sentence that I've heard too many times in my life.
I also peeked over the roof rails and realized that from the patio, you could get a pretty amazing view of downtown Austin, including the Paramount, as you can see in the photo below. I was sorry to miss Silver Linings Playbook, but I decided to pick a movie that wasn't opening in theaters within the next month or so.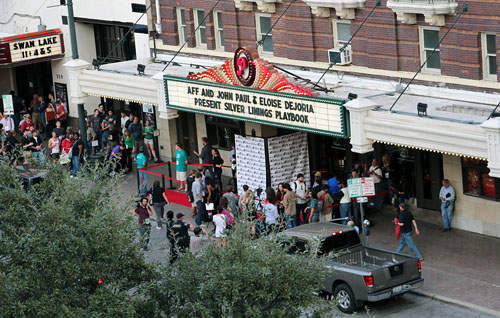 At Austin Convention Center, I ran into Elizabeth and a friend of hers, who also wanted to see Mr. Cao Goes to Washington. This documentary is about Joseph Cao, a Republican won a seat in Congress in the traditionally Democratic 2nd Congressional District of Louisiana -- because his opponent was William Jefferson, who'd been indicted by a federal grand jury for corruption (you know, the money in the freezer and all that). Rep. Cao was determined to serve his district first, over party politics, but also ... well, I'm going to review this movie this week because it is extremely relevant. It'll be shown on PBS in early 2013, although I wish everyone could see it now because of the way the movie's themes tie into the upcoming elections.
I was sorry to miss the Q&A with filmmaker S. Leo Chiang, but I hadn't eaten dinner and needed to make a Royal Blue Grocery run before getting into what I suspected (correctly) would be a long line at the Paramount for my next movie: It's a Disaster. I wanted to see the comedy because I've seen Berger's previous films and liked them very much, but the biggest draw may have been Julia Stiles and America Ferrera, who would attend the screening.
Elizabeth and her friend joined me for this movie too, and Don Clinchy showed up shortly afterward -- his one AFF movie this year. You can read his review as well as Elizabeth's interview with Berger. I noticed that the Pictures of Superheroes cast and crew were here too, several rows behind me. (Which makes sense because Berger and actor Jeff Grace both appeared in Cinema Six, which as I said earlier had a lot of ties with Superheroes.) And here's a photo of Berger and Grace from the event.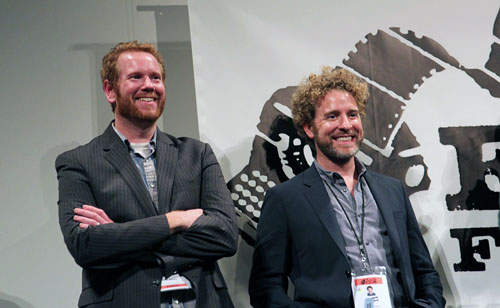 Like Don, I got a kick out of this movie about self-absorbed twentysomethings at a couples' brunch who are faced with their impending doom and can't seem to handle it. The well-known stars were all excellent but I think my favorite character was played by Kevin Brennan, a UT alum who -- wait for it -- is also in Cinema Six. (I should draw a graph.) The movie is primarily set in a single location -- a house -- but it never feels claustrophobic or low-budget. Oscilloscope Pictures has bought the distribution rights for this very funny movie -- look for it in 2013.
The It's a Disaster Q&A was as funny as the movie. The onstage cast and crew included not only Berger and Grace, but also Julia Stiles, America Ferrera, Erinn Hayes, the aforementioned Kevin Brennan, and Blaise Miller (and looking at his IMDb page, I see he was in Cinema Six too ... someone really ought to show that movie in Austin). I think Ferrera never stopped laughing. If you get a chance to see this movie with some cast and crew in attendance, don't miss it.