AFF 2012 Interview: Don Swaynos, 'Pictures of Superheroes'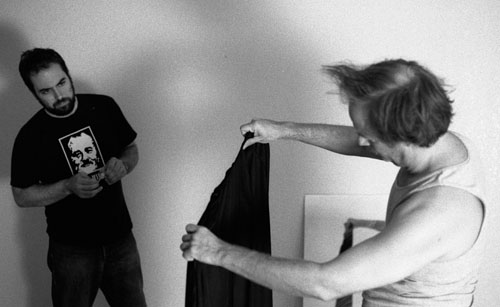 I admit I couldn't help but be excited about a movie that was primarily shot in my neighborhood, although you couldn't tell from watching Pictures of Superheroes. Much of the film takes place in a house where filmmaker Don Swaynos was living at the time, which is several blocks away from my own home. You wouldn't know it without his telling you, though.
I saw Pictures of Superheroes on Saturday at its world premiere, and afterward, emailed Swaynos a few questions about the movie. The answers are below. Don't worry, they're not spoilery. I liked the movie very much and encourage you all to see it at Austin Film Festival tonight at 7 pm at the Texas State Theater in the Bob Bullock Texas History Museum. Swaynos and probably some other cast/crew will be there and you too can ask him questions. Check out Debbie's review for more details.
Slackerwood: Can you give us the 25-word summary/pitch of the film?
Don Swaynos: Maybe. After being fired and broken-up with on the same day, Marie, a maid (Kerri Lendo), ends up being hired by an overworked businessman, Eric (Shannon McCormick), who is so busy he's forgotten he has a roommate, Joe (John Merriman). Things get weirder and weirder from there. It's not about superheroes.
What's the significance of the title?
Swaynos: Literally it's that Joe, the slacker roommate, occupies his time by drawing pictures of his favorite superhero, RedZone. I guess in a way it can be a misleading title, people keep expecting the film to be about superheroes -- and it isn't and the last thing we need right now is another superhero movie. I do think it fits though, even if it does cause a little confusion at first.
What's one thing about this film that is going to make it impossible for people to resist seeing it at AFF?
Swaynos: Our cast is so amazing! I feel like we have all of the funniest people in Austin (and I assume probably the entire state of Texas) in the movie, so if nothing else come out to see that. Also we had no money and no investors so we had the freedom to make the movie we wanted to make -- it's weird and it's the sort of thing that would only be made independently. So if you're looking for something like that from the festival, then here we are. Again, it's not a superhero movie. I promise.
Are there any locations in the film that will seem familiar to Austinites? If so, what are they?
Swaynos: I didn't want to set the film in Austin so I avoided any landmarks, but we did film everything here -- mostly in north Austin. Cap City Comedy Club plays a big role in the film's climax and AFF attendees may recognize the steakhouse location from a party earlier in the week.
What are your future plans for the movie?
Swaynos: We're playing at the Sundance Cinema in Houston on November 11 as part of the Cinema Arts Festival. After that, more festivals -- but nothing we can announce yet. If people are interested in getting updates, "like" the film on Facebook or follow it on Twitter @POSmovie (which stands for "Pictures of Superheroes," obviously), we promise not to post too much.
What are you planning to work on next?
Swaynos: My job is editing and this year I've been fortunate enough to work on some really amazing projects. I just finished work on Bryan Poyser's The Bounceback and I'm currently working on Yen Tan's Pit Stop, both of which are fantastic and I'm really excited for people to see. I also just directed a short film called The Horrible Life of Dr. Ghoul that will hopefully be playing festivals soon.
[Photo credit: Don Swaynos and Chris Doubek on the set of The Horrible Life of Dr. Ghoul, courtesy of Swaynos, used with permission.]