AFF Review: Pictures of Superheroes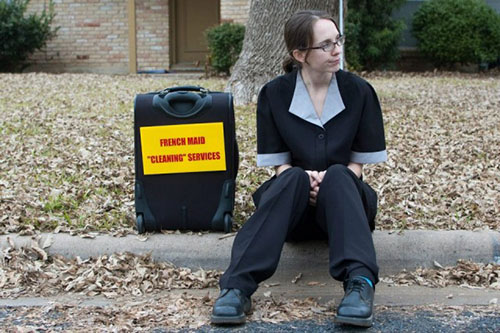 Much like Austin music, the local comedy scene has seen its ups and downs through the last couple of decades. Lately Austin comedians have received more recognition not just on stage but onscreen. Sometimes the writing and delivery of stand-up doesn't translate well to the silver screen. However, this year Austin Film Festival features Pictures of Superheroes, a local movie that not only showcases great comedic talent but congeals their multiple personalities in a humorous and insightful tale written and directed by Don Swaynos.
Pictures of Superheroes drops viewers into the humdrum life of maid-for-hire Marie played by Kerri Lendo (Sleep Study) as she deals with her insensitive boyfriend Phil (Byron Brown) and even sleazier boss Gil (Chris Doubek) who runs the French Maid "Cleaning" Service, which fronts as a prostitution store. After being fired from her job and breaking up with Phil, Marie is hired off the street by businessman Eric (Shannon McCormick) who lives alone but can't seem to keep his place clean. Turns out that Eric has forgotten that he does have a roommate, slacker and sometimes busboy Joe (John Merriman).
Swaynos' dry and witty writing takes the audience for an existential and often amusing ramble through life with Marie as she encounters a diverse cast of characters, and Swaynos' direction really draws out the acting talent of his comedic cast. Not only is Lendo stellar with her own deadpan delivery, but her interaction with local favorites Doubek and Merriman are quite engaging. McCormick's portrayal of the unhinged Eric steps up and threatens to cross the off-centered line of absurdity, making one believe that he truly has forgotten that he has a roommate. The lovely and talented Danu Uribe of The Latino Comedy Project and The Intergalactic Nemesis plays it cold and straight as Susan, Eric's haughty administrative assistant.
Swaynos' low budget filmmaking of Pictures of Superheroes -- shot on location in his own house -- hints at mumblecore with a bit of self-reflecting angst yet can't be compartmentalized as such. The cinematography and art direction are pure and simple, and allowing the dialogue and interactions to take the spotlight. Swaynos also edited this film, proving that he's quite capable of balancing multiple talents.
Pictures of Superheroes is a humorous psychological insight of people who are essentially sleepwalking through an absurd dream called life. Don't miss this comedic nugget at its next AFF screening, Thursday 10/25, 7 pm at the Bob Bullock Texas History Museum's Texas Spirit Theater.
Austin connections: In addition to Austin-based crew and cast including cameos by Cap City's 2011 Funniest Person in Austin Andy Ritchie, producer Kelly Williams and Brand Rackley (Cinema Six), local filming locations include the AMLI 6350 Apartments on North Burnet, Whole Foods at Gateway, Ruby's BBQ, and Cap City Comedy Club.