AFF Review: It's a Disaster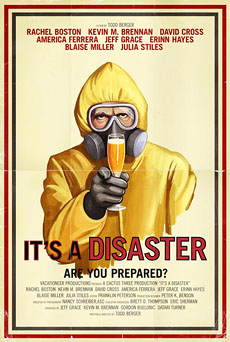 It's a Disaster is the funniest movie I've seen this year.
This isn't hyperbole. As a longtime fan of film comedy -- it's my second-favorite genre, after documentaries that make me hate America -- I don't bestow such lofty praise lightly. And I'm no fan of what usually passes for humor in mainstream American film "comedies," most of which cater to people who think it's funny when Adam Sandler farts. So when I label a film the funniest movie I've seen this year, rest assured that it's damned hilarious -- and damned smart.
If great things come from small beginnings, so it is that great laughs can come from small films. And they don't get much smaller than It's a Disaster, which happens entirely in one Los Angeles house, where eight characters are trapped when a civil emergency forces them to stay indoors. The four young couples gather for what is supposed to be a pleasant Sunday brunch, but the party goes awry almost immediately. The conversations turn awkward and the arguments turn heated even before everyone discovers they've lost Internet, cable and -- the horror! -- cell phone service.
Things only get worse from there, as the couples -- who know little about what's going on -- make farcical attempts to deal with the situation. While waiting to see what happens next, they engage in the sort of fatalistic and bizarre are we all gonna die? conversations and behaviors we would expect in what may (or may not) be their final hours.
I won't describe what traps everyone in the house, but not just to avoid spoilers. I'll skip the details mostly because they aren't really important. What matters is that eight people, most of them longtime friends, are forced to confront not only what's happening in the world outside, but also what's happening in their lives, marriages, relationships and friendships. Above all, they must confront their own mortality. It's a Disaster is an apt and perfect title; it applies to disasters civil and personal, possibly global and entirely intimate.
If all this sounds a bit glum, it's not. It's a Disaster is an absolute hoot, part screwball comedy and part dark satire, a film that crackles with endlessly witty observations about modern relationships and the angsty challenges of youngish adulthood. Writer/director Todd Berger's script delivers rapid-fire banter that is mostly comic, but with occasional tragic undertones that remind us that life hasn't always been kind to the characters. And the humor is sometimes blisteringly dark. When another couple arrives late to the party, knocking feebly on the door and looking half dead, party guest Tracy (Julia Stiles) refuses to let them in for fear of contaminating everyone else. "We're not gonna last out here," says the sickly woman on the porch. "Well," says Tracy without a hint of sympathy, "maybe you should learn to show up at things on time."
Berger deserves a lot of credit for creating eight distinct, well developed characters, always a challenge in an ensemble film. We've all met these couples in our lives: level-headed Tracy, on her third date with awkward Glenn (David Cross); quarreling yuppie spouses Emma (Erinn Hayes) and Pete (Blaise Miller); drug-friendly, new-agey Lexi (Rachel Boston) and amiable free spirit Buck (Kevin Brennan); and Internet-hooked Shane (Jeff Grace), who tests the patience of fact-spouting science teacher Hedi (America Ferrera). It's a Disaster reveals the characters' back stories while deftly intertwining their current situations; along the way are a few surprising revelations to keep things interesting and make this group of slightly dysfunctional people all the more believable.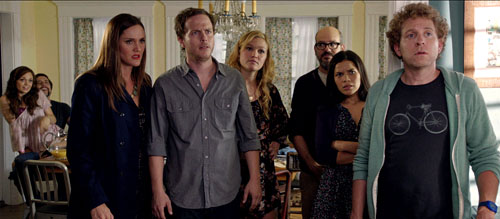 I also commend Berger for writing unusually strong female characters, an unfortunate rarity in fims. Tracy, Emma, Lexi and Hedi are as fully developed and influential as their male counterparts, contributing every bit as much to the story. Far from being attractive ornaments in supporting roles, they often take charge, which is refreshing to see in a film that easily could have been about four guys bravely protecting their womenfolk.
All eight actors deliver such solid performances that it's hard to pick a standout among them. The most memorable are Boston's hippy-dippy Lexi, who's more likeable than she should be, and Cross's socially klutzy Glenn, a nebbish who's mostly out of his league with the coolly confident Tracy. Also, Slackerwood editor Jette Kernion knows I'm obligated to give a nod to Ferrera -- not because of my longstanding and heartfelt (but completely harmless and non-stalking) crush on her, but because she does a great job as Hedi, a brainy woman with a very funny habit of interrupting things at precisely the wrong moment.
If I have any criticism of It's a Disaster, it's that Berger's Altman-esque technique of having simultaneous conversations and characters interrupting each other doesn't always work. It gives the film a very realistic feel, but I missed some of the jokes amid all the talking. But this is a minor problem, and one easily remedied by watching the film again. Fortunately, It's a Disaster won't disappear into the indie-film ether after playing the festival circuit; Oscilloscope Laboratories will release it in theaters and on home video next spring.
From its captivatingly retro opening credits to its wickedly perfect ending, this film is the sort of dark, brainy comedy we need to see more often. Its characters' lives may be in shambles -- but It's a Disaster is anything but a disaster.
Austin/Texas connections: Todd Berger and actor/producer Kevin Brennan are graduates of The University of Texas at Austin, and a few Longhorn references are sprinkled throughout the film. Some other crew members are Austinites -- read Elizabeth's interview with Todd Berger for more details.