Fantastic Fest 2012: Mike's Best of the Fest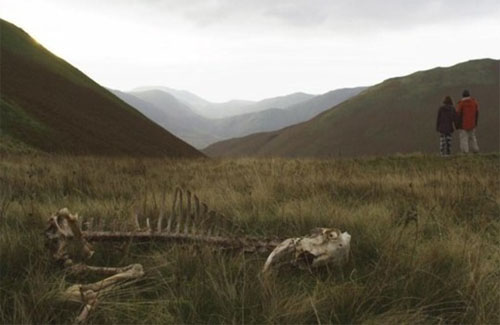 As I wrap up the last day of Fantastic Fest 2012, I've got my top ten selections that I thought were the best movies from this year's festival.
10. My Amityville Horror -- As a complete stranger to the Amityville story, I thought this would be a great way to learn what it was all about. This documentary covering the untold story of Dan Lutz was an eye-opener. Good pacing and a charismatic subject held my interest throughout. It can be difficult to approach a nearly 40 year-old tragedy from a new angle, but My Amityville Horror did that nicely. (Austin connection: Producer Christine Irons is from Austin.)
9. Sightseers (pictured at top) -- The first of two secret screenings, this dark British road trip comedy from director Ben Wheatley was original and clever. It takes murder from a guilty pleasure to a joyful enterprise. Great character performances ensure the success of a film with sometimes uncomfortable subject matter.
8. The American Scream (Debbie's review) -- Produced by Alamo Drafthouse's own Zack Carlson, this documentary explores the lives of a number of families who struggle each year to build and operate fantastic haunted houses in their own homes. A warm celebratory picture of quirky families. This will be available on Chiller.
7. Dredd 3D (Debbie's review) -- Not a remake of the Stallone film but a new adaptation from the comic source. Some of the most terrible 3D I've seen displayed since Clash of the Titans but great action, a solid cast, and good story all make this fun.
6. Sinister (J.C.'s SXSW review) -- Coverage at Slackerwood has been limited to those who aren't friends of screenwriter C. Robert Cargill, but this is honestly the creepiest movie in my memory and one of few that has actually managed to legitimately frighten me.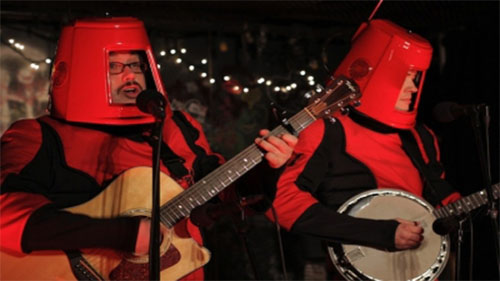 5. The History of Future Folk (pictured above) -- Exciting and touching sci-fi adventure that I described as this year's Sound of Noise. Low budget, to be sure, but original, fun and extraordinarily entertaining.
4. Antiviral (Jette's review) -- This was my #1 surprise favorite. Brandon Cronenberg's first feature is beautifully shot, smart and spine-tingling. Extremely current and topical. A perfect meld of sci-fi and horror, I would call this the first truly 21st-century piece of science fiction, as all of the medical science and politics on which it is based is rooted firmly in the 2000s. (Texas connection: star Caleb Landry Jones is from Garland.)
3. Looper (my review) -- Rian Johnson will be #1 at the box office this weekend, but the competition at Fantastic Fest is so steep he must settle for third on my list.
2. Holy Motors -- The most metaphorical entry in the fest, Holy Motors was written and directed by Leos Carax and stars Denis Lavant. This artistic piece layers endless metaphors atop each other as it carries the audience through a number of homages to great films both well known and obscure. It screams for repeat viewing in order to peel those back and discover its greater meaning.
1. Cloud Atlas (pictured above) -- This has skyrocketed to the top of my favorite films of all time list. While not everyone was willing to go that far, the sextuple impact of these interwoven tales of danger, hope, compassion, loss and love is undeniable, and the overwhelming positive response outstripped any other film that has played Fantastic Fest. Brilliant, stunning, and operating on every level of emotion until you are stripped, defenseless before it.