Fantastic Fest Review: The American Scream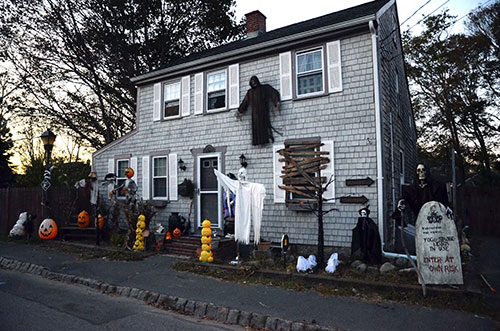 "When you are scared, you are most alive. People need that -- they need to feel alive." -- Victor Bariteau, The American Scream
Before sharing my views of the haunted house documentary The American Scream, I must provide two disclaimers. First of all, I've known producer Zack Carlson for several years through his roles at Alamo Drafthouse, which we discussed in a recent interview. Second, I've been involved in a local haunt SCARE for A CURE for several years, although not this year. As a haunter, I am more aware of the inner workings of a haunted house and was fortunate enough to have grown up during an era where haunted houses were as common as Christmas decorations in our community. We knew which houses had the scariest scenes and the best candy selection as we did our Halloween night lap around the neighborhood.
If it appears that I can't be objective about The American Scream, I must actually admit to being more critical and even skeptical than usual -- my moviegoing tastes often are quite different from Carlson's, but I can appreciate his passion for certain subgenres. However, I often used the film Darkon as a gauge for personal story documentaries and so my expectations were set quite high. My prognosis is that the filmmakers behind The American Scream wholeheartedly captures the soul of those folks who dedicate blood, sweat, tears and energy often year-round for one special night.
Director Michael Stephenson (Best Worst Movie) and the rest of his crew scoured the U.S. for the best home haunts to feature in their documentary, and it would be hard to believe they could have found a better mix than in Fairhaven, Massachusetts. Deprived of Halloween celebrations as a child by his parents' religious beliefs, Victor Bariteau compensates by making his home haunt a year-round obsession for his family. His eldest daughter is thoroughly immersed and helpful, and his supportive wife Tina states, "Not too many people know what their dream is -- they might think they do, but if they have a chance would they take it?"
Father and son Matt and Rick Brodeur are a comic duo, not only as part-time clown entertainers but in their personal interactions as they depend on one another. Matt Brodeur is a retired engineer and suffers from diabetes and arthritis, and must be reminded often by his son Rick to monitor his blood sugar. His poor health doesn't stop the elder Brodeur from helping his son create their home haunt.
City employee Manny Souza became involved in the home haunt craze thanks to Victor Bariteau, but instead of obsessing on details he chooses instead to use found objects for his haunt. Manny's story features one of the film's most touching moments, as we learn that Manny suffered a heart attack the year before. Faced with the possibility of not setting up the Halloween decorations, Lori Souza called on friends and neighbors who came out to help set up the Souzas' haunt. The Souza family bonds together as they prepare their home for their home haunt, which raises funds for the local Shriners Hospital.
The editing, cinematography and art direction of The American Scream are amazing, from the opening credits to the night vision captures of visitors to the haunts. The score by music composer Bobby Tahouri is effective and often chilling enough to evoke goosebumps. The film is well paced as it moves through the countdown towards Halloween night, culminating in a thrilling and fun adventure through Fairhaven's haunts. Director of photography Katie Graham and the cinematography crews wholeheartedly capture the fun, exhilaration, and terror of Halloween night.
Director Stephenson doesn't hold back as he shows the bickering and frustrations that come often come with the challenges of building a home haunt, including the "haunt stress" often experienced during crunch time. However, how these families deal with the trials and tribulations are portrayed in such an endearing manner that viewers have no trouble accepting the flaws of the film's central subjects. The American Scream leaves such a lasting impression that afterwards viewers will want to know, "What are they doing now?" I'll refrain from spoiling the end but can say that one of these haunters is fulfilling his dream this Halloween. Hopefully the well deserved success of The American Scream will spread to its subjects who've shared their passion and love for Halloween with their local community and now film audiences.
The American Scream screens again at Fantastic Fest on Thursday, September 27 at 11:45 am, at Alamo South Lamar. The film premieres on the Chiller Channel on October 28, 2012 at 6 pm CST and will play theatrically in select cities in October.