Fantastic Fest Review: Looper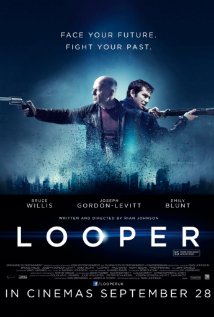 If you haven't already seen Brick or The Brothers Bloom, then Looper is certainly a great way to introduce yourself to writer/director Rian Johnson. A frequent visitor to Austin, Johnson premiered Looper before a Fantastic Fest audience on Sunday night at the Alamo Drafthouse, the same location where he introduced The Brothers Bloom in 2007.
Looper is an unusual combination of sci-fi action and thought-provoking drama. This duopoly is fitting for the story, in which Joseph Gordon-Levitt plays an assassin, aka a "looper," who must execute his older self -- portrayed by Bruce Willis -- as a condition of his employment and continuing survival, a task known as "closing the loop."
With a team of his fellow assasins hunting him, young Joe's only hope to survive and enjoy the wealth he has saved is to complete his mission, but his older self also has a mission to preserve the life he has lived. As he faces himself, young Joe is decisive and quick to act, with the advantage in the knowledge that he can't be killed by his older self. Old Joe, however, has the benefit of 30 years of training and experience as well as memories, though they are in a state of flux caused by his presence in the past.
Though time travel is essential to the existence of this story, it is not a hardcore time travel story. Old Joe speaks on behalf of Johnson to the audience when he says, "I don't want to talk about time travel!" If you pick it apart, Looper could unravel, but a deep exploration into the effects of changing the timeline isn't the story Johnson wants to tell.
Old Joe is no android sent back to ensure the destruction of humanity. He's absolutely human and operates based on ultimately humane motives. Even Abe (Jeff Daniels), the head of the Looper organization, is not a malevolent agent. He has chosen and fostered unwanted young men who would otherwise face a short life of poverty, providing a father figure to them. Technology and time travel serve only as enablers for the human elements of the story.
The strongest theme repeated through Johnson's film is the father-son or parent-child relationship seen between Jeff Daniels and his loopers, between Old Joe and young Joe and also between young Joe and Cid, a child he encounters who must be mentioned because of the singular acting talent of Pierce Gagnon. As a child actor, Joseph Gordon-Levitt himself would steal the show on every episode of 3rd Rock From the Sun, making clear his potential to become the finest actor of his generation. It is ironic, then, to see him paired with a likewise talented child actor who steals his scenes.
Johnson's films are already highly acclaimed and deservedly so. With Looper, he has executed a master class performance and realized a classic of science fiction that will join the ranks of other classics at the pinnacle of the genre, more outstanding perhaps than even another Bruce Willis vehicle, 12 Monkeys. Looper opens in Austin this Friday, September 28. Don't fail to catch it.