Fantastic Fest Review: Antiviral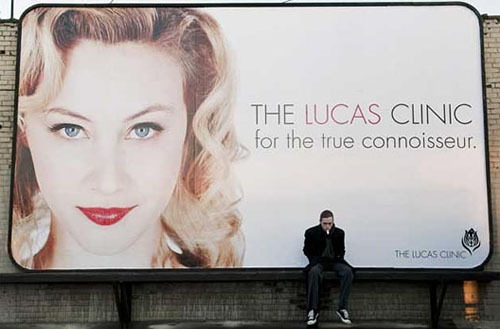 The future is a cold, sterile land of ennui and unhealthy celebrity worship. Or at least, that's the future as filmmaker Brandon Cronenberg presents it in his debut feature film Antiviral, which had its U.S. premiere at Fantastic Fest on Thursday night. I wish I could say it all seemed unbelievable, but it did not.
The characters in Antiviral are obsessed with either commodity or celebrity, and sometimes both. Young Syd March (Caleb Landry Jones) appears to be perpetually ill -- he pops a thermometer in his mouth every morning -- and as the movie progresses, it's revealed that this isn't because the air of the future is full of contagions. People want to be like celebrities so much that they are willing to have viruses cultivated from celebrities' illnesses injected into them, so they can experience the exact same diseases as the beautiful people. The viruses are "owned" by corporations that patent them and prevent them from being contagious, out of a desire not for community health but their own wealth. Think of GMO, but with flu instead of corn.
Syd is a salesman at The Lucas Clinic, which has an exclusive contract for all diseases contracted by blonde celebrity Hannah Geist (Sarah Gadon). And if Syd wants to smuggle out a disease to resell on the black market ... what better way than to inject it into himself?
Antiviral blends this social commentary with what ultimately turns out to be a detective story, but that plotline takes a little while to get going. In the meantime. Cronenberg metes out details about The Lucas Clinic and Syd's activities slowly, avoiding big chunks of exposition, so the audience understands just a little bit more in every scene. You have to pay attention, and fortunately, the movie's visuals and performances are compelling enough to keep you watching while you try to figure out exactly what is going on and why.
Caleb Landry Jones is a picture-perfect fit for the role of Syd, intensity radiating through his pale freckled skin, with his auburn hair sometimes providing the only color in a scene. The production design is also obviously a factor here, complementing the cast and story skillfully. While Jones carries the movie, the supporting cast is also strong, including Joe Pingue as a shady virus cultivator/dealer, and Malcolm McDowell as a doctor -- the scene in which McDowell's character reveals his own feelings about celebrity is excellent.
Antiviral has an unfortunate lull in its plot about two-thirds of the way through it, but it was worth sticking through for a memorable ending. Cronenberg's bleak but stylish view of the future is generally captivating, and he's carrying on the family filmmaking tradition admirably (his father is David Cronenberg, if you hadn't figured that out). This is a good movie to catch in theaters -- IFC is distributing it in the U.S. -- to fully enjoy its visual style.
Texas connections: Caleb Landry Jones is a native of Garland, Texas, and his first film appearance was in the partially Texas-shot No Country for Old Men.