Fantastic Fest 2012 Guide: The ABCs of Fantastic Fest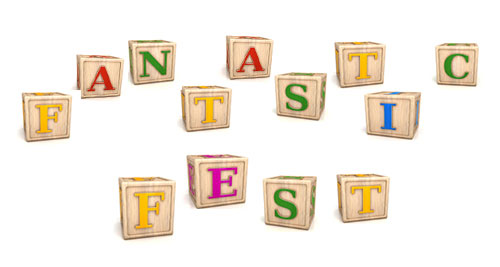 Welcome to the 2012 Fantastic Fest Survival Guide. With help from Slackerwood contributor and Fantastic Fest vet Mike Saulters, I've tried to cover every little thing you might want to know while you're spending the week in lovely south central Austin. Literally, I've covered fest tips from A to Z in honor this year's The ABCs of Death, which will have its U.S. premiere at Fantastic Fest 2012. If we left anything out, feel free to post a comment.
A few notes about relative location: If you are standing in front of Alamo and facing South Lamar (the big busy street), left is north and right is south. Left/north takes you to Barton Springs Road (land of many restaurants and a couple of coffee shops) and eventually downtown. Right/south takes you away from downtown but about a mile down, to a number of good restaurants (and the cheap yet tasty Maria's Taco XPress) as well as Office Depot and CVS.
Check out our other 2012 Fantastic Fest guides for more helpful advice: The Most Fun Homework You'll Ever Do, Planning Your BBQ and Beer Run and XX Team Power! The Fantastic Fest Females Survivor Guide.
A is for Attitude. Keep a positive attitude and don't cop a bad one. This is Austin, where many internationally known filmmakers and actors come to relax in a non-Hollywood setting without paparazzi and starstruck stalkers.
B is for Bills. As in make sure that you've paid them all before disappearing into the fog of Fantastic Fest. Also as in carry cash in case you need to dine and dash between screenings or to leave a tip.
C is for Celebrity. Many celebrities show up during the festival. Don't be afraid to approach someone. They're usually cool, just be courteous and respectful, especially if they're occupied/in a hurry. Have your own pens or sharpies if you want to ask for an autograph.
C is for Courtesy. Be careful what you say. The person in line behind you may just be the writer or director of a film you're trashing, which can cause a very awkward situation. Also realize that holding your friend's seat for a couple minutes while they make a pee run is acceptable, but holding a row of seats for your friends for 10 minutes is not tolerated.
D is for Deodorant. I'm a natural gal myself letting the pores breathe, with a preference for Tom's of Maine Long Lasting deodorant with special anti-microbial ingredient Humuluus lupulus when dealing with long days and nights in close proximity to others.
E is for Engage. Are you a visiting filmmaker with a short film that you fear will go unnoticed? Introduce yourself to folks in line or on the patio, and you might find yourself talking to an international distributor, a talented Austin film composer, a London festival organizer, or a short film programmer. Enjoy the Texas hospitality if someone invites you along for beer and BBQ.
F is for Fantastic. Whether it's the fantastic friends that you'll make, or the fantastic five pounds that I seem to gain each year from the delicious fare by Chef John Bullington, Fantastic Fest is truly a fantastic film adventure not to be missed.
F is for Flexible. Don't be afraid to skip a movie for a barbecue adventure, or to change your mind at the last minute about what you want to see. And especially don't fear the standby line, where you can meet fun people, and where the odds of your getting into the movie are probably better than you think (unless it's a secret screening).
G is for Gangman Style. Alamo Drafthouse programmer and Fantastic Fest event creator Zack Carlson has vowed to take Psy's Gangman Style viral song and dance to a level that will likely rival the "Chaos Reigns" meme of past Fantastic Fest die-hard fans. Listen and learn below:
H is for Hydrate. Drink plenty of water during the day, especially if you're consuming massive quantities of caffeine in the morning and alcohol at night. The servers have usually prepared dozens of glasses of ice water which wait by the entrance to the theater. Go ahead and grab one if you'd like rather than waiting for a server.
H is for Haunted House. This year Fantastic Fest is bringing haunted houses to attendees for the premiere of the haunt documentary American Scream. After the screening on Sunday, everyone is invited to step into a homemade haunt created onsite for Fantastic Fest by the film's subject Manny "The Halloween Guy" Souza. Be sure to pack an extra pair of underwear just in case.
I is for Independent. The secret screenings are always in high demand, but with so many of them featuring sneak previews of big films, consider seeing an unknown independent or international film instead. Speaking of which, more than 20 independent video games will be on display at the Fantastic Arcade, so be sure to stop by.
J is for Jones. I find it quite funny that some of the most cynical personalities that I've come to know at Fantastic Fest are softies when it comes to their pets, especially cats. FearNet's Scott Weinberg is notorious for tweeting photos and updates on his cat Jones (seen in photo to the left), so much that we hijacked and subjected Jones to LOLCat captioning. During an interview with Zack Carlson (American Scream) I witnessed him roughhousing with his cat N.M.
K is for Kleenex. Don't forget to pack a small pack of tissues, and feel free to discreetly share if you see me crying in a movie -- yes, there have been some touching moments in films at Fantastic Fest so don't judge me!
L is for Local. Pick up a Go Local card for $15 which will get you 10% off food & beverage at both the Alamo Drafthouse South Lamar and The Highball with purchase of $10 or more, excluding alcohol. The majority of the businesses sell the cards, and they are also available online. Check out their website for additional businesses nearby where you can receive more savings.
L is for Layers. A favorite Texas expression states, "Don't like the weather? Wait a few minutes -- it'll change." Keep extra clothes and warm snugglies in the car. The weather can change fast from sweltering to freezing. You may be sweating by late morning and freezing at night. Thankfully cooler temperatures have rolled into Texas and given a reprieve to the summer's triple-digit heat. I've recently taken part in a group of film critics exiting a press screening taking great pleasure in a sudden downpour, trapping us on the Alamo S. Lamar patio.
M is for Music. Want to take a break from hours upon days of films and parties and find out why Austin is called the "Live Music Capital of the World"? Grab an Austin Chronicle and check out the music calendar, but don't miss what Fantastic Fest has to offer over at The Highball including the reunion of multi-national martial arts synth rock band Dragon Sound on Friday, September 21, 8-bit music Data Pop on Monday, September 24, and black metal bands Assacre and Widower on Wednesday, September 26.
N is for No Talking or Texting. The Alamo Drafthouse Cinemas "No Talking Zone" internationally publicized policy is enforced even during Fantastic Fest. So much that anyone caught violating this policy will be cast into the Norwegian Hellfjord.
O is for Open Invitation. I didn't attend any events at The Highball last year after a disappointing attempt to get onto the Karaoke Apocalypse song queue despite arriving before the event start time -- despite leaving a screening early to attend. The stage was dominated by Highball staff and non-festival attendees including drunk bachelorettes, since many festival attendees didn't arrive after the evening screenings ended. Although I'd been assured by a festival contact that this year's events would be badgeholders only, the event description for the Fantastic Fest Opening Night Party: Monster's Ball as well as other events held at the Highball indicates otherwise. The Highball calendar has the opening party listed as a free event open to the public starting at 8 pm, while the Fantastic Fest schedule indicates 8:30 pm. The posted disclaimer assures "If capacity becomes an issue, Fantastic Fest badgeholders will receive priority entrance."
P is for Pace. As in pace yourself -- it's a marathon, not a sprint.
P is for Party. Don't miss all the parties. There's something going on every night, even if you are avoiding the open-invitation bashes. Some of the best events are Fantastic Feud, 100 Best Kills, and always the Closing-Night Party.
P is for Poster. You may want to consider bringing a poster tube. Mondo will be selling posters during the fest, and they usually do not provide tubes for these sales.
Q is for Q&A. Some of the most memorable Q&As I've ever attended have been at Fantastic Fest, including Michael J. Bassett talking about the process of determining the effects of certain weapons for Solomon Kane and Michael Roskam elaborating on the real-life connections in Bullhead at last year's premiere. With that said, please consider your questions carefully, and try not to be overly technical, lengthy, or off-topic. Many of these filmmakers have traveled from all over the world to present their films at the festival, so help make it a dynamic an engaging experience for everyone.
Enjoy a clip below of legendary game developer and Man on a Mission cosmonaut Richard Garriott-Cayeux moderating a discussion with writer/director Will Eubank and producer Tom DeLonge of Angels & Airwaves about Love, their movie about a space traveler:
R is for Rest(room). If there is a long line for the restrooms in the Drafthouse and you have time between shows, take a break over at The Highball. And while you're there, Fantastic Fest badgeholders can check out the Fantastic Arcade.
S is for Shorts. Many shorts play with related features of a similar theme. These shorts do not appear in any of the shorts programs, so don't miss them. I've seen Jette duck into a theater just to watch the short beforehand, although that only works if the theater isn't at capacity.
S is for Snacks. Purse jerky (or dried fruit and nuts) and trunk beer/sodas can help if you are on a tight budget and can't make it back home or to your hotel.
T is for Tips. I understand that a week of screenings means that you have to budget for food, but remember Alamo Drafthouse staff earn tips as their primary wage. Many of these staff work long hours for days on end to ensure Fantastic Fest attendees have a memorable experience.
T is for Twitter. Connect with other people on Twitter -- Fantastic Fest has an enormous Twitter community, and you can often learn important news there before it reaches your In box. You can find the Twitter handles for Slackerwood contributors on the Contributors page.
U is for Understanding. Unless they are attending with you, kiss your loved ones goodbye for the week, feed the pets and water the plants. It's time for a whirlwind of screenings, parties, haunted house, black metal, and more. Be sure that your boss, family and friends understand that you are about to embark on a fascinating journey through an alternate universe and you'll see them on the flipside. [Editor's note: If you're a local, I recommend setting aside an evening or brunch or other time to leave the fest and do something else with your partner or whomever. It's a nice break and you/they won't feel so disconnected.]
V is for Vitamins. Take plenty of vitamins. My preventive measure for allergy attacks is a Claritin every morning. The greenery of Austin comes at a price of itchy eyes and sinus drainage that you don't want becoming a sinus infection by mid-week. I also carry pseudoephedine just in case.
W is for WTF? Be prepared to see some of the most outrageous and diverse genre films of your life, as well as on-stage antics and insightful Q&A.
X is for (e)Xtra. Pack extra batteries, phone charger, identification in a safe place. Don't forget extra business cards, and extra gum or mints is great to share with neighbors to break the ice and avoid the inevitable halitosis. You can always put together a little storage bag in the trunk of your car.
Y is for You. Ultimately you can decide what kind of experience you want to get out of Fantastic Fest, whether it be hours on end of screenings with barely a hello to being social and conversational on the patio. Fantastic Fest is what you make of it -- so feel free to share your comments and experiences below.
Z is for ZZZs. As in get some sleep now, because you'll soon need to be observing the mantra "Sleep is the enemy." Don't give in or else your body will win!
[Image/photo credits: "The ABCs of Fantastic Fest," derived by Debbie Cerda from iStockPhoto under standard agreement, "WWJD?" derived by Debbie Cerda, source photo Scott Weinberg]