XX Team Power! The Fantastic Fest Females Survival Guide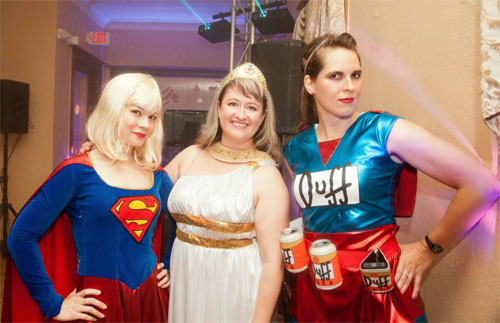 This week, I'll embark on my seventh journey into the film-geek-genre adventure known as Fantastic Fest. In 2006, I was a newbie, navigating the bloody waters of strange and fascinating cinema. It was uncharted territory for someone of the double-X chromosome persuasion, as females were the definite minority among attendees. Since then, our numbers (and powers) have increased with women banding together to proclaim, "We're genre nerds too!"
Even so, I continue to have this same conversation:
Me: "Oh, I love Fantastic Fest. I go every year and have a blast!"
Female Fantastic Fest Virgin: "It's not really my thing. I don't like slasher movies."
Me: "I don't either."
FFFV: "Then how… ?"
Ladies, listen up. You too can enjoy Fantastic Fest. If you love celebrating the quirky and unexpected side of cinema, and enjoy being around like-minded people, you need to attend this festival. Even if you hate horror films or "rapey" movies, you can still see some amazing and unforgettable films. Some are unforgettable for bad reasons, but still great conversation starters.
As members of the XX team, we have our own unique ways of navigating Fantastic Fest waters versus that of our Y-chromosome counterparts. Here, I (and other XX veterans) share advice and insights into surviving and mastering Fantastic Fest. Our hope is that festival alumni will up their game, and virgins will come out of their shells.
1. The icons are not just for show.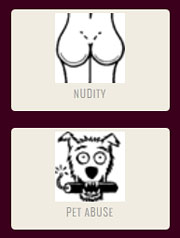 When travelling, they say, "Know before you go." At Fantastic Fest, there's no worse feeling than being in a theater with some gory nightmare unfolding that you can't un-see. You won't make it to the door before your eyeballs are scarred for life. Enter the Fantastic Fest icons.
Using these cartoonish symbols -- warning: many of which are NSFW -- you can get a fairly good idea of what you're in for with each movie. For example, when I see "pet abuse," that's a big red flag. But if I find "surreal music comedy," as I did with Sound of Noise, still one of my favorite films from over the years, I feel pretty confident about my choice.
Many women love gory slasher movies and that's awesome. The point I'm trying to make is that no matter what your tastes, you can plan a very satisfying film schedule for yourself by simply making a concerted effort to read the festival guide and study the icons.
Local filmmaker and Fantastic Fest fan Kat Candler has her own ways of creating a tailored viewing schedule. She finds a film geek who's already done the research and knows her tastes. Luckily, she's married to one.
"I rely pretty heavily on my husband (Mark Osborn) going into the festival. He's well aware of what I do and don't like. I don't do heavy torture porn movies ... especially with pregnant women. I'm really, really over what I think is a lazy horror mechanic of the token girl getting beaten and raped. So I generally try and find the new, the weird, the different. I love good stories, unique stories and well drawn characters. And you can definitely find those at the fest."
Do your homework and I promise you'll have an unforgettable (in a good way) viewing experience. Don't be shy!
2. Size really doesn't matter.
We all have an addiction to feature-length films. I mean, don't you need at least an hour and a half to portray a compelling story? Ladies (and gentlemen, if you're reading), size doesn't matter when it comes to fine cinema. Over the years, Fantastic Fest has proven that short films are not short on talent. Check out the 2010 Best Animated Short Teclópolis, embedded below, for evidence.
As Kat, who's a short filmmaker herself, says, "Go see the short films! There are some really fantastic shorts (no pun intended). Animated shorts especially."
Many of the features have shorts that play beforehand, but consider attending the full shorts program, such as Drawn and Quartered, the animated shorts. Keep in mind, however, that these are not fluffy bunny Disney-fied animation. They can be pretty adult, yet still incredibly entertaining. At Fantastic Fest, the shorts programs usually draw a full house, so don't hesitate to get a ticket as soon as you can.
3. You are what you eat.
With any film festival, half of the attendees by the end of the week will succumb to the "festival flu." Fantastic Fest has the added hazard of deliciously unhealthy temptations at every film. There's nothing more satisfying than a milkshake and Moonstruck pizza with your midnight movie, but pace yourself.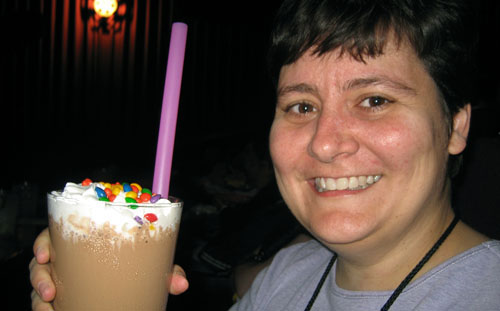 You can see up to five or six films a day, and five or six milkshakes a day will produce your own horror movie. What you consume during the festival, at or away from the Alamo, can't be an afterthought. The state of your stomach will determine the state of your mind by the fourth day and beyond.
There are a number of ways to keep your belly from rebelling. First, purify yourself leading up to the festival. Here's what Kat has to say about her eating habits:
"My advice, eat healthy leading up to the festival -- because you won't when you're there and you'll feel gross after a week of BLTs and fries."
Additionally, alternate between the comfort food and lighter fare. I'm a vegetarian, so I like the red pepper hummus and Once Upon a Time in Mexico salad (sub tofu). For carnivores, the Asian chicken wrap is a healthier go-to. The Alamo waitstaff are some of the coolest people on the planet -- talk to them about your tastes and desires, and they'll find something up your alley!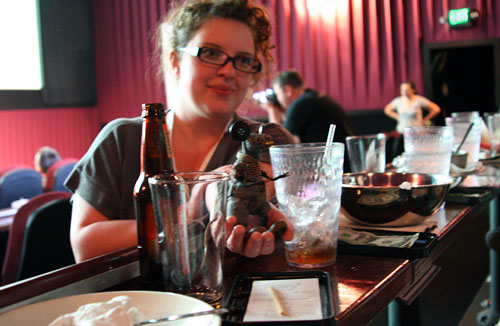 4. There's nothing like a stimulating conversation.
One of the joys of Fantastic Fest is the collective moviegoing experience that it fosters. We're all in this together at the Alamo South Lamar, and the sense of camaraderie is palpable. Make sure that you leave time in your schedule to talk with your fellow attendees.
Lend your XX power to the "frenzy of discussion after everyone spills out from the theaters and lingers around the patio," as Kat Candler puts it. Last year, the festival organizers cleverly cordoned off and tented the street connecting the front and back parking lots. This was a great place to meet and chat up new folks.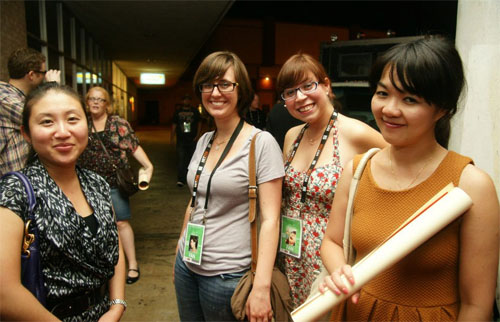 Laura Kincaid with the Texas Film Commission, a long-time festival buddy of mine, shares her thoughts on networking and striking up a stimulating conversation.
"When in doubt, go to the Highball. People will go there when they've got a gap in their schedules."
"Fantastic Fest is one of the only festivals I've been to where people skip the parties because they want to go see a movie at midnight. Because of this, there can be a completely different crowd at evening parties (excluding the Closing Night Party, which everyone will go to) than at screenings. That's when all the sponsors and less intense festival goers come out."
Speaking of parties, try to attend them. Not only are they great for people-watching and catch-up time with your friends, but some of the strangest/funniest/most memorable things have happened during the parties. From Bill Murray complimenting my friend's hat at the closing party in 2008 to Nacho Vigalondo's (http://www.imdb.com/name/nm1443023/) unending karaoke madness, something awesome will happen.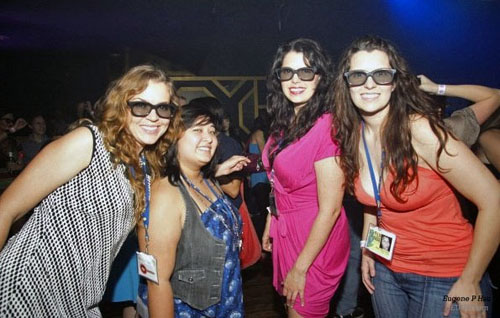 5. The nitty-gritty details.
If you do it right, you'll get off the Fantastic Fest rollercoaster exhausted and probably a little bit confused. But, if you bring the right tools with you, you'll have a more enjoyable ride. In my purse/Mary Poppins bag are always eye drops, breath strips, Advil, tissues and a dish towel. Yes, a dish towel.
My dear friend Carol Pirie introduced this practice to me. It help solves the age-old problem of eating in the dark. Just put your own dishtowel in your lap and eat without fear! I can't tell you how handy they become.
Kat Candler always brings a sweater with her, "whether it's for keeping you warm or hiding your face from what's about to happen."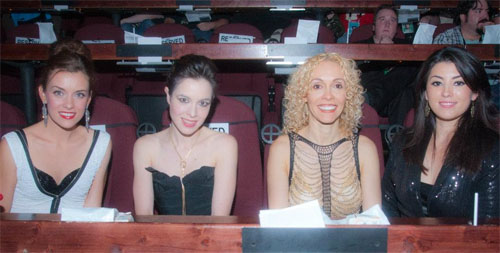 Keep in mind that there's no ATM at the Alamo South Lamar. The nearest is across the street at the Gibson Bar. So, either stick to plastic or plan accordingly. And, when the lines get long at the ladies room between movies, pop over to The Highball's fine facilities to freshen up.
Finally, Jette Kernion reminded me of something every girl needs to know – the nearest drug store. There's a CVS a little south of the Alamo (open 24 hours), as well as a convenience store about one block from the theater. There's also the former neighbor of the Alamo, but still close Lamar Plaza Drug Store at 1509 South Lamar.
With this insider information, your XX powers are ready to be unleashed. Make sure to continue the revolution during the festival with the occasional fist bump while shouting "double X powers activate!" You can also share your own thoughts below about being a Fantastic Fest Female.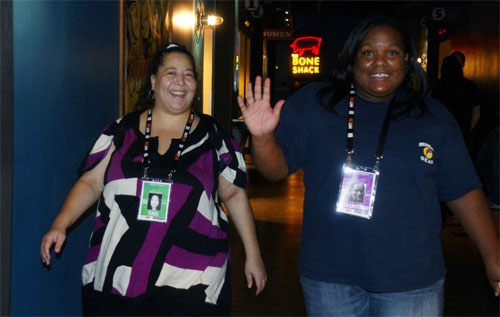 I leave you with these final words from Laura:
"Don't be overwhelmed by the sheer number of guys running around. The vast majority of Fantastic Fest attendees are male, but don't worry, they're very nice."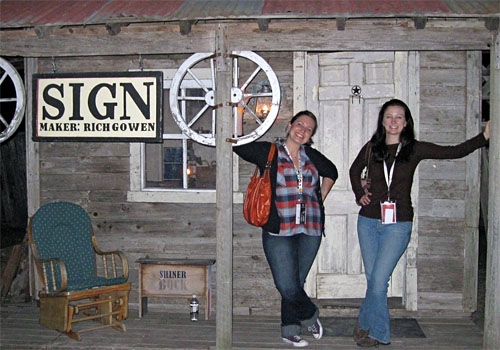 [Photo credit: "Fantastic Fest 2011 Closing Night Party," "Fantastic Fest Day 2 & 3, September 23-24, 2011," "3D Party Fantastic Fest 2009," "Fantastic Fest 2011 Day One - Human Centipede 2," "Fantastic Fest 2011 - Day 4" by Eugene Hsu (@HEUGE), used with permission. "I Drink My Milkshake" and "Fantastic Fest 2010 Waitstaff" by Jette Kernion, all rights reserved. "Laura Kincaid and Katy Daiger Dial, Fantastic Fest 2010 Closing Night" courtesy of Katy Daiger Dial.]