Fantastic Fest 2012 Guide: The Most Fun Homework You'll Ever Do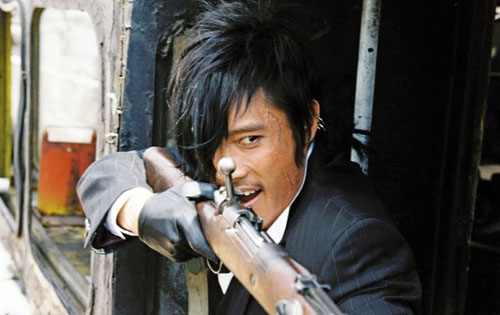 Fantastic Fest is just around the corner. So that means your time to catch up and do your homework on films screening at the fest is growing shorter every day. Some favorite directors from Fantastic Fest past are returning and others are making their first appearance. I know some of my most anticipated are hard to familiarize yourself with beforehand (New Kids Turbo), but you can find most of these films at your favorite local video store (Vulcan! I Luv Video!) or streaming online. Hurry now because you're losing days at this rate.
Fantastic Fest selection: The American Scream (dir. Michael Paul Stephenson)
Stephenson's previous film Best Worst Movie premiered at SXSW 2009, and documented the cult phenomenon Troll 2. The filmmaker's latest documentary stays in the same genre yet takes a look at three passionate haunted house enthusiasts as they prepare their home to scare the living hell out of those who walk through it. The American Scream producer Zack Carlson appears in Best Worst Movie as well.
Prep work: Best Worst Movie is available on DVD. Look for it in the documentary section (just see if you can spot the terrific Tyler Stout artwork). It's also available for rental on Amazon Instant Video ... and embedded below, via Hulu.
Fantastic Fest selection:The Collection (dir. Marcus Dunstan)
Just a few years ago, The Collector came out and left feelings that it could become a new horror franchise. Now the sequel is making its world premiere at this year's fest with director Marcus Dunstan, writer Patrick Melton and cast in attendance.
Prep work: The Collector is available on DVD and Blu-ray.
Fantastic Fest selection: Dead Sushi (dir. Noburi Iguchi)
Last time I caught an Iguchi film (RoboGeisha) at Fantastic Fest, an unforgettable Q&A followed it with Alamo owner Tim League, Iguchi and members of the cast in wardrobe. Expect much of the same in this Japanese splatter action film with flying killer sushi monsters. Iguchi also directed one of the short films in The ABCs of Death anthology screening at Fantastic Fest this year.
Prep work: RoboGeisha and Mutant Girls Squad can both be found on Netflix Instant and DVD.
Fantastic Fest selection: Doomsday Book (dir. Kim Ji-Woon)
Prep work: With a repertoire of several different types of films, Ji-Woon's apocalyptic sci-fi feature should prove to show even more of his skill as a director. This film should be a lighter affair than I Saw The Devil, but who knows by how much? Gotta watch it to see!
Prep work: I Saw The Devil, A Tale Of Two Sisters, and The Good, The Bad, and The Weird (pictured at top) are available via Netflix Instant and DVD.
Fantastic Fest selection: Errors of the Human Body (dir. Eron Sheean)
Sheean wrote last year's The Divide and follows up in 2012 with his directorial debut. Fantastic Fest programmer Todd Brown says, "Errors Of The Human Body offers up a surprisingly human take on science, a story ultimately more concerned with its characters than the tools they wield. It is a refreshing, yet challenging approach."
Prep work: The Divide can be found on DVD. FISH, a short directed by Sheean, can be seen right here.
Fantastic Fest selection: Flicker (dir. Patrick Eklund)
Another feature directorial debut, Eklund has an Oscar-nominated short up his sleeve.
Prep work: You can watch Instead Of Abracadabra below or on YouTube.
Fantastic Fest selection: The Greatest Movie Ever Rolled (dir. Ryan Polito)
A few years ago, Doug Benson premiered his documentary Super High Me at SXSW and it was a blast. Instead of doing the feat of smoking marijuana everyday for 30 days, Benson and frequent collaborator Graham Elwood seek to make a film about going on tour by going on tour.
You can also catch Doug Benson as he records his popular podcast Doug Loves Movies at the Fest.
Prep work: Super High Me is available on DVD, Netflix Watch Instantly ... and embedded below, via Hulu.
Fantastic Fest selection: Hellfjord (dir. Patrik Syversen, Kenneth Olaf Hjellum, Ole Giæver, Sebastian Dalén, Vegar Hoel and Roar Uthaug)
This Norwegian TV show (said to be a combination of Twin Peaks and Hot Fuzz) will take a few hours of your schedule, but if the affiliation of Tommy Wirkola is any indication, this should be something to be seen.
Prep work: You can find Wirkola's Dead Snow on DVD and Netflix Instant.
Fantastic Fest selection: Here Comes The Devil (dir. Adrian Garcia Bogliano)
Prep work: Last year's Penumbra was one of the first films to be picked up during the fest, making it now available on DVD and iTunes. You can also find Bogliano's Cold Sweat on the same platforms.
Fantastic Fest selection: Holy Motors (dir. Leos Carax)
Recently awarded the Pardo d'onore at Locarno, Carax's fifth film plays the fest.
Prep work: Carax's segment "Merde" can be found on TOKYO!, available on DVD. Boy Meets Girl, Bad Blood (Mauvais Sang), The Lovers On The Bridge, and Pola X can be found on DVD too. Yet they're not cheap to buy and probably best to find at your local rental store. Only The Lovers On The Bridge is available via Netflix Instant.
Fantastic Fest selection: Red Dawn (dir. Dan Bradley)
This year's closing film is the remake of the 1984 film Red Dawn. Directed by Dan Bradley, a longtime Hollywood stunt coordinator, the only expectation can be several high intensity scenes as the Russians (err, North Koreans) invade a small American town.
Prep work: You can watch the original Red Dawn on DVD and Netflix Instant.
Fantastic Fest selection: Wrong (dir. Quentin Dupieux)
Already picked up by Drafthouse Films, you can rest assured that this is something you'll want to see at the fest. Dupieux's previous film, Rubber, screened at the fest a couple of years back.
Prep work: Rubber is available on DVD and Netflix Instant.


This is just a small selection of films I'm excited for this year and from year's past. The full list of films screening this year is available on the Fantastic Fest website. Even if you can't make it to any of the films this year, this list should give you a good taste of what they've offered up in years past. Take a deep breath and immerse yourself!
Austin Culp is the Marketing and Events Coordinator at Austin Film Society.