Fantastic Fest 2012 Guide: Planning Your BBQ and Beer Run
"Over time the process of creating pit barbecue has transformed such modest spots into great spaces, where the smoke and heat have penetrated the walls and the people who toil within them."
-- Wyatt McSpadden, Texas BBQ, University of Texas Press
As a native Texan, I enjoy joking about the four basic food groups of Texas: Tex-Mex, BBQ, Southern-fried, and beer. Every year the increasing number of Fantastic Fest attendees from all over the globe seem to be most fascinated with BBQ, although beer is certainly not neglected. Much of that credit goes to Alamo Drafthouse founder and CEO Tim League, who has spearheaded barbecue-themed road trips to favorite iconic stops around Central Texas for film lovers and visiting filmmakers, as seen above.
Texans take their BBQ very seriously, even more so then the "beans or no beans in chili" argument. With BBQ it's "sauce or no sauce" that evokes major controversy, and when sauce is allowed the flavors may ranges from sweet to peppery to holy habanero hot. Perfecting the technique of smoking a brisket until there's a perfect pink smoke line while leaving a moist center is critical to many pitmasters, and a nice "bark" is achieved through the use of a pepper rub.
Let me state for the record -- this guide is not meant to provide a comprehensive list of the best Austin has to offer. There are already plenty of BBQ blogs and lists around for reference. And yes, many Texans prefer the "BBQ" spelling over the generic "barbecue." (That's another argument you can enjoy.)
BBQ blogs abound, including Man Up: Tale of Texas BBQ and Mike Sutter's Fed Man Walking blog, which includes his Austin's Top 10 BBQ list. Sutter dedicated 38 straight days to eating and reviewing BBQ to come up with his favorites. Jodi Bart of popular food blog Tasty Touring recommends local favorites Franklin, J. Mueller, and Stiles Switch, while Johnny Livesay, Kitchen Team Leader of Black Star Co-op, recommends J. Mueller.
Full Custom Gospel BBQ features a Texas BBQ map and BBQ R.I.P. list of closed locations. Chow.com recently posted a Chowhound list of Austin's Best BBQ Joints. Zagat released their Best Austin Barbecue Restaurants, although unlike Zagat for this guide I've included BBQ places outside Austin city limits in the "In The Sticks" category.
More controversy ensues on whether Texas iced tea should be "sweet" tea, or unsweetened (personally I find sweet tea to be a travesty) but what pairs even better is a tasty Texas craft beer. I've made special notes in our guide on where you can find great craft beers with mouth-watering BBQ.
Visitors as well as newcomers should take note that hours are often subject to change, especially due to availability at the more popular as well as portable locations showing up around town. Be aware that Franklin Barbecue is closed for vacation September 17 - 23, returning in time for the sold-out Texas Monthly Barbecue Festival on September 24. Fantastic Fest attendees will want to avoid Barton Springs Road and Riverside near South 1st that day. Long-time icon Artz Ribhouse is closed, but never fear -- there are plenty more BBQ places to choose from!
Barton Springs/S. Lamar
Green Mesquite Barbecue & More (1400 Barton Springs Road, Austin 78704) -- Literally walking distance from the Alamo Drafthouse South Lamar, with a great patio under oak trees. My favorite local source for pork ribs, where I also learned that BBQ sauce masks the deliciously smoked flavor of their chicken. (Sunday - Thursday 11 am - 10 pm, Friday and Saturday 11 am - 11 pm)
Uncle Billy's Brew & Que (1530 Barton Springs Road, Austin 78704) -- Also close to Alamo S. Lamar, Uncle Billy's is best known for award-winning craft beers, and one of the "lightest" BBQ meals I enjoy routinely is the pulled chicken salad with chipotle vinaigrette. I love the Ax Handle Pale Ale, but the Hill Country Organic Amber balanced maltiness with a pleasant hop finish is great for pairing with their fare. (Sunday – Thursday 11 am – 11 pm, Friday – Saturday 11 am – 10 pm)
North of the River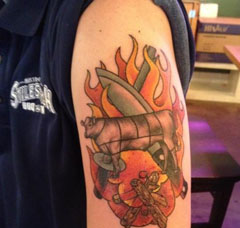 Franklin Barbecue (900 E. 11th Street, Austin 78702) -- Be prepared to wait for an hour and a half at this food trailer turned brick-and-mortar restaurant for what's been proclaimed the best brisket in Texas, earning Bon Appetit Magazine's honor of "the Best BBQ Restaurant in America". Franklin now offers local craft beers including two of my personal local favorites for pairing Live Oak Big Bark on draft and Austin Beerworks in cans. (Tuesday - Sunday 11 am until sold out. (usually within two or three hours, closed Monday)
Ruby's BBQ (512 W. 29th Street, Austin 78705) -- Whatever you do, don't confuse this local BBQ place featuring Elgin beef sauce and baby-back ribs with the Rudy's BBQ chain. Sadly owner/founder Luke passed away about a year ago, but his legacy lives on just north of the UT campus. This is a great BBQ place to bring your vegetarian friends for late-night fare including tasty Mediterranean salads and black bean tacos. (Sunday - Thursday 11 am - 11 pm, Saturday and Sunday 11 am - midnight)
Stiles Switch BBQ & Brew (6610 N. Lamar Blvd, Austin 78757) -- Located in the historic Violet Crown Shopping Center in north Austin (the strip mall housed the Emporium in Dazed and Confused), this BBQ joint features tasty brisket and a fabulous selection of Texas craft beers including Rogness Brewing, Austin Beerworks, Live Oak Brewing, Real Ale Brewing, and many more. Pitmaster Lane Kirkpatrick takes his BBQ seriously -- as can be seen in by the photo of his tattoo to the right -- having worked for the late Bobby Mueller at the original Louie Mueller Barbecue in Taylor. (Tuesday - Thursday, 11 am - 9 pm, Friday and Saturday 11-10 pm, closed Monday)
South of the River

JMueller BBQ (1502 S. 1st, Austin 78704) -- John Mueller's spent over 25 years in Taylor, Texas under the tutelage of his dad, Texas pit icon Bobby Mueller. The younger Mueller will be celebrating the first anniversary of his own BBQ place in South Austin next month. In addition to the regular ribs and brisket fare, this food trailer offers turkey breast and pork chops. You can carry in beer from the convenience store next door. (10:30 am - until food runs out, Tuesday - Sunday)
Live Oak Barbecue (2713 E. Second St, Austin 78702) -- Barbecue and sides sold by the pound, but there's indoor dining with benches. Be sure to check out their cucumber salad, a delectable vinegary shaved cucumber, onion and dill. (11 am - 8 pm daily)
Woodpile BBQ (9300 U.S. 290, Austin 78736) -- Featuring all-natural Niman Ranch meat including certified Angus beef brisket, all natural pork sausage, and pork ribs plus something rather unexpected -- burnt ends, which are quite popular. Mouth-watering sides include homemade honey jalapeno cornbread muffins and smoked molasses baked beans. For dessert try their molasses ice cream. Have some extra time? Sign up for a tour at nearby Thirsty Planet Brewing or visit Jester King Craft Brewery tasting room for special selections. (Saturday 10:30 am - 2 pm or until they run out of BBQ)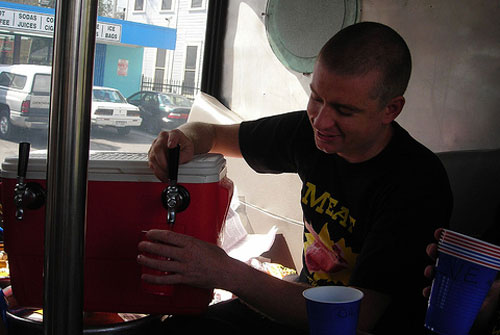 In the Sticks
These places are best saved for the back-side of your Fantastic Fest adventure, as you can make a day of it as seen above of the Blazing Saddles BBQ Run in November 2007. Find out more about this adventure in Alamo Drafthouse Chief Creative Officer Henri Mazza's blog post about the most carnivorous day in his life. Many BBQ places started out as meat markets, especially in smaller towns in Central Texas.
Louie Mueller Barbecue (206 W. 2nd Street, Taylor, 76574) -- Amazing beef ribs as well as brisket liberally coated with a flavorful pepper crust. (Monday - Friday 11 am - 6 pm, Saturday 10 am - 6 pm, closed Sunday)
The Salt Lick (8300 FM 1826, Driftwood, 78619) -- The original location in Driftwood, Texas, is still worth a road trip to enjoy the large seating underneath the trees. Family style all-you-can-eat platters are the best way to go if you are with a crowd of hungry BBQ fans. BYOB and cash only, but an ATM is located onsite. (Monday - Sunday 11 am - 10 pm)
Smitty's Market (208 South Commerce, Lockhart, 78644) -- Nina Schmidt established Smitty's Market in 1999 in the building that housed her father's Kreuz Market for more than 50 years and in the same location where barbecue has been sold in Lockhart since the turn of the last century. Here you actually walk through the smoker room to place your order -- try the brisket or sausage served on butcher paper. And while you're in Lockhart, you can always take a Waiting for Guffman tour. (Mondays - Fridays 7 am - 6 pm, Saturday 7 am - 6:30 pm, Sunday 9 am - 3 pm)
Black's Barbecue (215 North Main Street, Lockhart 78644) -- Texas' oldest and best major barbecue restaurant continuously owned by the same family since 1932, known best for their beef ribs. Cold Shiner Bock is plentiful to enjoy with your meal. (Sunday - Thursday 10 am - 8 pm, Friday - Saturday 10 am - 8:30 pm)
Kreuz Market (619 N. Colorado Street, Lockhart 78644) -- I love the jalapeno cheese sausage links as well as their banana pudding, great place to pick up meat and sides by the pound. (Monday - Saturday 10:30 am - 8 pm, closed Sunday)
Luling City Market (633 E. Davis, Luling 78648) -- The home of the annual Watermelon Thump also hosts this city market known for serving a choice of brisket, ribs, or sausage on butcher paper. Cash only. (Monday - Saturday 7 am - 6 pm, closed Sunday)
Snow's BBQ (516 Main Street, Lexington 78947) -- The pitmaster here smoking meat from midnight until sunrise on a Saturday morning is Tootsie Tomanetz, who's been smoking since 1967, when she ran the pits at City Meat Market in Giddings. Snow's fall-off-the-bone chicken is nicely smoked. Named by Texas Monthly in the top 5 of their Top 50 BBQ. (Saturday 8 am until sold out)
Missing any personal favorites or know of BYOB at a great BBQ location? Feel free to leave a comment below.
[Photo credits: "BBQ Run - FF09" courtesy of Fantastic Fest, "Stiles Switch Pitmaster Lance Kirkpatrick's Art" courtesy of Stiles Switch BBQ & Brew, "Tim at the Taps" courtesy of Rolling Roadshow, "BBQ Plate at Louie Mueller Barbecue" by Debbie Cerda for Slackerwood]