Previewing Cine Las Americas 2012: Hecho en Tejas Shorts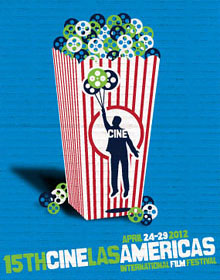 The 2012 Cine Las Americas International Film Festival kicked off Tuesday night and runs through the weekend. This year's program includes four short films made in Texas -- in the fest's Hecho en Tejas category, naturally.
Two of the Texas shorts were also part of the City of Austin's "Faces of Austin 2012" project. All four films will show at Alamo Drafthouse on South Lamar over the weekend.
Sam Lerma's Lilia was produced in San Antonio. The film, which premiered at the 2011 Los Angeles Latino International Film Festival, focuses on a family after the father loses his job. How will he care for 5-year-old Lilia? This short screens before Hombre y tierra on Saturday, April 28 at 1:45 pm. Producer Ralph Lopez and actress Lauren Montemayor will be there.
In Open Your Eyes, an 11-year-old goes on a journey of self-reflection. Director Adolfo R. Mora will be in attendance when this short plays on Sunday, April 29 at 11 am (before In the Shadow, another Texas-shot feature).
Through Juan A. Izaguirre's Para Vivir, the viewer is shown a day in the life of Joel, a thirtysomething undocumented immigrant. Joel ended up in Austin because he has cancer and did not have access to medications in Mexico.
The XY Zone, by Kathryn Morrissey and Paloma Gonzalez and included in Faces of Austin 2012, is the name of a program at Reagan High School (in central/northeast Austin) that works with male teens. Both Para Vivir and The XY Zone will open for Canción del cuerpo at 11 am on Saturday, April 28.
Check out the Cine Las Americas schedule for a full listing of this week's events -- and don't forget to read Chale's preview, parts one and two, of feature films at the fest.