Previewing Cine Las Americas 2012 Features, Part Two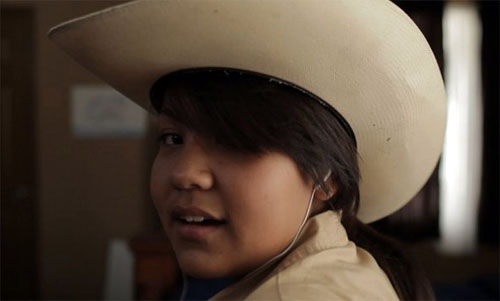 [Continued from Part One]
The 15th Cine Las Americas International Film Festival opens in Austin this Tuesday, April 24, and runs for six glorious film-filled days featuring narrative features, documentaries, shorts and animation from all over Latin America as well as the mother-tongue homelands of Spain and Portugal. Films are playing at the Alamo Drafthouse on South Lamar and the Mexican American Cultural Center. Check the CLAIFF website for details about screen times, festival badges and single tickets.
Since there are too many films to cover, here is a personal list of narrative features and documentaries I am most interested in seeing, including a few I have already enjoyed. The best thing to do is carefully explore the Cine Las Americas schedule and watch the helpful trailers in order to plot your own course through the overwhelming lineup.
Mosquita y Mari (USA, 2011; fest listing)
A sweet friendship between two 15-year-old Latinitas in Huntington Park, California turns into a tender romance, as sensitively unfolded by Aurora Guerrero in Mosquita y Mari (pictured at top).
Precious Knowledge (USA, 2011; fest listing)
As Arizona continues to try to turn itself into a "Whites Only" nature preserve, docs like Ari Palos' Precious Knowledge become increasingly important as weapons in the ongoing struggle against bigotry and idiocy.
O Palhaço/The Clown (Brazil, 2011; fest listing) and Without a Net (USA/Brazil, 2012; fest listing)
Although I am still nauseated/terrified in the presence of clowns, I am intrigued by the surreal world of backwoods circuses. Selton Mello's O Palhaço promises to deliver a world of bizarre characters, while the well-intentioned documentary Without a Net brings us into a dirt-poor favela of Rio de Janeiro, where young people are groomed to be circus performers, with varying degrees of success but lots of heart.
Extraterrestre (Spain, 2011; fest listing)
Already familiar to Fantastic Fest audiences with Timecrimes (2007), Spanish director Nacho Vigalondo has a new film, Extraterrestre, which starts off like many other one-night-stand movies -- "What was your name again?" But soon it's clear that the earth really did shake beneath their butts last night. Outside the apartment, a 4-mile-wide UFO is hovering, but "help is on the way." So is the young woman's ex-boyfriend.
Música Campesina/Country Music (Chile/USA, 2011; fest listing)
Alberto Fuguet's Música Campesina is a very contemporary tale of a young heartsick Chilean who travels to Nashville for the music and a new outlook on life.
La Maleta Mexicana/The Mexican Suitcase (Mexico/Spain, 2011; fest listing)
Trisha Ziff's extraordinary doc La Maleta Mexicana opens a door on the Spanish Civil War of the 1930s, as seen through unknown photographs by the remarkable Robert Capa and associates, who had emigrated from Spain to Mexico. Capa's already iconic photos published in Life magazine at the time can now be joined by equally evocative images of people suffering and surviving wartime.
Hit Me With Music (Jamaica/Spain, 2011; fest listing)
Hit Me With Music, from filmmaker Miguel Galofre, slams us into the sweaty rhythms and moves of "Dancehall," the electro-beat, hyper-humping musical style of 21st century Jamaica. If you don't move while hearing it, I hate to inform you, but you're obviously dead.
The Renaissance of Mata Ortiz (USA, 2011; fest listing)
Scott Petersen's film The Renaissance of Mata Ortiz looks into the remarkable life of Juan Quezada, a potter who rescued his dying community through art. When he was a teenager he discovered some bowls fashioned by the long-extinct Paquimé Indians of the area. Seemingly without any uncertainty he taught himself to make and paint pottery in a mixture of the ancient and the new. Eventually his creations were discovered, buyers came to his door, and neighbors with talent got involved in the artistic industry.
Madres 0,15 el minuto/Mothers 15 Cents a Minute (Argentina, 2011; fest listing)
Some Americans have the mistaken idea that all immigrants rush to the USA. Many other countries are experiencing an increase in immigration. Spain, despite its present economic difficulties, is no exception. Argentinean filmmaker Marina Seresesky examines immigrant mothers in Spain trying to retain contact with their far-flung children via telephone. The trailer for Madres 0,15 el minuto quickly made my eyes well up with tears.
Cerro Rico Tierra Rica (Bolivia, 2011; fest listing)
Juan Vallejo's film Cerro Rico Tierra Rica takes us into the nightmarish world of miners of silver and lithium. The trailer alone reminds me of how ashamed we should doubtlessly be of the source of practically everything we own -- not just "blood diamonds."
Every Emotion Costs (Canada, 2011; fest listing)
In keeping with Cine Las Americas tradition, films by/about Native Americans are included in the lineup, and one which looks quite interesting is Every Emotion Costs from filmmaker Darlene Naponse. Quilla, a young painter, has to overcome estrangement from her Ojibway family when she is called home to participate in her mother's burial rites. The ceremonies, music, setting, and time spent with family may help the young woman accept her past and heal her emotional wounds.
The Thick Dark Fog (USA, 2011; fest listing)
Randy Vasquez made the documentary The Thick Dark Fog through which Walter Littlemoon could discover the roots of his alcoholism, anger and abuse as a result of forced boarding in the Bureau of Indian Affairs "schools." Cultural genocide of the American Indian continued long after the last brave body lay rotting on the prairies of the Midwest and in the deserts of the Southwest.
Up Heartbreak Hill (USA, 2011; fest listing)
Erica Scharf's Up Heartbreak Hill looks at the lives of three graduating seniors in Navajo, New Mexico as they face an uncertain future -- stay in their reservation community or leave for college, provided they can secure funding.
As if this weren't enough, Cine Las Americas includes all kinds of global shorts (both narrative and documentary), as well as the always refreshing Emergencia Youth Program of shorts made by young filmmakers from all parts of Texas. This is a unique film festival and continues to be deserving of the support of Austin audiences, who can't usually see these films anywhere else.