Previewing Cine Las Americas 2012 Features, Part One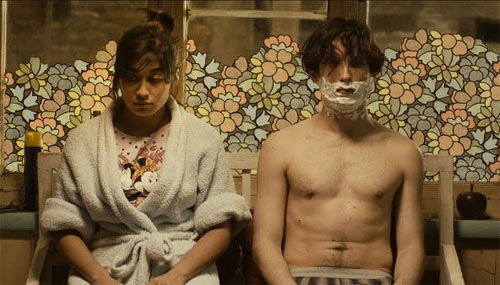 The 15th Cine Las Americas International Film Festival opens in Austin this Tuesday, April 24, and runs for six glorious film-filled days featuring narrative features, documentaries, shorts and animation from all over Latin America (U.S. included, naturalmente) as well as the mother-tongue homelands of Spain and Portugal. Films are playing at the Alamo Drafthouse on South Lamar and the Mexican American Cultural Center. Check the CLAIFF website for details about screen times, festival badges and single tickets.
Since there are too many films to cover, here is a personal list of narrative features and documentaries I am most interested in seeing, including a few I have already enjoyed. The best thing to do is carefully explore the Cine Las Americas schedule and watch the helpful trailers in order to plot your own course through the overwhelming lineup.
Tuesday's opening night at Alamo South Lamar will feature two showings of Alguien ha visto a Lupita?/Have You Seen Lupita? (Chile/Mexico, 2011; fest listing). Gonzalo Justiniano's tenth feature film promises to be a sparkling comedy-drama about an innocently sensual young woman who escapes from family plotting in Mexico. On her journey Lupita meets a wide array of unusual characters, including one played by veteran actress Carmen Salinas, who can always be counted on to be hurling chingaderas while helping a young woman navigate the perils of modern life. The film's effervescent young star, Dulce Maria, will be in attendance for this Austin premiere. The movie was shot partially here in Austin.
José and Pilar (Miguel Gonçalves Mendes, Portugal/Spain, 2010; fest listing)
José and Pilar is already one of my favorite documentaries about creativity and relationships -- in this case, a portrait of Nobel Prize-winning novelist José Saramago (1922-2010), and his no-nonsense but loving wife Pilar del Río. With the idea that "you can't die until you have said everything," Saramago is seen working on his penultimate novel while living in exile from his native Portugal. After seeing this film, you will want to finally write your novel or make your film, but in the meantime be sure to kiss your loved ones.
Las Malas Intenciones/The Bad Intentions (Peru/Argentina, 2011; fest listing)
Las Malas Intenciones explores the bizarre, morbid, and fantastic imagination of a nine-year-old Peruvian girl, who is faced with the imminent arrival of a baby brother. Judging from her provocative trailer, Rosario García-Montero may very well have made an instant classic about the world seen through the eyes of a precocious child.
Bonsái (Chile, 2011; fest listing)
Bonsái (pictured at top) is the film that Austin Film Society is co-sponsoring at Cine Las Americas this year. I was charmed by its look and tone almost instantly as I was drawn into the hesitant world of a shy young man, quickly and deeply in love for the first time. After the screening, we will be doing a Skype interview with Chilean director Cristián Jiménez, who has given us an unforgettable portrait of a young man accidentally crafting a delightful, humorous novel from a mixture of truth, dreams, and lies.
Sal/Salt (Argentina/Chile, 2011; fest listing)
Certain that Westerns are the best movies, a Spanish filmmaker sets out for the arid desert of Chile to realize his next feature film. But when Sergio finds himself mistaken for another man named Diego, he is suddenly introduced into a world of violence, suspense, and more action than his Western could ever have contained. Diego Rougier's film Sal looks quite intriguing and unpredictable.
Meu País/My Country (Brazil, 2011; fest listing)
With Meu País, Italian-Brazilian director André Ristum has made an interesting-looking film about two brothers, living very separate lives, forced to accept the challenge of taking care of their previously unknown half-sister, who has been hidden away in a mental hospital.
In the Shadow (USA/Puerto Rico, 2011; fest listing)
I'm really glad that Nicole Elmer's In the Shadow will get its long overdue Austin premiere. In her intriguingly surrealistic film, a young man living on a small island off the coast of Puerto Rico is blessed and cursed with the ability to "see things." Always exhausted by the process of healing others, he thinks that a young documentary filmmaker could provide a way off the island. Elmer lives in Austin, where In the Shadow was partially shot. Marc Savlov has a great interview with her in the Austin Chronicle.
Sangue do Meu Sangue/Blood of My Blood (Portugal, 2011; fest listing)
Well respected Portuguese filmmaker João Canijo brings us a hard-hitting drama about a family trying various routes out of poverty in Lisbon with Sangue do Meu Sangue.
Cápsulas (Guatemala, 2011; fest listing)
In Cápsulas, a 12-year-old middle-class boy awakens one day to find his world collapsing around him, because of his mother's involvement with a ruthless drug killer and the unexpected return of his wandering father. UCLA film school grad Verónica Riedel is still the only woman making feature films in her native Guatemala.
Burros/Donkeys (Odín Salazar Flores, Mexico, 2011; fest listing)
Another coming-of-age drama, Burros features young Lautaro, who is dealing with the murder of his father in the remote areas of the state of Guerrero. The film enters the realm of magical-realism as the child learns about the world of spirits.
[Continue with Part Two, in which Chale recommends more features screening at Cine Las Americas in the next week.]