Dallas IFF's First Film Announcement is Texas-Heavy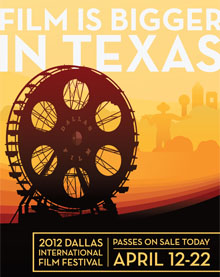 The Dallas International Film Festival has announced 15 of the films in its 2012 lineup, and not only does Texas make a great showing, but Austin is well represented. I'm hoping to attend the festival this year, the selections look so good so far. Some notable non-Texas films include Lawrence Kasdan's Darling Companion, which has former Austinite Mark Duplass in the cast; The Brooklyn Brothers Beat the Best, the directorial debut of actor Ryan O'Nan (The Dry Land), and Takashi Shimizu's Tormented.
Cinema Six, the latest feature from filmmakers Mark Potts and Cole Selix (S&M Lawn Care), will have its world premiere at the festival, which takes place from April 12-22 (corrected from original text). Jenn and I visited the set in Lockhart last year (when the movie was called A Splice of Life). The filmmakers aren't from Austin, but many of their cast and crew are: producer Kelly Williams, Director of Photography Clay Liford, editor Don Swaynos, and actors John Merriman, Shannon McCormick, Chris Doubek, Kerri Lendo and Byron Brown, among many others. Barry Corbin, who will be honored at the Texas Film Hall of Fame Awards next month, has a cameo. Film Threat premiered the trailer today, which I've embedded with other trailers at the bottom of this article.
A couple of Austin-connected films that have played Austin fests will be at DIFF, in case you missed them. Local actor Jonny Mars' documentary America's Parking Lot, which premieres at SXSW, will make its way to Dallas -- appropriately, since it's about die-hard Dallas Cowboys fans. Austin Film Festival 2011 selection Sironia (Jenn's review), about a musician whose life changes as he moves from L.A. to the title town (which is really Waco), will also screen at DIFF. Filmmaker Brandon Dickerson made the move from California to Texas himself and now lives in Austin.
But wait, there's more. Bindlestiffs, which won an audience award at Slamdance this year, is from Houston filmmaker Andrew Edison, who started working on the movie in high school and is now a student at NYU. The comedy is about high-school boys, suspended from school, naively trying to be bad in the big city. Film Slate has a great summary and interview with Edison. The movie will be a midnight selection at DIFF.
Finally, former Texans Ashley Sabin and David Redmon, whose production company Carnivalesque Films has brought us films like Intimidad and Kamp Katrina, will screen their latest documentary, Girl Model, in Dallas. The film is about the modeling industry and its connections between the U.S., Siberia and Tokyo, and will also play SXSW next month.
I can't wait for the rest of the Dallas International Film Festival lineup -- I get the feeling we'll see even more Austin movies in the full schedule.
Here's the Cinema Six trailer (which would probably be red-band if the MPAA were involved):
And here's the America's Parking Lot trailer:
And the Sironia trailer too: