Photo Essay: 'A Splice of Life' in the Barbecue Capital of Texas
Yes, we have another set visit for you. Jette and I braved the Texas highways to go all the way to Lockhart to visit the production of the latest Singletree Productions comedy, A Splice of Life. It was a tough drive, and Jette and I had to recuperate before getting to the set by stopping by Smitty's for some barbecue. So yeah, later on we had to explain why we smelled like smoke. It's like crack, but better. But that's not why we were there. No, we were there to see some moviemaking.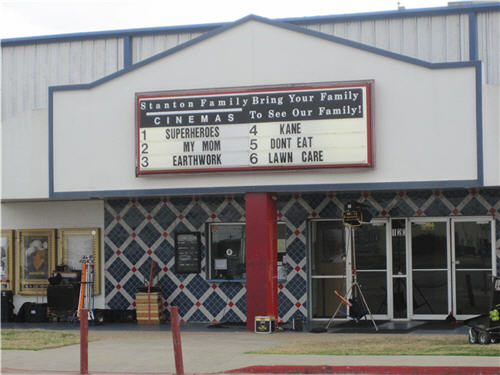 But first we had to find the set, at Lockhart movie theater Hometown Cinemas. It was nearly three minutes away, but we weathered it well. This marquee lets us know that Singletree Productions Is Very Serious About Filmmaking. Apparently they ran out of letters because three film titles are missing words. Pop quiz Austin film geeks: Can you guess which ones? Answers are at the end of this post.
Our enthusiasm is quickly subdued by an earnest crew member who lets us know they are Very Busy Shooting A Scene in the Bathroom (yes, my voice carries). But a few minutes later, "Cut!" is called and people relax. See? Even John Merriman is smiling, and anyone in the Austin film scene knows that Merriman is a very stern character, indeed.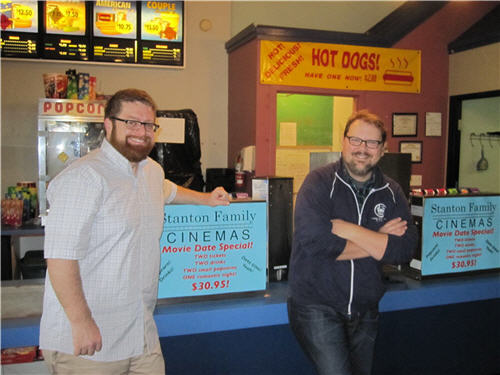 On the left is actor John Merriman, one of the stars of A Splice of Life, with producer Kelly Williams. You may not recognize Kelly's face, but he's one of the guys that brings Austin Film Festival to us every year. He has his hands full with this crew, let me tell you. Apparently torture was applied on this 10-day shoot by inflicting a Martin Lawrence movie on everyone after wrapping on Wednesday night.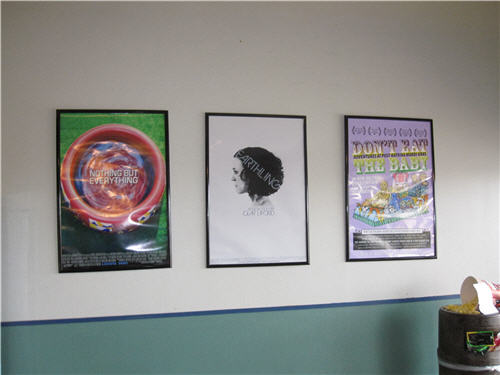 Being Very Serious Guys, the set was decorated with actual movie posters: Everything but Nothing, SXSW 2010 film Earthling, and Don't Eat the Baby. The hallway displayed the 2010 Austin Film Festival film Earthwork, but the lighting wasn't so great so no pictures on my little camera for that one. That one just happens to star the Oscar-nominated John Hawkes (for his performance in 2010 SXSW selection Winter's Bone). Are you starting to see a theme here? Austin made or festival played all.
But this is serious filmmaking. The fact that it was cinematographer Clay Liford's birthday wasn't slowing them down. All he got was posters of his films Earthling and My Mom Smokes Weed in the lobby set.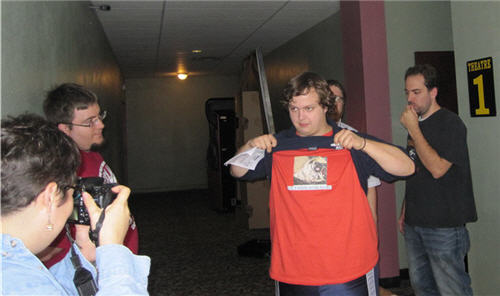 After finishing a Very Important Scene In the Bathroom, directors/writers Cole Selix and Mark Potts finally came out to greet us. But to make sure their gravitas was being taken seriously, Mark graphically demonstrated that he would eat us alive if we misbehaved on set. You can see John Merriman backing away from him (from behind), and editor Don Swaynos worried that Mark would lose control. Jette is in the foreground taking pictures for evidentiary purposes, should we get sued if we don't get proper clearances.
Notice the names of the soda fountain selections. These are copyrighted. You can't show them in your movie without clearances. Actor Kevin Brennan (pictured below with Kelly Williams) had to keep doing take after take making sure he said the name of the soda of choice correctly. Again, and again, it was exhausting to watch.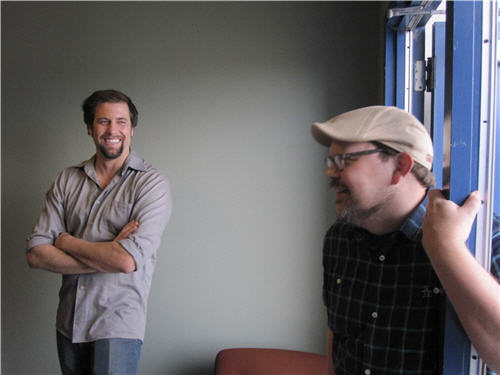 OK, OK. Time to get really real. While everyone on set was being professional and taking their work seriously, no one on set took themselves too seriously and it was a lot of fun. Even hearing the same lines over and over, crew members were stifling giggles at some of the lines.
So what is A Splice of Life all about? The official synopsis is, "When facing a failed relationship, broken dreams and an unplanned pregnancy, three fellow movie theater employees must decide whether to continue in their arrested development or grow up and accept their impending adulthood." Having seen some of these filmmakers' previous features (Stanton Family Grave Robbery, S&M Lawn Care), there's going to be a lot of silliness embedded in that gravitas as they're pretty good at melding the petty with the profound and making an entertaining movie.
A Splice of Life will finish shooting next month, and we hope to have more news on the production sometime this summer. In the meantime, you can follow the production and all the antics through the ASpliceofLife Twitter account. You can see more pictures from our set visit on the Slackerwood Flickr page.
Quiz Answers: The film titles for the marquee are: #1 Pictures of Superheroes (currently filming here in Austin); #2 My Mom Smokes Weed; #3 Earthwork; #4 Kane; #5 Don't Eat the Baby; #6 S&M Lawn Care.