AFF Review: Sironia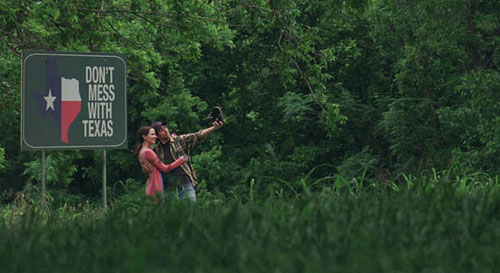 If you're a fan of music-heavy movies, you will likely love Sironia. If you usually shy away from them, especially when the lead is a musician himself, you'll be pleasantly surprised with Brandon Dickerson's feature film debut.
"Life is what happens when you're making other plans." In the case of Thomas (Wes Cunningham), when plans for stardom start requiring compromise, he and his expectant wife escape to Sironia, Texas for a simpler life. As it usually happens, the act of running from instead of running to is never fast enough.
Early in Sironia, the movie seems like it might follow the trope of artistic integrity versus money, and be merely a vehicle for showcasing Cunningham's songs. However, Sironia isn't a vanity film, and the longer it progresses the more impressive it gets. While Cunningham's music is integral to the story and in fact written prior to the script, the songs are seamlessly worked in and never overwhelm the core story. It's not quite a cinematically realized concept album like Once, although in both cases the music is integral to the film. Sironia isn't just about a moment in time, but about lives trapped by holding on to a particular moment.
Cunningham is equal parts exasperating and engaging as Thomas, a man who doesn't realize just how much he really has to lose. As a performer, he's a natural, and it would be easy to believe he's playing himself. It's an effective performance only diminished by the fact he looks so Texan, making it occasionally hard to see him as a fish out of water early on. Texas native Amy Acker (Angel, Dollhouse) plays Molly, who quietly supports her husband and has an unshakeable belief in his music even if her patience has its limits.
Newcomer Stella Otto shines as Heather, Molly's young niece whose unaffected insights often serve as a barometer for acceptable behavior. But it's Tony Hale (Arrested Development) who really impresses as Molly's lawyer-turned-community-activist brother. There's a particularly powerful scene between Cunningham and Hale that in two simple shots that is simply heartbreaking.
While certain truths are in the story (a relocation from LA, choices between artistic integrity and success), Sironia is not a biography. Thomas Ward, Wes Cunningham and Brandon Dickerson wrote the script together. Dickerson, who went to college with Cunningham at Baylor University, returned to Waco for family reasons and reconnected with Cunningham (read our AFF 2011 interview with Dickerson).
Dickerson, for his part, has created a visually interesting movie that showcases Waco as an additional character. Local landmarks like the Alico building are expected. But little things like the commonplace and much-beloved queso are another (not to mention the fine art of "mutton busting"). The name "Sironia" comes from a Madison Cooper book about life in small-town Texas. Sironia is synonymous with Waco, Cooper's hometown. As director Brandon Dickerson puts it, while being "cult free for 20 years" Waco is still colored with the taint of Branch Davidians.
When you watch Sironia -- and you should if you appreciate well-crafted stories, music or both -- stay in your seat once the credits start. There's a deleted scene in the credits that ultimately didn't add to the story but will tempt you into dancing down the aisle as you leave the theater.
Local Connections: Much of the film was shot in Waco, and features Common Grounds, Skateworld and the Alico Building. Dickerson and his family are now Austin residents.
Sironia plays AFF one more time on Wednesday, October 26, at 6 pm at the Rollins Theatre in the Long Center. The previous screening sold out (with many people turned away), so get there early.