Ready, Set, Fund: From 'La Perdida' to 'The Wolfman'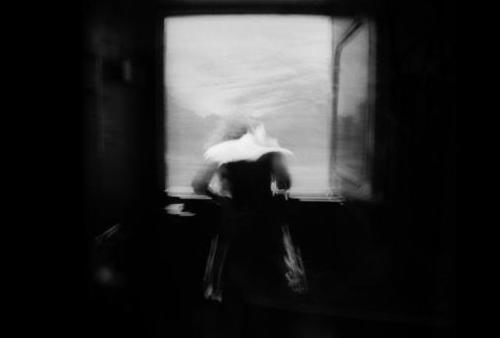 Austin filmmaker Miguel Alvarez caught the attention of local audiences with his short films in 2010: the science-fiction themed Mnemosyne Rising, which premiered at SXSW, and the biographical Veterans at Austin Film Festival -- check out my AFF 2010 review of Veterans. This year, Alvarez contributed to a segment of Slacker 2011 -- read Elizabeth Stoddard's interview with Alvarez and producer and former AFF Film Program Director Kelly Williams here. Alvarez is now undertaking his first feature film with La Perdida (pictured above), a re-imagining of the traditional Mexican folktale of La Llorona combined with the Greek myth of Cassandra, but set in the middle of the 21st century. Described by Alvarez as a "lo-fi sci-fi drama," this movie will explore the universal themes of loss and redemption combined with time travel.
Alvarez is currently seeking funding for pre-production expenses of La Perdida through the crowdfunding site United States Artists here. Funds raised will provide Alvarez with a six-week research and writing sabbatical in Mexico City, where the story takes place. Alvarez's goal of $6,500 by Friday, November 4, will help get the project off the ground by covering pre-production expenses. You can learn more about the project in this pitch video.
Kelly Williams is also producing Pit Stop, which is seeking funding from the community. Find out more about this and other interesting and deserving projects in need of donors after the jump.
Produced by Williams and DFW-area filmmakers James M. Johnston (Sundance Producing Lab Fellow) and Eric Steele (Texas Theatre co-owner whose film Uncertain, Texas plays AFF later this month), Pit Stop is a feature-length film by Yen Tan (Happy Birthday, Dead Room) that portrays parallel stories of two gay men in a small Texas town. The script was part of the Outfest Screenwriting Lab in 2009 and the project recently received a $7,000 grant from Austin Film Society's Texas Filmmakers' Production Fund. Production/principal photography is expected to begin in April 2012, and hopefully completed in time for the 2012 fall film festivals. Funding for this film project ends Monday, November 14.
Other locally connected film projects in need of donors this month include:
1211 - A Perfect Mess -- This documentary follows drummer Ramy Antoun and his move from Los Angeles -- where he played with artists such as Seal, Black Eyed Peas, Ed Kowalczyk, Buckethead and more -- to Austin in search of "something more than fame and dollars." What he found were friends within a creative community who overcame addictions to drug, alcohol and sex as well as incarceration, depression and suicide attempts to write and perform music. The product of their creative collaboration is entitled "UNPLUGGED, A Gospel Collective", which will be documented in a feature-length film. Production begins on October 19 with a performance at the Austin City Limits studio for a live taping. This footage will be combined with firsthand accounts of the 12 individuals in 1211, and edited to create 1211 - A Perfect Mess. (IndieGoGo, ends Thursday 10/20)
Building Hope -- The inspiring documentary focused on the Nobelity Project's efforts to improve the quality of life and education for the youth of Kenya -- read my SXSW 2011 review. Funds will be used to create a full color, hard-bound, coffee-table book that will also include a pre-release DVD of Building Hope. (Kickstarter, ends Thursday 10/27)
The Good Samaritan -- This humorous short film by sisters and filmmakers Marian and Elizabeth Yeager centers around a young girl named Alice, and her encounter with a con man. (Kickstarter, ends Friday 10/21)
Once Again -- This short documentary recalls filmmaker John Spottswood Moore's personal struggles with obsessive compulsive disorder as a child. Moore is working toward his Master's degree in documentary filmmaking at The University of Texas at Austin. (IndieGoGo, ends Tuesday 11/1)
Operation: Zeus -- This documentary focuses on today's new breed of veterans and the hardships they face in everyday life outside the war zones. Operation: Zeus will provide an intimate view of the "blood brothers" of the 1st Armored Division's 1st Battalion 6th Infantry Regiment, as they spend their lives separately after spending over 15 months in combat together. The title is a reference to veteran Scott Zaur who took his own life after struggling with depression, post-traumatic stress disorder and anxiety. An infantryman and sniper on two tours in Iraq, Zaur was kicked out of the Army and had to scrounge and beg for his hard-earned benefits. (Kickstarter, ends Sunday 11/6)
Road Kill Zoo -- A southern tale of death, hardship and strange romance turned road adventure when siblings turn into con artists. Written and directed by Bradley Beesley and produced by Michael L. Friedman, this short film is the first of Beesley's scripted narratives -- a change from his documentary filmmaking including Okie Noodling and Fearless Freaks. Funds raised will be used to hire the cast and crew for the shoot as well as pay for the necessary production expenses like rental equipment and insurance. (United States Artists, ends Thursday 10/20)
Skidboot -- A heartwarming story of an ex-rodeo cowboy from Quinlan, Texas turned horse-shoer who gives a puppy to his wife as a Christmas gift, changing their lives forever. Despite the celebrity status of the dog Skidboot, who appeared on Late Night with David Letterman, The Tonight Show with Jay Leno, and Oprah, it's the personality of David Hartwig and the bond with his dog (seen in the photo to the right) that will win the hearts of viewers. Screenwriter/producer Joel Carpenter is seeking funding for production. Watch the Texas Country Reporter episode on the amazing Skidboot on YouTube. (Kickstarter, ends Saturday 11/5)
Thrive -- This documentary film captures the experience of three friends who have volunteered to produce a Christmas play at a long-term care facility whose residents have cognitive disabilities. Music and theatrical programs for residents have lost their funding, and the filmmakers are striving to create an awareness of the need for volunteers and funding -- and recognition of the need to find the artist within, no matter who or where we are. (Kickstarter, ends Wednesday 11/9)
The Wolfman -- This short film by UT Austin film student and senior Michael Slater is an interpretation of

the Wolfman legend that puts a new spin on an old tale.

(IndieGoGo, ends Saturday 11/5 )
I look forward to seeing several of these film projects at film festivals in the next year or on the big screen.
Have a project that you would like to be considered for an upcoming "Ready, Set, Fund," feature about crowdfunding and related fundraising endeavors for Austin and Texas independent film projects? Contact us if you've got a film fundraising project going on you'd like us to know about.