SXSW Review: Building Hope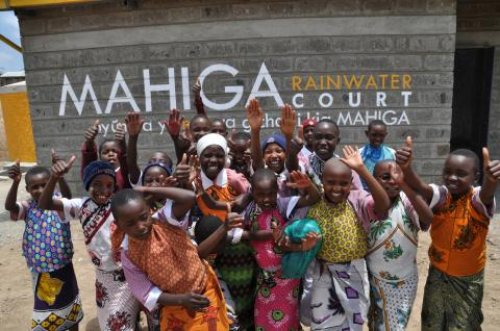 Typically I'm a staunch believer in the cinéma vérité style of documentary filmmaking, with little if any involvement on the filmmaker's part so I can feel immersed in the story. On the other hand, there's Austin filmmaker Turk Pipkin, who narrates and is seen in his documentary films including Nobelity, One Peace at a Time and now Building Hope. His latest film often focuses on The Nobelity Project, an Austin-based nonprofit led by the filmmaker and his wife Christy Pipkin. The Nobelity Project partnered with a remote low-income African community with great results for the local primary school, and so Pipkin promised to help build Mahiga Hope High, the first high school for the community, while connecting Kenyans with American supporters.
In Building Hope, viewers learn that in Kenya, primary school is free and mandatory but families have to pay their teenagers to attend high school. Making matters worse are the gaps in qualified teachers, high school tuition and poor conditions of the few existing high schools, including lack of clean water and sports facilities. Without a high school education, the children of Mahiga are left with few options in life. The Pipkins were determined to change this fact, by introducing the "1000 Voices for Hope" program with the goal of getting 1,000 donors to donate $100. Donors included Austin musicians Lyle Lovett, Emily & Martie of The Dixie Chicks and Willie Nelson, who stated, "That's a choir I want to sing in."
Through donations as well as winning the design and social change-focused Nike GameChangers Award, The Nobelity Project and Architecture for Humanity were able to build the award-winning RainWater Court, classroom buildings, science and computer labs, and a library. The Rainwater Court is a full-court basketball court and a small stage, which includes an integrated rainwater collection and UV purification system with solar panels for the water system and night lighting in areas without electricity. The structure is designed to serve multiple functions for the school, providing a sport facility, purified drinking water, a covered performance space for local music and theater, an outdoor/covered classroom and dining area, as well as the area's only community meeting space. For a remote region that has suffered through three years of drought, the impact from this construction project is significant.
The Pipkins quickly discover in Building Hope that constructing a high school in remote Kenya can be extremely challenging and often daunting, as the basketball court engineer/project manager/surveyor quits unexpectedly and the amount of resources and money needed to complete the project skyrockets. Despite Christy's bout with chemotherapy treatment during the construction time frame, the light-hearted approach in Pipkin's storytelling lends an optimistic view to an issue others might dismiss. Much of the humor of this movie comes from Architect for Humanity's volunteer architect Greg Eisner as he deals with obstacles and becomes part of the community. Some of the video footage is even shot by an aspiring young journalist and Mahiga student, George Abrahams, on a Flip camera.
Although Pipkin's direct involvement in Building Hope may be distracting to some viewers, I found that this film was well balanced in presenting other players in this project. In addition to appearances by Willie Nelson, we also see Nobel Peace Prize winner Wangari Maathai, Cameron Sinclair of Architecture for Humanity, and Desmond Tutu, who states, "In Africa, they say there is only one way of eating an elephant ... one piece at a time."
Molly Conway's editing creates a well-paced and balanced piece, and sets a tone that mirrors the film's title. Pipkin's writing offers insight into the work of other critical nonprofits working in Africa. Most notable of the nonprofits introduced in the film are Comfort the Children International, which helps Kenyans build and manage the sustainable infrastructure necessary to meet the challenges of everyday life; and Slums Information Development and Resource Centers (SIDAREC), a youth development project operating in the slums of Nairobi. I was most impressed with Auma Obama, a highly articulate counselor for the Sports of Social Change and Youth Empowerment Initiative. Obama inspires local youth to identify what they can do to change their community, to have an income, with an emphasis on putting infrastructure in place.
Building Hope is an inspirational documentary that not only builds hope for the youth of Kenya, but also empowers people thousands of miles away to affect change through small yet significant contributions. I highly recommend seeing Building Hope when it premieres in Austin on April 6 at 7:30 pm at the Paramount Theatre, with an opening concert by local musician Eliza Gilkyson. Details on this and other upcoming screenings are available on The Nobelity Project website.
Austin Connections: Turk and Christy Pipkin reside in Austin, Texas.