AFF 2010 Review: Veterans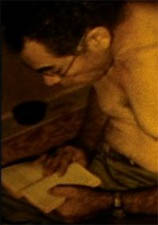 I've been planning on wrapping up my Austin Film Festival content with capsule reviews for some of the short films I saw at this year's festival. However, after reflecting on Veteran's Day I thought it only fitting to give special attention to one short film in particular that I'd not covered in the AFF 2010 Preview: Selected Shorts: Veterans, directed by Miguel Alvarez (Mnemosyne Rising) and funded by a 2006 Texas Filmmakers' Production Fund grant. With so many great short films at AFF this year, Veterans hadn't originally made it to the top of my list. However, after subsequent viewings I have to admit that this poignant and somber short film is a "must see." It's a touching story of sacrifices not just made for our country, but for loved ones.
Shot on Super 8 by cinematographer Bear Guerra, Veterans has a home movie film feel but with higher production value and striking visual imagery. The story is told through a series of images of family photos and movies along with mementos, and is narrated by Joe Alvarez, the director's father. The film opens with Joe Alvarez recounting his memories of dreams at 17 years of age, a premonition that he was hit by a bomb and sent flying through the air. He had the same nightmare every week -- until it actually happened while he was in Vietnam.
Joe Alvarez's father had also served in the military. During World War II, he was given an option to either join the army or go back to Mexico. Being patriotic, he decided to go to war despite family attempting to convince him that it wasn't his war with the response, "This country gave me everything I got, and now I'm giving my life for this country."He took part in the invasion of Normandy and the Battle of the Bulge, where he was hit with shrapnel in the back, knocked out and hospitalized. His experiences left him with a lot of anger and frustrations that he internalized. He kept secrets in his handmade souvenir box, including a collar from a German officer that he'd overtaken in a foxhole.
When Joe Alvarez was 17 years old he also wanted to join the service. Despite his father's reservations, he joined the Marine Corps. Almost the same thing happened to him as had his father, as he was hit by a bomb in Vietnam which left him in the hospital for a year. His father was so upset that he decided to go to Vietnam and take revenge on those that had injured his son. At the age of 51 years he found a company that would take him overseas to Vietnam where he served a year and a half. After returning, he was even more angry. Eventually Joe Alvarez's father passed away from cancer and Agent Orange-- but not before telling his son Joe that "he'd got the sons of bitches that had hurt him." Joe Alvarez not only realized how much his dad loved him, but that he gave his life for him.
Veterans is dark in tone and mood, with interspersed scenes of Joe Alvarez seated in a darkened room or simply a dark frame. Often the full frame is filled with snapshots from WWII and of family, as well as the souvenir box itself. Scenes from modern day of Alvarez at the military cemetary are shot in black-and-white 8mm adding to the sparseness that strips down to the raw emotions conveyed by Alvarez's narration -- of anger, pain, frustration, and love. In Veterans, Alvarez and Guerra succeed in creating a bittersweet memento that should be seen by many and not tucked away in a box to be forgotten. I hope that this film will be available for viewing for a wider audience soon.