Slacker 2011: Miguel Alvarez, Kelly Williams and a Fisher-Price Camera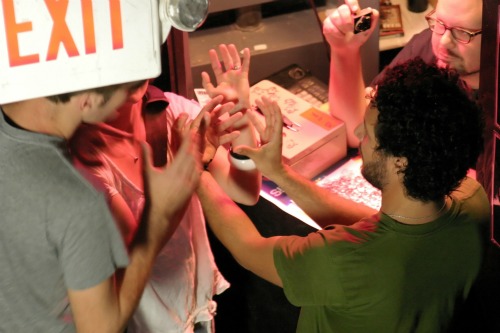 In celebration of Slacker's 20th anniversary, local filmmakers are re-creating scenes from the Richard Linklater movie for Slacker 2011, a fundraising project benefitting the Texas Filmmakers Production Fund. The trailer is now available. As we await the August 31 premiere, we're chatting with some of the Austinites participating in one or more of the short films that will comprise the project.
Today's interview is with director Miguel Alvarez (SXSW 2010 short Mnemosyne Rising, AFF 2010 short Veterans) and producer Kelly Williams (Hellion, A Splice of Life), former Film Program Director for Austin Film Festival, who have been working together on one of the shorts.
Slackerwood: Which scene from the film are you reshooting?
Kelly Williams: We remade the "pixel-visionary" scene -- a party scene involving the PXL2000, a toy camera Fisher-Price made in the 80s.
Miguel Alvarez: A party scene best remembered because it was partially shot in Pixel-vision while two characters ranted about the Freemasons.
How did you go about capturing your new vision for the "pixel-visionary" scene?
Alvarez: We mixed up the look, trying to stay true to the original but also throwing a little curve to the audience. It's different but I don't want to say more than that ...
Why are you looking forward (or are you?) to re-creating this particular scene?
Williams: This was always a scene that stuck out to both Miguel and I. For me, I actually had a PixelVision Camera as a kid and I was looking forward to shooting something with it again.
Alvarez: What I really loved about this scene was that stylistically, it was so distinct from the rest of the film. It was essentially a blank canvas that I could do anything with.
What do you think your challenges are/have been in re-visiting this scene?
Williams: Our biggest challenge was the location. The original space where the scene was shot is on the Drag, upstairs, next to where Quack's was.
The building is still there, but it is locked up and we couldn't get the owner to return our calls, so, we went with The ND at 501, a similarly minded space.
Alvarez: Biggest challenge? Living up to the original. The film is iconic Austin and trying to recreate what Lee [Daniel] and Rick [Linklater] did was intimidating. But I was honored to be a part of it.
Do you have any connections or memories related to the original Slacker?
Alvarez: Slacker will always be my first four years in Austin. It was the vibe of the city and my introduction to my new home.
Williams: Growing up in southeast Texas, there was only one copy of the film on VHS amongst all the video stores in the Port Arthur area. I rented it several times and the store told me I was the only person renting it, so, they sold it to me for ten bucks -- they said that they made their money back on me.
I know I'm not the only one, but I have to say it was the number one reason I moved to Austin. Of course, that version of the town was gone by the time I got here in the mid-90s.
[Photo credit: Patrick Rusk -- visit his Flickr set from the production for more cool photos]