2010 in Review: The Year of Doubek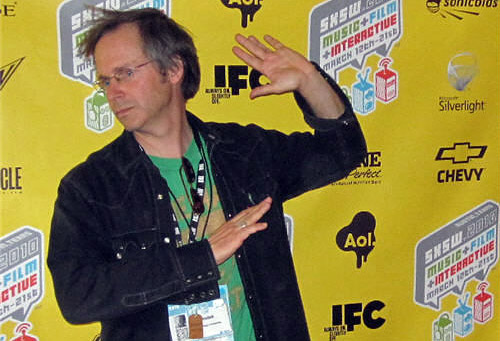 While you might not recognize his name, Chris Doubek has turned into one of the most visible local actors in Austin, and this year he's owned the Austin indie scene with no less than four films featuring his diverse talent. He may be hamming it up in the picture above from SXSW 2010, but Slackerwood has declared 2010 the Year of Doubek for good reason.
If there was an Austin Film Actor of the Year award, Doubek would have annihilated the competition. At SXSW 2010, it was impossible to turn around without bumping into Doubek as he was running around between premieres of his movies including Clay Liford's Earthling, Paul Gordon's The Happy Poet, and Brian Poyser's Lovers of Hate. He's so good, he has had at least one role written just for him.
The Happy Poet's subversive, slackery charm is found in its cast, with writer/director Paul Gordon's laconic earnestness balanced in large part by Doubek's flaky charm as Curtis, the first and most avid fan of the Happy Poet food cart. The Happy Poet has done very well at festivals around the world, from Traverse City to Venice, but hasn't yet found theatrical release. Read my SXSW review for more.
Clay Liford -- who has just moved back to Austin -- shot Earthling in the Dallas area but came to Austin to cast, and Doubek is a local. This understated science fiction film has an outstanding cast, and Doubek is no exception. His role may only be supporting as Stephen, Judith's husband, but that makes it no less significant, and worlds away from his happy-go-lucky role in The Happy Poet. Earthling has also done well on the festival circuit and has secured international distribution, with an announcement about U.S. distribution anticipated soon. Read my SXSW review for more.
Apparently calling Doubek a "go to" actor isn't an exaggeration. Liford says, "Chris came in on the Earthling shoot with less than a week's notice. Saved us when we lost a key actor. I met with him for exactly 20 minutes, and he nailed the role. It was a pivotal role, and in the end, I couldn't have been happier. He's one of the great under-tapped talents around."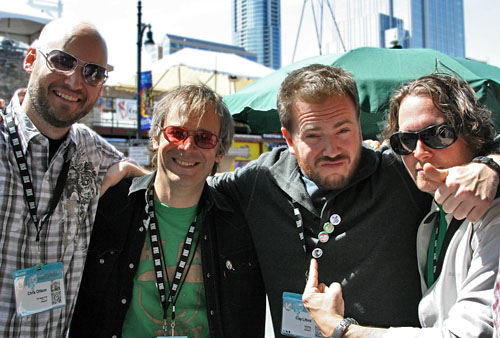 [Chris Ohlson, Chris Doubek, Clay Liford and actor Jonny Mars at The Happy Poet premiere, SXSW 2010]
That brings us to Bryan Poyser's Lovers of Hate, which just earned a nomination for the coveted Independent Spirit John Cassavetes Award for Poyser and producer Megan Gilbride. Doubek stars as Rudy, who's lost his home, his wife, and his job, only to have his famous brother visit and the sibling rivalry gets out of hand. The outrageous chain of events unfolding as Rudy tries to get his life back proves Doubek's talents, as he plays an often-unlikeable character that manages to be sympathetic all the same. It just may be Doubek's breakout role, as Lovers of Hate played both Sundance and SXSW, and has been getting a lot of positive attention that is only going to gain momentum. See Jette's review for more about the film itself.
When asked about working with Doubek, writer-director Bryan Poyser (who also works at Austin Film Festival if you aren't already aware of it), had nothing but good things to say.
"Chris, to me, is one of the best actors in Austin. I could see that when I first started seeing him pop up in grad student films back in 2003 or so. It took another couple years for us to work together -- he had small parts in a couple films I did -- but I always wondered what he could do with a 'bigger canvas,' so I eventually wrote Lovers of Hate for him. He exceeded even my high expectations and it's been so gratifying to have people come up to me at festivals and say stuff like, 'That guy's amazing!' I'm like, 'I know!'"
So what if his role in the 2009 Austin Film Festival selection Harmony and Me has the less than stellar title of "Chatty Co-worker." Doubek still had a memorable scene. Bob Byington's Austin-shot comedy had its official release in 2010, on DVD. Jette has a lot to say about the film in her AFF review, and Don reviewed the DVD release.
Even if you dismiss Harmony and Me out of this group as a 2009 film (when it played film festivals), the 2010 films are all strong, interesting and effective examples of independent filmmaking, which every filmmaker can be proud to put in their resumes. They should also applaud themselves for casting Doubek.
When asked for a comment on "The Year of Doubek," producer Chris Ohlson (The Happy Poet, The Spirit Molecule) had nothing but good things to say about the actor. "I think he's one of those hidden talents, working under the radar (until now) in Austin, that help to make the city such a communal and unique place to make films. He's a favorite of many Austin directors -- and there's a very good reason for that."
Doubek hasn't been resting on his anticipated laurels, either. In 2010, he also worked on Esther's Diary, The Man from Orlando and the Ohlson-produced feature Home; the latter two aren't yet completed. Early 2011 may not have a lot of Doubek on the big screen, but he probably needs a bit of breathing room. I suspect he's going to be busy in the future.
How you can see these films: At this time, Harmony and Me is the only movie mentioned above that is available on DVD
. The Happy Poet is still seeking a distributor, Earthling has not yet finalized U.S. distribution and IFC has not announced DVD plans for Lovers of Hate. Keep an eye on Slackerwood for the latest information on possible screening/DVD news.
[Photo credits: Doubek at SXSW 2010 by Jenn Brown; Happy Poet premiere by Jette Kernion.]