2010 in Review: Memorable Austin Movies, Part One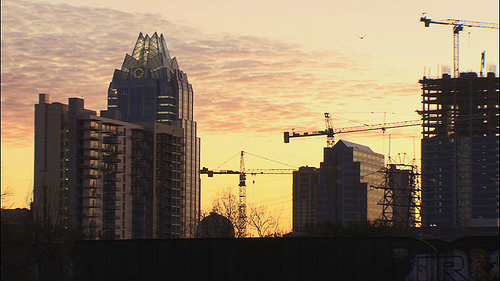 Fishmonger by day, blues musician by night. Entrepreneur turned astronaut. Notoriously foul-mouthed potential Winnebago salesman in retirement. Loser taking a shower at the Genie Car Wash. Another loser trying to learn to harmonize musically and socially. A third loser who may have found the woman that will help him get over his ex-wife ... but has to deal with her horrible son. Poet with a dream of selling vegetarian sandwiches. The most stubborn, determined 14-year-old girl in the history of American film. A soldier returning from Iraq to West Texas. A machete-wielding ex-Federale fighting bigotry and seeking revenge. A man, a woman, a goat, and a dream of superb cheese.
Austin films don't fall into a predictable genre or pattern, whether they're indies that were shot locally on a shoestring or Hollywood films that happened to be shooting here in town. Amid the banquet of Austin and Central Texas-connected movies that were released in theaters or on video this year, or that hit the film-fest circuit, everyone at Slackerwood has their favorite movies and moments. We'd like to share a few of them with you below -- then head over to Part Two for more.
Artois the Goat
Although Artois the Goat first screened in town during SXSW 2009, the Austin-shot romantic comedy wasn't officially released until its DVD in 2010. In my DVD review, I said that Artois the Goat "shyly sparkles with a little romance, a combination of broad and subtle humor, some delightful characters ... and some mouth-watering cheeses." Jenn Brown called it "a little cheesy, but it's supposed to be, and in the best way." --Jette Kernion
How you can see it: Available to watch online for free on Hulu, or buy the DVD
.
Boxing Gym
I heard someone complaining last week about the training sequences in The Fighter and how really, boxing training had been handled in Rocky and had no business being in any more movies. That person is nuts. And wrong. I love to watch boxing in movies, so I was bowled over by Boxing Gym (my review), an entire documentary set in Richard Lord's Boxing Gym on N. Lamar. Frederick Wiseman seems to have been practically invisible as he captures a variety of Austin folks working out, chatting, and interacting with Richard Lord. You might recognize a couple of familiar faces, too, such as Richard Garriott. The film has a wonderful rhythm of its own, different from the usual narrative structure. --Jette Kernion
How you can see it: DVD planned, but release date unknown.
Cyrus
With the poignant and quirky Cyrus, mumblecore heroes and former Austinites Mark Duplass and Jay Duplass proved they could move uptown with a bigger budget and bigger stars while remaining true to their indie roots. As I said in my review, "Cyrus deftly brings mumblecore a step closer to the mainstream." A funny and thoroughly believable take on romance and family relationships gone awry, Cyrus features terrific performances from John C. Reilly, Marisa Tomei and especially Jonah Hill as the clever, manipulative and slightly creepy man-child Cyrus. The movie had a special screening at the Paramount during SXSW in March 2010. --Don Clinchy
How you can see it: Available on Blu-ray
, DVD
and Amazon VOD
.
Echotone
Not only did I love the documentary Echotone when I saw it at Marfa Film Festival, but I now have a little crush on Joe Lewis of Black Joe Lewis and the Honeybears, after watching him chat and rant while making rounds working a day job delivering for Quality Seafood. In fact, this movie about Austin music and its run-ins with Austin development presented all its profiled musicians (Bill Baird, Dana Falconberry and others) in a way that made them feel like old friends. In my review for Cinematical, I called it "a compelling tale about what happens when music intersects with business in all its forms." Debbie reviewed it at AFF and said it was "a brilliant kaleidoscope of color and sound." My favorite moment -- one of my favorite moments in Austin film this year -- may have been the lovely Dance of the Cranes sequence. --Jette Kernion
How you can see it: Still seeking distribution.
The Happy Poet
Jenn will be discussing this film in a separate article later this week, but I liked this movie so much I wanted to say a little about it too. Paul Gordon's movie debuted at SXSW (Jenn's review) and despite what I wrote in my intro above, it's exactly what I'd consider a quintessential contemporary Austin movie. The main character opens his own food-cart business with vegetarian sandwiches, on Auditorium Shores, and it's all so believable that I half expect to see the cart when I'm out there. This is a sweet, funny movie that I hope gets wider exposure. --Jette Kernion
How you can see it: Still seeking distribution.
Lovers of Hate
Jenn will also be covering Bryan Poyser's film in her article, but I couldn't resist sharing my favorite part of this dark and almost creepy comedy, which I reviewed at SXSW. In the opening scenes, Rudy (Chris Doubek) is living out of his car, and all the poor sap wants is a shower. The ways in which he contrives to get one are some of the funniest moments I enjoyed in 2010, one of which is shown in the following video. --Jette Kernion
How you can see it: IFC distributed the movie on VOD last year, but no word yet on a DVD release.
More great Austin films in Part Two.