DVD Review: Artois the Goat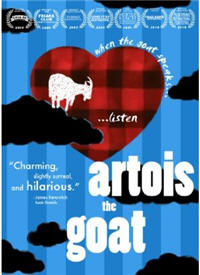 Austin-shot indie Artois the Goat, which premiered at SXSW 2009 (with a live goat at the Ritz and everything) has finally made it to DVD after a long and successful film-fest tour. It's a sweet romantic comedy/foodie film from Cliff Bogart and Kyle Bogart (we sure do love our brother filmmaking teams in this town) that deserves more attention than it's received so far.
Virgil (Mark Scheibmeir) is a lanky slacker who spends his days working in a lab that creates artificial flavorings, and his spare time with the woman he loves, Angie (Sydney Andrews), often enjoying foreign goat cheeses procured (perhaps not entirely legally) by Virgil's mysterious and paranoiac friend Yens (Stephen Taylor Fry). Angie is unfortunately transferred to Detroit, however, and it could be a year before Virgil's company can place him in the department where he wants to work. Angie can't understand why Virgil won't take a job in a different department, creating horrible-tasting cough drops, and instead stays in Austin and increasingly becomes obsessed in making the perfect goat cheese.
Part of Virgil's inspiration comes from a book Yens has loaned him, written by Eva Verrane (Sarah Holland), a French woman in the 1940s who became a leading expert on goat cheeses. Her voiceover narration often alternates with Virgil's story in a way that now reminds me of Julie & Julia ... although that movie had not yet been released when I first saw Artois the Goat.
The Bogarts' first feature has a remarkably polished look to it -- some gorgeous outdoor cinematography, smooth direction, and consistently good acting overall. I was especially impressed with the score for this film, from local composer Brian Satterwhite. It playfully reminded me of what Americans expect French bistro music to sound like, but fit the tone of the film perfectly.
The dream sequences seemed a little -- well, you don't want to use the word "cheesy" in regards to this film, so let's just say they felt unnecessarily overwrought. Also, I wished Angie had more depth and character than just being The Girlfriend; the movie is about how Virgil realizes that he can't find himself unless he is creative in some way, but apparently it's no problem for Angie to truck along as a loan officer and initiate nothing creative on her own.
Still, these are minor flaws, outweighed by stronger characters and performances. Scheibmeir fits the bill perfectly as Virgil, playing him in an absolutely straightforward way, with strong support and comic relief from Fry and also Dan Braverman as a hermit with A Past.
I don't often watch (or like) Hollywood romantic comedies these days, as they combine predictability with mean humor and a lack of charm or wit. Artois the Goat shyly sparkles with a little romance, a combination of broad and subtle humor, some delightful characters ... and some mouth-watering cheeses. Between the cheeses and the scenes set in Texas Hill Country fields and farms, all I wanted after this movie was a picnic with my sweetie. You've been warned.
Artois the Goat is currently only available for sale through IndiePix right now. Amazon says it won't have DVDs available to sell until this summer, although you can pre-order the film from them now, and the movie not yet available through VOD or Netflix. (Apparently putting it in your Netflix queue encourages the company to consider offering it, so if you like the movie you may want to do that.)
Extras: This DVD from IndiePix contains only the movie, with no DVD extras. I'm not complaining; I'm pleased the movie is finally available for anyone to watch.
Austin connections: Artois the Goat was shot in and around Austin, including locations such as Wheatsville Co-op (how many films have been shot there, I wonder?), McCallum High School, 360 Training, Luecke Ranch in Smithville and one of my favorite lunch spots, San Francisco Bakery and Cafe.
Read Jenn Brown's review from SXSW 2009 for another perspective on the film.