Fantastic Flashbacks: 2006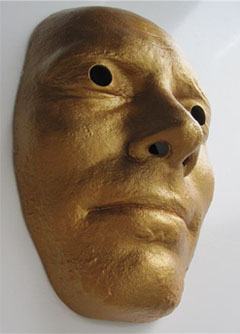 Got your attention, huh? Brownie points if you can name the film that prop on the left is associated with. Hint, it screened at Fantastic Fest 2006.
Last week we started the Fantastic Flashbacks, a five part series looking back at the first five years of Fantastic Fest, starting with year one. Today, let's remember 2006, when the fest extended to its now-usual week of films and events.
There were quite a few celebrities at Fantastic Fest 2006, kicking off with R. Lee Ermey for Texas Chainsaw Massacre: The Beginning, so you know they played his "Take Your Ass Out" Alamo promo. And you know the crowd went wild. Ermey may be a badass on the screen, but he was an absolute sweetheart to the many fans talking to him before the film in the lobby. He wasn't the only celebrity on hand; there were many geekgasms over the presence of Darren Aronofsky, and even though Mel Gibson's presence seemed like a PR opportunity to soothe over his first foot-in-mouth debacle, the special rough-cut screening of Apocalypto -- the first of the ever-popular "secret screenings" at Fantastic Fest -- was worth it.
That's not to say they were the only "names" there. Lucky McKee, the director of May, was there with his new film, The Woods, along with May's leading lady, Angela Bettis, who directed McKee in her film, Roman (which would make a great companion film to May, but that's another post).
Fantastic Fest screened so many films this year, it was impossible to see them all. Like the occasionally tepid Beowulf and Grendel with a then not well known Gerard Butler. He wasn't there, but it's entertaining to remember a film before he was well known.
First among the bigger films is Severance -- for the buzz alone. The tagline says it all: "Another bloody office outing." This team building retreat plays well as a survival horror and for black humor. The cast is fantastic and the script smartly takes sudden turns when little moments look predictable. I ended up seeing this three more times at fests and special screenings and I'm still annoyed it didn't do better in theaters. It was like I was stalking the film, but honestly I wasn't. If you've ever worked in corporate cubefarms with soul sucking lights and bizarre policies and even stranger people, well, it hits home.
Next, Tideland -- partly because it's Terry Gilliam, but mostly because it was probably one of the most devisive films programmed in Fantastic Fest history. I know I'm one of the few who appreciated the twisted fairy tale with the darkest happy ending, but I found Tideland to be visually stunning with a compelling story and extraordinary performances. Jodelle Ferland has incredible talent and her fey innocence as the daughter of addicts, who resents her mother and lovingly prepares her father's needles for him, was chillingly beautiful. Brendan Fletcher takes a potentially cliched and character and gives him nuances I was surprised to notice. You might not recognize him but he starred in Uwe Boll's Rampage -- a 2009 Fantastic Fest selection. In anyone else's hands, Tideland would have been disappointing at best. Gilliam captures the fairy-tale quality of childhood even in the darkest moments, and how a child left to her own devices creates her own reality.
Harry Knowles (a co-founder of Fantastic Fest) was proud to present former Austinite Guillermo del Toro's Pan's Labryinth, which was one of the fest's Secret Screenings because of it officially premiered at another fest later that week. Harry "interpreted" a letter from del Toro in honor of the director, who couldn't be there. As for the film, I readily admit I was half in love with Pan's Labryinth before seeing it, because I loved The Devil's Backbone. As someone pointed out, this is the "sister" film to The Devil's Backbone, as it's the same period, centers on a child, but this time a girl. No ghosts this time, but fantastic creatures and the monsters are sometimes human. beautifully shot and realized, and a real highlight of the festival. And it has the best tagline ever: "Innocence had a power evil cannot imagine." And Doug Jones... oh, he does more with full makeup and prosthetics than most actors can do without it.
It's hard to say if I loved Pan's Labryinth the most or The Fountain -- and looking back, it's still impossible to decisively say whihch I loved more. A "love poem to death" indeed, The Fountain had a tight script, precise shots, and exceptional acting, this is one of my all time favorite films. The Fountain is indeed poetry, and a beautiful testament to love and the cycle of life, and the impermanence of death. I could go on for days, but this is getting long enough. I very nearly missed it despite being a VIP badgeholder, and leaving my last film early to get in line for it, because everyone -- and I mean everyone -- who saw Aronofsky present Fantastic Planet got seated before me. I skipped that just to make sure I could get in, too. But it was worth it, especially the Q&A. I love Fantastic Fest Q&As.
Yes, there were lots of big films at Fantastic Fest 2006, but there were plenty of other memorable films, too. I was absolutely mesmerized by Cheryl White's performance in the effective low budget Inside, about a young man whose voyeurism leads to breaking and entering -- and a grieving couple asking him to stay. And the French animated film Renaissance was equally mesmerizing -- not for its boilerplate uber-noir plot, but for its ultra-high contrast animation. It helped that its voice cast included Daniel Craig, Jonathan Pryce and Romala Garai.
I wanted to love The Piano Tuner of Earthquakes -- a beautifully shot, over-complicated story. It's not only available on Netflix, it's available on Netflix Streaming, so I may have to check that out again.
Blood Tea and Red String was another "miss" for me, with too much repetition. But it is impressive that one person alone made this finely detailed film. That's another I may revisit (and is out on DVD).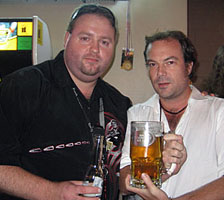 I had double-love for the two Simon Rumley films, particularly his short The Handyman, which is 15 minutes of perfection in filmmaking. The Handyman played with the Rumley-helmed feature, The Living and the Dead, showing the unraveling of an impoverished family of aristocrats. Leo Bill and Kate Fahy both have very strong performances and some incredible scene composition and creative shots. Rumley pretty much swept the awards this week -- that's him in the photo at right with his beer-stein award, next to Christian Hallman. Rumley was back in Austin in 2009 to shoot Red White & Blue (with some scenes shot at Debbie's house and yours truly was an extra in the Broken Spoke scene), and screened the film at SXSW 2010.
Rumley hasn't been resting on his laurels, he and other 2006 Fantastic Fest alums Sean Hogan (Lie Still, available on DVD as "The Haunting of #24") and Andrew Parkinson (Venus Drowning) are working on a horror anthology called Little Deaths that I'll bet money on will play Fantastic Fest if it's at all close to ready. The segments they're directing are Bitch (Rumley), House and Home (Hogan) and Mutant Tool (Parkinson) according to a DreadCentral article.
My big "regrets" were not catching The Host and Bug at Fantastic Fest but they were sold out shows with huge buzz. I waited months to see them until they finally came out in the US, but they were worth the wait. Although I was the only one in the theater for Bug, save two teenage brats who left 10 minutes into the movie.
Back before I joined Slackerwood, I was writing up "Drive by reviews" for myself and blogging about festival daily experiences. Looking back over those old posts from Fantastic Fest 2006, it was apparently the coldest festival ever. Every day I commented on just how cold it was. I ended up missing a lot of screenings because I was so cold. It was so cold ("how cold was it?!") that I started wearing sweaters with shirts under it, and gloves, and they sold blankets in the lobby.
You might recognize that mask in the photo above if you saw the short Faceless, a chilling tale about artistry and the lengths people will go to make it as an artist. The most memorable thing about it is the raffle to own one of the masks, which I happened to win. It's a bit surreal to have a death mask of a living actor in my possession (now on my office wall just because).
Other shorts were memorable for other reasons. Bed Bugs was one of the most disturbingly funny shots about a girl, her bed, and bugs; it was truly twisted and fantastic. Director Sean Carley has made two more shorts in 2009, so maybe one will be in a Fantastic Fest shorts program? Maybe? Please? Which leads to the most memorable short of the fest, director Mehdi Ouahab's two-minute homage to horrors and thrillers in his claymation short Repose En Paix. Repose En Paix isn't even on IMDb, but still makes me giggle in it's cleverness (remember the Hitch-Clock?). And let's not forget the dysfunctional necromancer holiday tale, X-Mass. Be careful what you don't give your kids; they may have a grimoire on hand.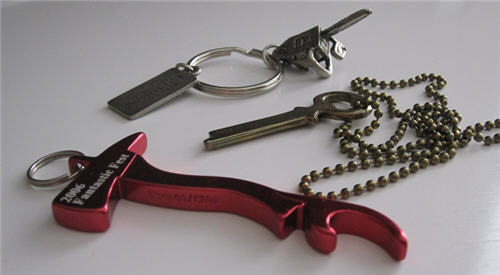 Fantastic Fest didn't end well for me. I made the mistake of seeing Mamet's Edmond, directed by Stuart Gordon and starring the usually fantastic William H. Macy. Unfortunately it was a snoozefest indictment of white middle-class milquetoasts. The worst part was that I made the mistake of ordering food, and had to wait to pay my tab -- which didn't arrive the end of the film. Not the best way to end an otherwise fantastic fest.
I decided to take a break for Fantastic Fest 2007, so Jette is going to share her memories of Fantastic Fest 2007 in the next installment. I'm looking forward to reading that, to be reminded what I missed, as it was apparently quite the year.