Fantastic Fest Flashbacks: 2005, Year One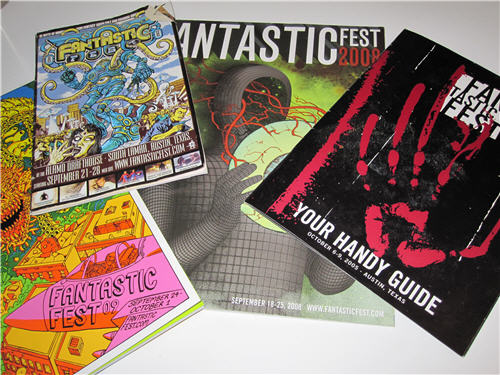 Last month I started getting nostalgic for Fantastic Fests Past as I was de-cluttering and packing for a move. And while it is only July, fans of the festival are already getting excited for the 2010 edition, with two more months to go. If you're on Twitter or Facebook and live in Austin, you probably saw an explosion of tweets anticipating -- then commenting on -- the first round of films announced for the 6th annual Fantastic Fest last week. Seems like a perfect time to reminisce about the first five years of Fantastic Fest to me. Let's start at the logical place ... Year One, October 2005.
The inaugural year of Fantastic Fest was a sparse program compared to later years -- only four days long, and just two screens at a time for films and special events. There weren't distinct programs yet, other than a retrospective of post-apocalyptic films from around the world, starting a tradition of popular retrospectives that get some attendees as excited as the new releases. With a heavy representation of Asian horror, it's no surprise in later years that trend would continue.
Buying a VIP badge got you all sorts of goodies, mostly stuffed in a SXSW bag. We had the coolest badges ever in 2005, though -- these padded deals with a little flashlight in them, very helpful for reading the black with tiny white font programs.
The Alamo Drafthouse South Lamar lobby was full of The Chronicles of Narnia: The Lion, the Witch and the Wardrobe props relating to a special presentation from Howard Berger. The crowd was still small enough that an opening-night reception was held for Zathura, and it wasn't packed. I can hear snickers from all you Fantastic Fest veterans, who know that didn't last long as the crowds just kept growing. I think it was the first time actor/director Jon Favreau was a guest at the Alamo/Fantastic Fest, but he's practically been a regular ever since, with special screenings of both Iron Man films in town.
There weren't enough shorts yet in 2005 for shorts-only programs, but I still remember one absolutely outstanding one: Ward 13. This claymation thriller of a man trapped in a hospital just happened to be written and directed by Peter Cornwell, who also directed 2009's The Haunting in Connecticut -- which happened to play in the 2009 inauguration "Fantastic Fest Presents" program at SXSW.
That doesn't mean there weren't standout films. Despite an apologetic intro as a "Canadian film -- but a good one," The Dark Hours actually made this jaded viewer cringe repeatedly. Malifique was a 2002 French prison thriller that grabbed the gonads from shot one and didn't let go. Both films are now in my personal DVD library, and while they didn't quite hold up on additional viewings for me, they're both responsible for solidifying my love of under-the-radar genre films.
One favorite that did hold up for me was Wolf Creek. Wolf Creek remains a favorite, one of those rare slow-burn horror stories, all the more chilling for being based on two very real, impossibly creepy killers in Australia.
Night of the Living Dorks may not be a classic, but it was one fun zom-com send-up of teen movies, and unafraid to go too far. It's one of the many international titles that makes Fantastic Fest a true gem of a fest for showcasing films and talents we might not otherwise experience here in the US. As it turns out, there's apparently a Night of the Living Dorks remake in development, so I'm not alone in appreciating this one, but I haven't re-watched it yet.
With many genres represented at Fantastic Fest, the tradition of films that don't quite fit into any particular genre are embraced as well. One standout is the surreal film by Eugenio Mira, The Birthday. Presented in real time, The Birthday stars an unexpectedly subdued Corey Feldman who seems to be channeling Columbo's bastard and not-quite-right son. Mira's latest film, Agnosia, stars Eduardo Noriega (The Devil's Backbone, Transsiberian). I won't be surprised if it ends up being announced as a Fantastic Fest film, will you? It was announced as an official selection at Sitges a couple of weeks ago.
The big-ticket film that year was Feast, with writers Marcus Dunstan and Patrick Melton and director John Gulager on hand to premiere their Project Greenlight film. I'm still annoyed Feast wasn't given a proper theatrical release, because it was a damned fun film. Dunstan and Melton have gone on to write two more Feast films as well as taking over the Saw series. Jette and I saw them at Alamo Ritz last year with their film The Collector.
Five years later, that first Fantastic Fest still stands out in my mind. While we're waiting to see how Fantastic Fest 2010 turns out, Slackerwood is going to take four more strolls down memory lane to help get everyone into the spirit of one of the biggest film fests in a town known for its film scene.
Next up, 2006, the Fantastic Fest that brought new meaning to the word "chiller."
Fantastic Fest runs September 23-30, 2010, at the Alamo Drafthouse on South Lamar.