Win Tickets to AFF Encore of 'Simmons on Vinyl'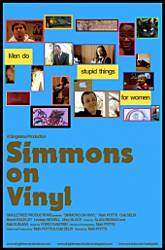 [Editor's Note: Why yes, I did swap out of the photo accompanying this entry -- apparently some people think a bare butt is NSFW. They are probably correct.]
Last year, I caught the low-budget comedy Simmons on Vinyl at Austin Film Festival. I liked it so much that when I heard AFF was bringing the movie back for an encore screening at Alamo Drafthouse at Lake Creek this month, I asked if Slackerwood could give away a couple of pairs of tickets. The nice AFF folks agreed, so now you have a chance to see this very funny indie for absolutely free.
The film screens on Thursday, May 27 at 7:30 pm at Alamo Lake Creek. Mark Potts, Cole Selix and Brand Rackley -- who between them wrote, directed and acted the three main roles in the film -- will be at the screening. They'll also preview a bit of their new film S&M Lawn Care. They run a pretty funny Q&A, as I recall.
Slackerwood is giving away two pairs of tickets to the May 27 screening. You have two ways to enter the contest -- the fun extroverted way and the easy introverted way:
The fun way: Post a comment on this entry that tells us what your favorite record (on vinyl) is or was, and why.
The easy way: Use the Slackerwood content form to send me a message that includes your name, with the subject line "Simmons on Vinyl." I know some of you are shy about posting comments or publicly admitting your favorite record (or that you are too young to have ever owned something on vinyl).
The deadline for submitting an entry is Thursday, May 20 at 11:59 pm. I'll randomly pick two winners (one pair of tickets per winner) shortly thereafter and will post the winners on Monday, May 24. If you win, the tickets will be available for you at the box office that night.
If you don't win, you can still see Simmons on Vinyl for free that night if you are an AFF member. And for everyone else, it's a whopping $4. If you're really lucky, maybe they'll bring some more of those crazy buttons to share.
*Note: Please be assured that we will not use your contact info for anything other than letting you know if you win.