Austin Film on Twitter
in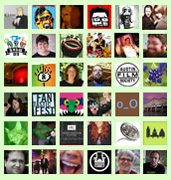 The interactive site Twitter has become very popular these days. Omar Gallaga has a good article about it here, if you're unfamiliar with it. Lots of Austin film groups, festivals and online publications are sharing interesting bits of info via Twitter.
Here's a list of Twitter accounts that you can follow if you want to keep up with Austin film news and events and gossip. I'm only including publicly accessible accounts, not the private ones. If I missed anyone, please let me know.
Theaters, Groups and Fests
These Twitter feeds tend to be limited to links about upcoming Austin film and entertainment events -- not a lot of chatter, but solid news.
Media and Websites
These Twitter feeds tend to focus primarily on links to film news, and sometimes other news as well, although some also will interact with other users.
Austin Film Geeks
These Twitter users may be film geeks, but tend to chat about a variety of topics. Most of us are friendly, so don't be shy to say hello.
Slackerwood Contributors
Because we're just shameless that way.