Galaxy Highland
As a volunteer for South by Southwest (SXSW) Conferences and Festivals Special Venues Crew in the past, I've helped out at many film premieres and so have some experience at red-carpet events. However, last week was the first time I experienced the media side of the red carpet, at a local sneak preview of Bandslam, which was shot here in Austin in 2008.
I was a bit nervous before the event, so to boost my confidence I read Jette's blog entry on red-carpet lessons. I wanted to make sure I was able to cover both audio and video, so I was well equipped with cameras, digital voice recorder, camcorder, and even "The Poor Man's Steadicam" from my favorite tech geek, Johnny Chung Lee. With temperatures hitting the triple digits, I remembered Jette's advice and packed several bottles of water.
The Bandslam red carpet had a few extras not often seen at previews or even premieres. Because a large portion of the film was shot in Austin and featured a couple of Austin bands, a performance was set up in the courtyard at Galaxy Highland. Local bands Joker and The Daze performed outdoors as folks waited to be ushered in for the screening. In the film, the members of Joker played the backing band for one of the main characters, and The Daze were seen as themselves in the "Bandslam" battle of the bands competition. Check out a photo of Joker after the jump: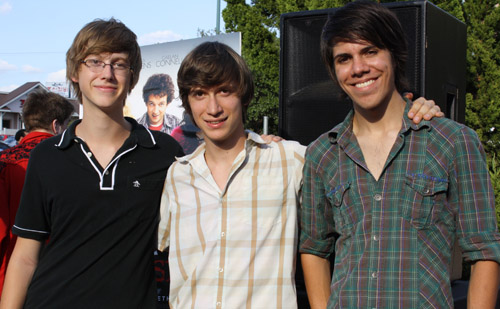 Bandslam premiered in Austin Tuesday evening, and moviegoers were treated to live performances by two local bands featured in the film's battle of the bands competition. We'll have more on this special screening soon, including an interview with members of The Daze and local radio personality Bobby Bones from 96.7 KISS FM, who also played a small role in Bandslam.
[Photo Credit: (L-R) On the Red Carpet with The Daze members Chris Ritchie, Aaron Lemke, Evan Butts by Debbie Cerda]