Review: Taking Woodstock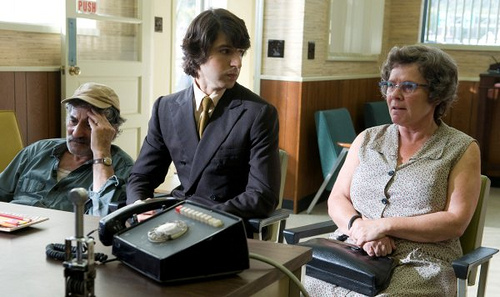 It has been quite a while since Ang Lee last took on comedies with The Wedding Banquet (1993) and Eat, Drink, Man, Woman (1994), and it shows in his new film Taking Woodstock. It is a decent and enjoyable movie, but it often meanders and is less about comedy and more about transformation and turmoil of the Vietnam era in 1969.
Taking Woodstock takes place at a rundown motel in the Catskills, and is centered around Elliot Teichberg (Demetri Martin), who is based on Elliot Tiber and his book Taking Woodstock: A True Story of a Riot, a Concert, and a Life. Elliot sacrifices what little money he's made as an interior designer in New York City to keep his Russian immigrant parents from losing their rundown motel in the Catskills, and moves back to help. As president of the local chamber of commerce, he jumps at the chance to give the Woodstock festival a home after nearby Wallkill, N.Y. forces the concert promoters out. Elliot convinces local dairy farmer Max Yasgur (Eugene Levy) to agree to hosting the concert on his farm.
Taking Woodstock is not so much about the festival, but is more about the characters and their relationships. As in Brokeback Mountain, Lee focuses a bit on the homoerotic angst felt by the main character. Elliot is not comfortable with his sexuality enough to be demonstrative in front of his parents. Only when Vilma (Liev Schreiber) arrives at the motel to offer his/her services as security do we see more of a transformation. Schreiber plays the part of the transexual mother hen with sage advice quite well, but it is just a bit too reminiscent of Vida Boheme in To Wong Foo Thanks for Everything, Julie Newmar. Vilma does have some of the best lines in the film -- "I know what I am, that does make it easier for everyone else."
Although the film mostly centers around Elliot's efforts, Henry Goodman as the tired yet patient Jake Teichberg and Imelda Staunton as the miserly broken-down Sonia Teichberg are the real standouts of this film. I was most disappointed by Billy (Emile Hirsch), as the shellshocked Vietnam vet. Billy seems to be more of a caricature that lacked substance than an authentic depiction, as is the characterization of concert promoter Michael Lang (Jonathan Groff).
The pacing is uneven at times as it meanders through the events leading up to the festival itself. I was a bit surprised that a pivotal scene involving Elliot's parents at the end was not only brief, but left unexplained. The cinematography moves between different styles, with some of it being more natural and organic, which seemed to fit much better. The most visually stunning sequence of the film depicting an acid trip lasts ten minutes, but didn't seem that long. For details on how this scene was shot, check out Eric Philpott's great coverage from the Briefing Room, Acid Trips and History on the Big Screen in Taking Woodstock.
On a local note, I attended Taking Woodstock as a special screening at my favorite theater in my neighborhood, Arbor Cinema at Great Hills. I had mentioned this theater in my Planning Dinner and a Movie in Austin, but this time dinner was provided to moviegoers by Gatti's Pizza Austin. Apparently as part of their 40th anniversary celebration, Gatti's is giving away tickets to select movies through their Facebook page as well as free pizza at the screenings. What better way for a pizza establishment founded in Austin in 1969 to celebrate than with a screening of Taking Woodstock? Make mine mushrooms, please.