Cinemapocalypse, Part Two: And Well Into the Morning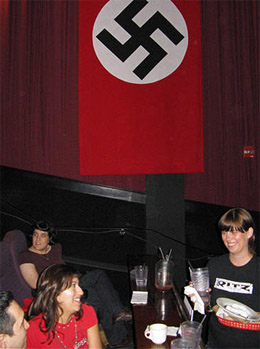 The main event for Cinemapocalypse was Inglourious Basterds and guests, as I detailed in Part One. However, the all-night movie marathon offered so much more. The theme of the evening (and morning after) was war-centered "men on a mission" films, with each film preceded by relevant vintage trailers. Tarantino programmed the next two films, with the rest programmed by Tim League, and Alamo programmers Zack Carlson and Lars Nilsen.

Film: Inglourious Basterds
Trailers: Operation Eichmann, Ski Troop Attack, 36 Hours and Operation Amsterdam

Like I mentioned in Part One, Slackerwood will be doing a full group review later. I will say for now that I really enjoyed Basterds and I'm looking forward to seeing it again, and I suspect even people who aren't big fans of Tarantino will really enjoy it. It has all the spirit of post-WWII anti-hero and noir films.

Film: The Losers
Trailers: The Naked Brigade, Merrill's Marauders, The Dirty Dozen, Casualties of War, The Rescue (I think it was the same film as Let's Get Harry, but I'm not entirely sure) and First Blood

This 1974 Vietnam war-era film, directed by Jack Starrett, was about a bunch of bikers led by Link (William Smith), who are sent to Vietnam to rescue a government advisor on the wrong side of the Vietnam border. This seriously surreal film included a love song/theme song abruptly fit into an unexpected romantic scene ("Life has so much to offer the losers ..."). Tarantino pointed out that this has has the distinction of being filmed during the Vietnam conflict, when it was politically very incorrect to do so.

Film: The Siege of Firebase Gloria
Trailers: Up from the Beach, Play Dirty, Von Ryan's Express, Eye of the Eagle II: Inside the Enemy, Uncommon Valor and Gallipoli

Starring R. Lee Ermey and Wings Hauser, The Siege of Firebase Gloria is an uneasy mix of great filmmaking with some seriously cheesy dialogue (and a great chopper pilot).
At this point, there had been some celebrity sightings. Character actor Danny Trejo, who is in town filming Machete, was there and chatted with Debbie. This is the second time he's been seen at the Alamo Ritz in a week -- and then Debbie saw him again Sunday afternoon at the Paramount for the Shorts event. Richard Linklater was also around for at least the first movie or two, and actor Robert Forster was spotted as well. As it turns out, Forster was our next special guest for the next film, Vigilante, the only film that also appeared in the Rolling Roadshow Cinemapocalypse. I'm ashamed to say I didn't recognize Forster's name when other Alamo addicts were talking about celebrities in the audience. The trailers for his films helped me place him.
Austin, and Alamo addicts in particular, have an enthusiastic affection for actors whom most people don't remember until they see a picture, and then go, "Oh, that guy!" Forster is such a guy. Currently, Forster is recognizable as Arthur Petrelli on Heroes and has had starring and featured roles in well over 100 films and TV shows.

Film: Vigilante
Trailers: Alligator, The Black Hole, and The Delta Force. Trailers used to be so long. Jeez.
Prior to showing Vigilante, Forster was up on stage -- wearing a shirt from the UT Film program -- with Alamo's Zack Carlson for what was expected to be a brief Q&A. However, Forster eagerly latched on a pair of anecdotes that weren't short but were very entertaining. As it turns out, in both cases, his "breaks" were both instances when he'd dismissed the opportunity, but changed his mind and turned around. The first break included meeting his future which, and the second how easily he landed the role in John Huston's Reflections in a Golden Eye (1967). He went on to explain how integral the actor's role is to each team involved in filmmaking.
Note to (aspiring) actors; if you ever have a chance to hear Forster talk, or do a workshop with, jump on the opportunity. I strongly suspect you'll learn a lot. Diamond Men is now in my Netflix queue.
I was very impressed with Vigilante, which technically was an exploitation film, but only because of the time period it was made. Even a full bladder couldn't get me out of my seat til the credits.

Film: The Black Gestapo
Trailers: Black Samurai, The Black Godfather, The Godfather of the Ghetto and The Klansman
The Black Gestapo nearly defeated me. The film clearly had a message, and was relevant for the time it was made (1975), when altruistic efforts sometimes found themselves being exploited in the name of liberation. It was interesting to see Charles Robinson in a very different role from that of Mac on Night Court.

It's not a bad film, it's actually very interesting, but it's low key until the very end and at dawn, it was hard to stay awake in a dark theater. I didn't fall asleep, though I readily admit to having some several minute-long blinks. At least I didn't snore a few times like someone near me. [Jette, editing this, hopes it wasn't her. Jenn, when checking the edits, assures her it wasn't.]

At this point, there were some empty seats. Not a lot, but finally noticeable. If they'd only waited. The final film, Tim League coyly informed us before the last five-minute break, was a new film, unreleased in the U.S., and he'd originally tried to get it for Fantastic Fest, but for some frustrating reason, couldn't.

And if we made it through, there was some Schlitz for us in the lobby. Now, Schlitz is not a draw for me, but I'd made it so far, and this was a new film. I couldn't leave now, if not for me, then for you, the vast majority who couldn't get tickets simply because of the fact that Ritz does not have unlimited seating.

Film: Ip Man
Trailers: A very disturbing Fantastic Fest promo, Master of Zen, Fist of Dragon and Karate' Fist & Beans

That's "Ip" as in a name, not Internet Protocol, just in case you're wondering. And as it turns out, it's a name every Kung Fu fan should know. The surprise feature turned out to be a martial-arts historical tale, Ip Man, based on the earlier life of the man who trained Bruce Lee. It's beautifully shot, with some incredible fight choreography. I'm not a big martial-arts fan, but I really enjoyed this, and it certainly woke me up. And it helped me recover from a very disturbing Fantastic Fest promo. That was just so, so very wrong, and not suitable for brunch, guys!!
Brunch was pretty good, but it really needed to be available earlier. The bacon was cold, the creme brulee french toast tasty (if a bit underdone), and the orange juice really hit the spot. But the fruit was very frustrating. They have a bad habit of chopping the fruit too small, and you need to use your knife to force the fruit bits on your fork. Try having to watch your food when watching subtitles -- not easy.
When the lights finally came up for the last time, Tim thanked us and alluded to the possibility of Cinemapocalypse being an annual event, but reinforced the possibility of another one as soon as April. Quentin mused about the same, so cheer up if you didn't get in, it may not be all that long til there's another marathon of badass cinema known as Cinemapocalypse. Cinemapocalypse needs to be a semi-annual event.
And then there was beer:
For more Cinemapocalypse photos, check out our Flickr sets: Jenn, Jette and Debbie. If you want to see photos from the part where audience members couldn't bring in cameras, check out David Hill's photo set. Awesome.
If you want to read more about the evening, visit the following sites:
Marc Savlov's wrap-up on the Austin Chronicle website includes a transcript of Tarantino's interesting comparison of Leni Riefenstahl and D.W. Griffith.
Over at Film School Rejects, Cole Abaius summarizes each film accompanied by his rapidly decreasing health status as the event progresses.
Alamo movie marathon vet Micah of Reel Distraction provides a lot of detail about the movies as well as the atmosphere at Alamo that night.