Review: Jenn & Jette on 'Julie & Julia'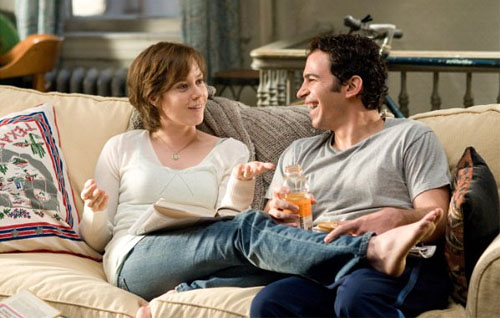 Julie & Julia has one connection to Austin, which isn't mentioned at all in the movie: the real-life Julie Powell grew up here, leaving for the Frozen Yankee Tundra when she went to college. In the movie, when we hear Julie's mom on the phone, as voiced by Mary Kay Place, the strong Texas accent sounds more Dallas than Austin, but that's Hollywood for you.
The movie, directed by Nora Ephron, is a blend of two stories about cooking: Julie Powell's book Julie and Julia about her attempts to cook her way through a Julia Child cookbook, which she tracked on a blog; and My Life in Paris, about Julia Child's learning to cook, teach cooking, and eventually co-author her first cookbook.
Fittingly, Jette and Jenn saw Julie & Julia and have some opinions to share. Let's start with Jenn:
If you are on a diet, don't go see Julie & Julia. Seriously. You will gain five pounds before the closing credits, and have an irresistible urge for beurre blanc (that's a white wine/butter sauce, for the culinarily challenged). Even at a run time over two hours, with some scenes desperate for a trim, it's destined to take its place next to Under the Tuscan Sun as a film that makes gourmet retailers very, very happy.
Meryl Streep is absolutely brilliant, from her gait, to her laugh, to the amazing chemistry she has with Stanley Tucci. If you enjoyed them as peers in The Devil Wears Prada, that was just a warm up as the very loving Paul and Julia Child. Jane Lynch's brief but memorable appearances in the film underscore how underrated she is as a dramatic actress. Interestingly enough, this is the least ebullient performance Amy Adams has given on film, which is disturbing because it works.
Simply put, Julie & Julia is worth watching for Meryl Streep alone. Or for her with Stanley Tucci. Or for the food porn. If you're lucky, you've already got tickets to one of the Alamo's Julie & Julia Feasts. After watching Julie & Julia, $75 didn't seem like so much.
Jette reviewed the movie for Cinematical, but has some additional thoughts about the film:
In a way, Julie & Julia is the movie I wanted the adaptation of Nora Ephron's Heartburn to be -- combining food and love, showing us recipes and love all tangled up together, with a lot of smart humor. Meryl Streep was miscast as Ephron in Heartburn, but she makes a delightful Julia Child, seeming taller than she is and charming everyone, including the audience.
I do wish Ephron would stop taking some of her best lines from Heartburn and recycling them in her other movies. It was disconcerting enough to hear them in When Harry Met Sally, but I actually winced to hear the recycled (admittedly slightly rewritten) bit about "after a hard day, there is something comforting about the fact that if you melt butter and add flour and then hot stock, it will get thick!" etc. This may simply mean that I've read Heartburn too many times; it was one of my favorite books in high school, and I like it more than any of Ephron's movies or other writing.
One thing I found interesting -- the way men are portrayed in this movie. After my husband and I saw Waitress together, he pointed out that the men in that film were relegated to the same roles I so often complain are poor for women in movies: Nagging Wife, Mistress with a Heart of Gold, etc. Instead we got Abusive Husband and Cheating Doctor with a Heart of Gold. In some ways, the role reversal gives me a certain satisfaction: you guys can see what it's like to get the stereotypical characters for a change. But my husband wonders if that's really progress, and if it wouldn't be better to try to stay away from these tired stock characters regardless of gender.
In Julie & Julia, we see two very standard Supportive Husbands: Paul Child and Eric Powell. Tucci's performance manages to raise his role out of the stereotype, but still, you have to wonder. If the roles were reversed, this would be a movie about two determined, ambitious men with the same Supportive Wives we see in many Hollywood films. Here, it feels refreshing to see husbands who are excited by their wives' goals and careers. Perhaps we're simply not accustomed to the stereotype when it's gender-reversed.
A final note: I wondered why Julie Powell's character was living in NYC, since she didn't seem to be getting much out of the city to justify the high rents and teeny apartments (especially her wee kitchen), but movies can't explain everything. Fortunately, an interview with Powell on the blog Homesick Texan answers some of these questions.