SXSW Review: Petting Zoo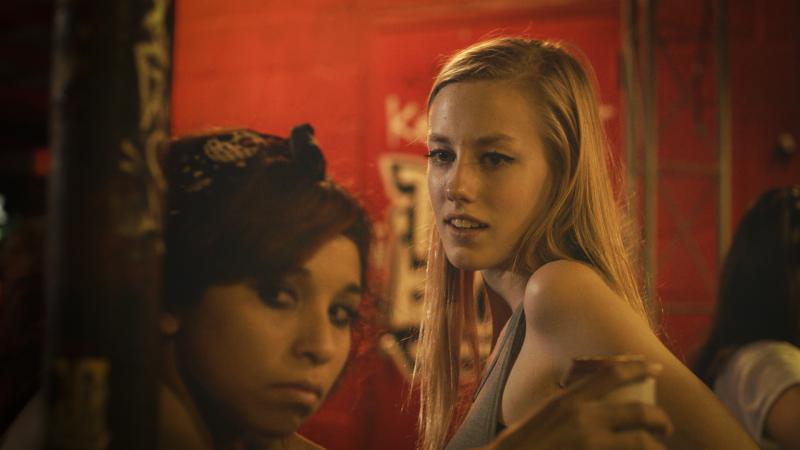 Layla (newcomer Devon Keller) is a high-school senior shacking up with her dropout boyfriend Danny (Kiowa Tucker). An honor student, she gets a scholarship to UT Austin and then finds out she's pregnant. Given her predicament, what can she do? Petting Zoo, from director Micah Magee (see my interview with her), thrusts the viewer into several months of Layla's life.
One notable facet to the main character is that she is working poor. Layla refuses to live with her financially stable but abusive father, so has to move in with her elderly grandmother (Adrienne Harrell, Zero Charisma) and share a bed. Magee perfectly conveys the utter vulnerability of her situation. We see Layla sleeping many times -- through loud parties in Danny's apartment, in a friend's car after seeing Girl in a Coma, on her grandmother's couch after hearing bad news. Such sequences illustrate the precariousness of her life, and the limits of her control -- especially when she loses her support system.
This is not to say that Layla has no choice in anything; that would be a false statement. What decisions she can make, she does. She leaves her loser boyfriend, decides to keep her baby, and wants to make it on her own. She also falls into a relationship with fellow graduate Aaron (Austin Reed).
I noticed thematic similarities between Petting Zoo and the 2011 film All She Can (my Lone Star cinema review) -- I'm a sucker for movies about girls who aim to escape their current environments via an education at The University of Texas, I guess. There is more of a delicacy to Magee's film, with her careful use of visual and sonic imagery. Heartbeart audio from Layla's sonogram recurs in the film, once being matched by the sound of a cat purring. "My baby is a Selena ringtone," she tells a nurse as a song is picked up through a sonogram.
Magee's cast of young, non-professional actors adds a shade of reality to her movie (in the press packet, she says the teenage performers come from socio-economic backgrounds similar to the characters they play and "were found in my extended family, student castings at my former high school, and open call castings in San Antonio and Houston.")
The script for Petting Zoo actually sounds like the people it is depicting, such as when friend Melanie (Deztiny Gonzales) asks Layla, "Can you like not have a boyfriend for like 10 minutes?" The couple of times the plot leans towards contrivance marginally diminishes this feeling.
Petting Zoo quietly follows these months as Layla is forced into adulthood and big decision making, as she faces tragedy and finds hope in moments of loss. She also finds her own voice.
Petting Zoo screens one more time at SXSW, Thurs 3/19 at 1:15 pm at Topfer Theatre/ZACH. [info]
Austin/Texas connections: Filmed in San Antonio and Austin. Director Magee sometimes lives in Texas and graduated from UT. Austin actor Chris Doubek plays a small part, and filmmaker PJ Raval was assistant cinematographer.