Lone Star Cinema: All She Can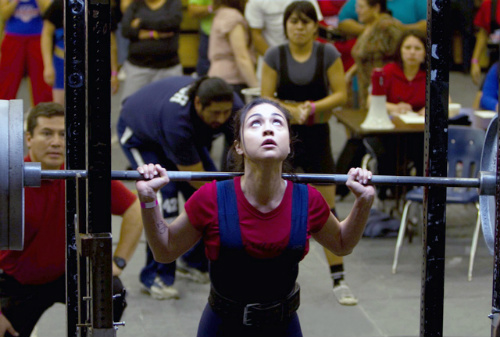 Benavides, a small town in south Texas, is the setting for the 2011 slice-of-life drama All She Can. Immigrants attempt passage over from Mexico, drug searches occur regularly at the high school, and senior Luz (Corina Calderon, End of Watch) worries she may be stuck. She hopes her weightlifting prowess can net her a scholarship to The University of Texas at Austin ... but this film doesn't follow the formula of your typical sports movie. Heck, All She Can doesn't really follow any typical formula at all.
The plot of this narrative feature seems anything but far-fetched. For instance, since her family has no internet access, Luz has to use a computer at the town library to Skype with her older brother JM (Jesse Medeles), who is stationed in Afghanistan. The military seems the only career path open to many of her peers. She's accepted into UT Austin, but her mom can't afford to co-sign any school loans. Her family is barely getting by, and Luz feels utterly limited by her lack of options.
Many other factors give All She Can a realistic feel, from the wardrobe to the low-key acting by the cast. Even the lighting adds a natural touch, with nighttime scenes washed in a soft yellow as if from a sodium light. The predominantly Latino cast delivers a compelling story with familiar elements for most Americans.
Unexpected events shift Luz's plans and the choices she makes seem to lead the teen further and further away from her dream of Austin. This film from the screenwriting team of Daniel Meisel and Amy Wendel (who also directed) shows Luz on her journey from doubt to confidence, despite her troubling situation.
Some ridiculousness in the last act of the film felt a bit beyond belief, but it doesn't take anything away from this intense story and Calderon's focused performance. All She Can played at Sundance in 2011, but didn't make a lot of noise here in town. I only happened upon the movie because Netflix recommended it to me! All She Can is available to stream on Netflix, for rental or purchase on Youtube, or you can buy a DVD off the film's official site.
Austin/Texas connections: So many! Luz works at a Whataburger, and scenes were filmed at UT Austin. Coastal Bend College in Alice shows up in the film, which was shot in Alice, Benavides, Corpus Christi, San Antonio, San Diego (Texas) and Austin. The soundtrack includes music from Texas acts such as Girl in a Coma, David Garza, Abra Moore and Tia Carrera.