2014 in Review: The Year's Biggest Duds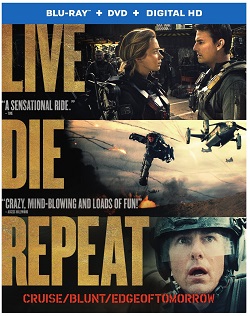 2014 had a lot of great movie releases, as you'll see in our Slackerwood Top Ten later this week. Picking out favorites was easy. Limiting them to just ten choices was much tougher.
However, there's no question the following titles were big losers for the year, and I'll tell you why these are my picks.
10. Edge of Tomorrow
This Tom Cruise-starring adaptation of the Japanese manga All You Need is Kill was one of the critically best films of the year and thus its place at number 10. Unfortunately, due to uncertainty over marketing, the opening weekend box office take was just under $30 million for this $178 million blockbuster. As of September, it had barely grossed $100 million. It failed again with the home video release which had "Live Die Repeat" splashed across the cover causing confusion among people who had seen the marketing for the edgier title. (my review)
9. Interstellar
Do you science? You'd be a lot cooler if you did. This movie is a controversial pick with many people on the "loved it" side of the debate. Still, Interstellar was saddled with very high expectations that many felt it failed to meet. Notes circulated on some of the original script ideas that had many wanting something more than they got. Much as I enjoyed it, the final act abandoned hard science in favor of fantasy, and the sound problems reported from across the country were a distraction. (Marcie's review)
8. Godzilla
Another one of my dud entries that was actually a pretty good film. This year, and with this remake, "pretty good" wasn't good enough. Gareth Edwards' heart was in it, but he took too long to build up the action to the point where the audience really felt he should have started. The most common complaint was that the title character doesn't show up for the first 40 minutes of the two-hour movie. My biggest complaint was under-use of Bryan Cranston (and over-use of Aaron Taylor-Johnson). This only has a 6.6 rating on IMDb. (my review)
7. Maleficent
The last of the "pretty good" films on this list, Maleficent featured Angelina Jolie playing the title character as an anti-heroine. Many folks had problems with the diversion from the accepted Disney storyline. Overacting by Sharlto Copley and a violent rape-metaphor scene were also difficult in a film ostensibly made for little-girl audiences. (Matt's review)
6. The Hobbit: The Battle of the Five Armies
Jerry Seinfeld knew to quit when you're on top. Unfortunately, studio pressure and the desire to cover as much source material as possible, even if it wasn't in the original book, caused Peter Jackson to stretch the story to three films. There are too many problems to list them all here with any brevity, so I'll just say it needed more Hobbit among many other things. (my review)
I wrote that this was my favorite Spider-Man film to date, but the biggest thing I remember about it now is the ridiculous portrayal of mental illness by Jamie Foxx. Andrew Garfield came into his own with the webslinger in this one, which perhaps makes the real dud the next one, which won't see him in the role. (my review)
Zack Snyder's crowning achievement of substance under style, way under style, was a ridiculous mess. With any luck, this movie killed any chances for another sequel. Between this film, The Legend of Hercules and my next entry, 2014 would be the year the sword-and-sandal revival went to die (with a last gasping breath from Seventh Son in 2015). (my review)
The fact this isn't at the top of my duds list isn't saying much for it. I hated all of these last three like Christian Bale hates taking a role that doesn't require him to gain or lose 50 pounds. Exodus turned the Red Sea into a dead see with a script that sucked the wonder out of the "greatest story ever told." (my review)
2. Robocop
This watered-down version of the original was almost as terrible for a remake as 2012's Total Recall, as the modern update failed to recapture what made Verhoeven's one of the best 80s sci-fi films. Some things are better left in the past, not dug up and revamped with technological trappings. (my review)
1. Annabelle
This was not only the worst movie I saw in 2014, it was one that I had anticipated the most. Its predecessor, The Conjuring, was the first movie that managed to actually frighten me since 1982's Poltergeist. I dubbed this one "Annablah," and I stick to that. My review is likely the most negative I have written for any film. This is the Highlander II of horror films.
Unmentioned: A Million Ways to Die in the West
...because that turd is unmentionable. Really, I didn't want to give it the honor of even placing on a list of shit. I didn't have high expectations for the movie anyway, but it should have killed Seth MacFarlane's film career. It's worth giving up every future sequel to Ted to make sure nobody has to suffer through something this awful again.
Honorable mention: The Interview
Again, a great flick brought down by outside forces having nothing to do with its quality. You should be well familiar with this story already, which involved Paramount buckling to threats from North Korean government-sponsored hackers who had attacked rival studio Sony, a call from independent theater owners led by Alamo Drafthouse's Tim League to let them show the movie anyway, a surprise decision to release Christmas Eve on VOD platforms and then finally a very limited theatrical release which could never make back the budget. Somewhere out there is a warehouse full of swag waiting to be buried in the New Mexico desert until dug up and placed on eBay for $5,000 per item. (my review)