Review: Edge of Tomorrow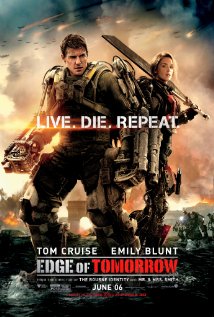 How do you fight an enemy that already knows exactly what you're going to do? You throw a Tom Cruise missile at them, someone who doesn't know himself what he's going to do. That's what Brendan Gleeson's General Brigham does in Edge of Tomorrow, the first and possibly best blockbuster action film this summer.
Directed by Doug Liman (Jumper, Mr and Mrs Smith, The Bourne Identity) and scripted by Christopher McQuarrie (Jack Reacher) based on the Japanese comic All You Need is Kill by Hiroshi Sakurazaka, Edge of Tomorrow begins at the end of a war to save the planet from a mysterious alien invader. General Brigham is ready to lead a concerted push from every nation to encircle and destroy the enemy, and he calls Lt. Col. Bill Cage (Cruise), a US Army talking head public-relations officer who's never seen a day of combat in to cover the D-Day style invasion.
A pathetic attempt to blackmail his way out of putting boots on the ground lands Cage busted to a rank of private and branded an attempted deserter, where he is put under command of Master Sergeant Farell (Bill Paxton), outfitted with a mechanized combat suit, and dumped on the deadliest beach ever to see an invasion. In less than five minutes, Cage is dead, and that ends the first of countless times he must repeat the day, Groundhog Day-style, due to a one-in-a-million accident.
He meets up with Rita Vrataski (Emily Blunt) aka "Full Metal Bitch," the war hero responsible for Earth's lone victorious battle at Verdun, and learns from her that he must improve his skills through innumerable deaths as he is the only hope for humanity's survival.
McQuarrie's script is intelligent and tight, providing just enough information and leaving just enough unsaid to encourage the audience to read between the lines. Great cinematography and crisp editing keep the action going at a brisk pace, so none of the repeated scenes grows stale.
Edge of Tomorrow is a rare film worth catching in IMAX 3D. It's visually rich, eliciting involuntary gasps, blinks and flinches from flying debris, and I found the alien creature design highly original. These things move in ways that make complete sense, but are truly alien, like nothing ever seen on Earth.
Cruise is at a new peak in his career, and this is his best action film. Gleeson's role has little screen time, but he's immensely effective, and Blunt's chemistry with Cruise builds to an unlikely romance that feels natural. Story, script, effects, characters, all add up to this weekend's must-see at the box office.