Review: Interstellar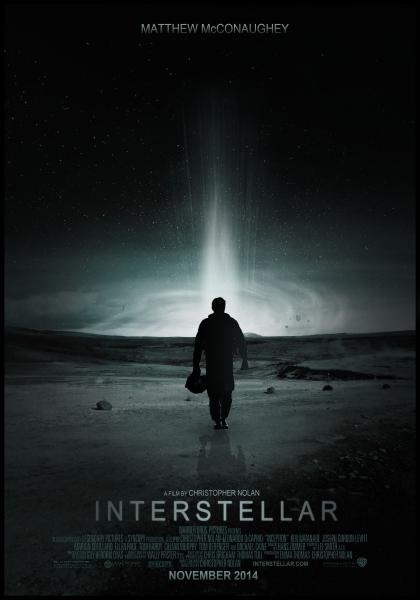 Take the theory of relativity, theories about space and time, and quantum physics; combine them with intense emotions and exploration of relationships, both personal and familial; write a 169-page screenplay about it all, then bring said screenplay to life. While this task sounds like something way over my film-school brain, Christopher Nolan makes it seem easy as cake with his latest movie, Interstellar.
I've watched many a film buff get into heated debates about Nolan's work. There are those who argue his work is flashy, dazzling you with inexplicable knowledge and plot while melting your eyeballs with IMAX cinematography. On the other hand, there are those who argue his work is brilliant, each camera move and plot point an intricate dance filled with depth and emotion. I tend to fall into the middle of this arguement.
The basic premise is this: Cooper (played by Texas favorite, Matthew McConaughey) is a former-engineer-turned-farmer living with his young daugher Murphy and teenage son Tom. We understand right away that Earth is in trouble: All its resources have been utilized and the world is running out of time to find food and water. By some happenstance of the universe, Cooper finds his way over to a secret NASA location, learning about a secret mission to find another planet for humans to live on ... and of course, Cooper is the only man to pilot said ship to save the human race.
While there is no doubt that Nolan's work is (inter)stellar, it can definitely be cumbersome. I found myself losing focus toward the middle of Interstellar, unsure of what the end result of this 169-minute saga would be. Thankfully, the story reeled back around and left for a compelling (and quite thought-provoking) third act.
One of the few downsides to the movie was the scientific jargon thrown around between characters. Poor line delivery made me wonder (in just a few instances) what the final theory actually was. This film also features a fun game of "Guess how many Hollywood celebs you can spot in space!"
All that aside, do your best to see Interstellar either in a theater or in IMAX. It will leave you feeling emotionally charged, eager to learn more about the world around you, and with a sense of wonder about why you never really paid attention in science class (like me).