How Young Is Too Young to Watch Movies in Theaters?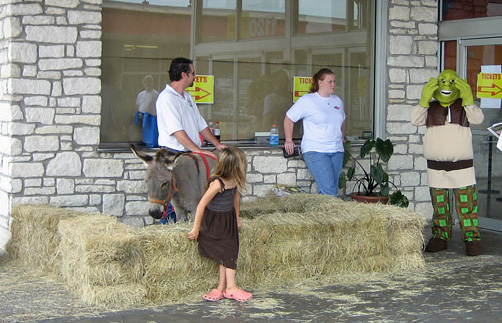 On Twitter today, Marla Erwin (@marlaerwin) was annoyed with Alamo Drafthouse. She wanted to take her kids to see Ice Age 3D at Alamo Village this weekend, but some of her little ones are under 6 years old. And at Alamo Drafthouse, children under 6 are not allowed at the theater, even for matinees of kids' movies, except at weekday Baby Day screenings.
Marla ended up taking her family to see the movie at what she called a "mall chain" theater in town. She likes Alamo so she wasn't happy about this, and wants the local chain to consider changing their policy for children's movies.
On the other hand, you might remember an aside I made part two of Jenn's theatergoer rant about the "Ratatouille Rule." It really happened -- Chip and I spent our Ratatouille theatergoing experience having to deal with a 2-year-old behind us who kicked our seats repeatedly, pulled my hair, and grabbed Chip's shoulders (who thought it was me being romantic, hilariously). The mom apologized at the end of the film, but the child should never have been at the movie in the first place.
Since the theater was full, we couldn't change seats. And at Alamo, you can't move if you're near an obnoxious child (or adult), you're stuck. You can alert waitstaff, of course. But I noticed when I watched Up at Alamo South that before the movie, we didn't see a "don't talk" house ad or the new "This is a Quiet Zone" ad. Alamo apparently assumed that kids will make a certain amount of noise, and I wonder if they're more reluctant about kicking out families with small children as opposed to rowdy drunks. It didn't matter, as the kids in the theater were all fairly well behaved.
And why shouldn't small children be allowed in movies that are made for them, like Ice Age 3D or Night at the Museum 2? I can't imagine many grownups require absolute silence during those films to hear every syllable of witty dialogue. On the other hand, a theater can't allow children only into the crappy kids' films and not into movies that many grownups also want to enjoy without disruption, like Pixar and Miyazaki films.
So do you think Alamo should lift its under-six policy for all family films? Maybe change it to under-two or under-three? At what age are most kids able to sit quietly through a feature film? I can see several points of view here, so let's hear yours.