Movies This Week: February 6-12, 2015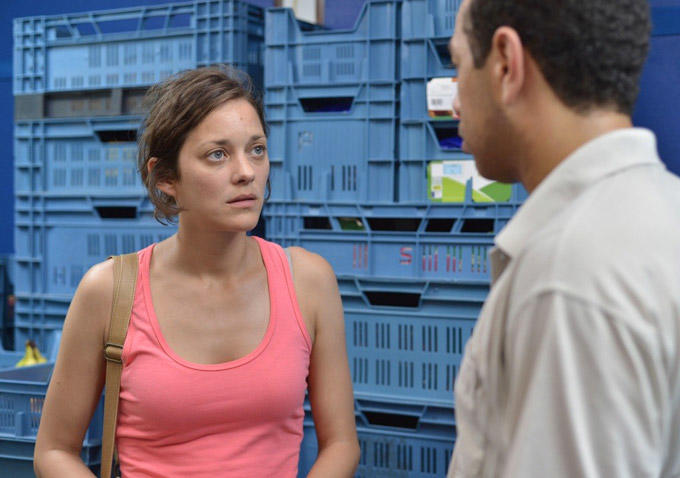 The Austin Film Society has another Free Member Friday tonight at the Marchesa and will be featuring the 2014 Belgian thriller Alleluia (Debbie's review). It won Fantastic Fest jury prizes for Best Film, Best Director, Best Actor and Best Actress. On Tuesday night, AFS joins forces with the Austin Chronicle to celebrate their "First Plates" issue by screening The Kings Of Pastry by acclaimed filmmakers D.A. Pennebaker and Chris Hegedus. Wednesday evening will bring Robert Greene's Actress, one of last year's most acclaimed documentaries, to the Marchesa. There will be a post-film Skype Q&A with the director.
Thursday night's Essential Cinema selection begins a new series called "Children Of Abraham/Ibrahim 9: Films Of The Middle East Diaspora." Looking For Muhyiddin is a 2012 feature from Nacer Khemir wherein the filmmaker "journeys to many lands to listen attentively to the interpretations of those scholars who have studied the teachings of the 13th century Andalusian Muslim mystic."
Over at Violet Crown Cinema, the "'Round Midnight" series continues this weekend with another screening of Danny Boyle's stylish debut Shallow Grave, which screens tonight and tomorrow. The theater will be offering $2 off all draft beers starting at 11 pm each night before the film begins at 11:30. One of my favorite films of last year, Jeremy Saulnier's Blue Ruin (Jette's review), will be at Violet Crown on Wednesday night for CineBrew. Lead actor Macon Blair will be in attendance for a post-film Q&A and each ticket includes an 8 oz. souvenir glass of Greenhouse IPA #13 from Hops & Grain. Finally, on Thursday night, the theater hosts a special "Pay What You Want" screening of Hits, the directorial debut from comedian David Cross. Tickets for this screening are cash only, available at 11 am Thursday, limited to 4 per person only at the box office.
Just in time for Valentine's Day, Alamo Drafthouse Ritz has Tony Scott's True Romance on Saturday, Sunday and Wednesday. Quite unrelated to the holiday, Tough Guy Cinema is bringing in writer/director Sheldon Lettich for 35mm screenings of Lionheart and Only The Strong. Also, there are multiple quote-along screenings of The Princess Bride this month at various Alamo locations, but if you prefer to quiety watch the movie without the props and audience participation, it's at the Ritz on Monday night.
On Thursday night, The Princess Bride heads to the Alamo Lakeline and Slaughter Lane as a quote-along featuring a special live stream Q&A with star Mandy Patinkin. Each ticket sold will also include the latest in the Princess Bride pint glass line! Sing-Along screenings of Moulin Rouge are spread out across the Alamo franchise this month. Check the website for showtimes at the Alamo Slaughter Lane, South Lamar and Village locations this week.
The Alamo Slaughter Lane has a 25th anniversary screening of Pretty Woman on Tuesday for Girlie Night. Godard's Goodbye To Language 3D sold out its limited screenings last week, so it will continue with one show a day at South Lamar throughout the week. Lamar is also taking advantage of the excitement over Fifty Shades Of Grey by bringing in 2002's S&M drama Secretary, starring James Spader and Maggie Gyllenhaal, Sunday and Wednesday. Meanwhile, the Alamo Lakeline serves up Casablanca on Saturday and Sunday afternoons and Paul Thomas Anderson's Boogie Nights sneaks into the Alamo Village on Tuesday.
Movies We've Seen
The Duke Of Burgundy - Critics across the country are turned on by this erotic thriller that was a big hit last fall at Fantastic Fest. Over at the A.V. Club, Mike D'Angelo says it's "one of the most incisive, penetrating, and empathetic films ever made about what it truly means to love another person, audaciously disguised as salacious midnight-movie fare." On the other hand, Jette caught this at Fantastic Fest and says she doesn't understand the hype -- two women engage in sexual power-play games for 100-plus minutes, which dragged to feel like twice its length. (Alamo South Lamar - only screening Friday-Sunday, also available on cable VOD)
Jupiter Ascending - The Wachowskis turned Hollywood on its head with The Matrix trilogy (well, at least the first two), but their luck as been spotty as the years progressed. Warner Bros. has stuck with them through the disappointing box-office returns of the candy-coated craziness of Speed Racer and mindboggling beauty of Cloud Atlas, but it won't be surprising if this one is their final film for the studio. The reviews are in and they are, to put it mildly, awful. Mike, however, says it "encompasses the Wachowskis' grand visions of galactic empire within the confines of a relatively small action adventure story. Their aesthetic, with a dreamlike quality, seems to draw on influences from every big sci-fi film of the past but mixes them together in new and original combinations." (wide, check listings for screenings in 2D, 3D, 3D IMAX, and/or D-Box Motion Seating)
Two Days, One Night - This magnificent film from the Dardenne brothers stars Marion Cotillard as a desperate woman who finds out she is being laid off from her job. She is able to get her boss to agree that she can keep her job only if she can convince her co-workers to give up their annual bonuses to go towards her salary instead. We follow for an emotional weekend as she travels around town personally visiting each person to make her case. Even though the film did not get a Best Foreign Language Film nomination, Cotillard's powerfully raw performance did earn her a Best Actress nod. (Regal Arbor, Violet Crown Cinema)
Also Opening In Austin
Mommy - At age 25, this is already French-Canadian wunderkind Xavier Dolan's fifth feature film and it earned 13 nominations for this year's Canadian Screen Awards. It's also the first movie to be filmed in a square 1:1 aspect ratio, much like a full-length Instagram video. (Regal Arbor)
Seventh Son - Julianne Moore is nominated for Best Actress at the Oscars this year for her devastating performance in Still Alice, but this dud is actually hitting area theaters before that movie. Several reviews are already calling it a shoo-in for one of the worst films of the year and we're not even six weeks to 2015. (wide, check listings for screenings in 2D, 3D, and 3D IMAX)
The SpongeBob Movie: Sponge Out Of Water - Arriving over a decade after the Nick cartoon's first big-screen adventure, this new film combines animation and live-action footage. It features the voices of all the original series cast along with Antonio Banderas. (wide, check listings for screenings in 2D and 3D)